Scentsy Bars Wax Melt Reviews - June 2018
June 6, 2018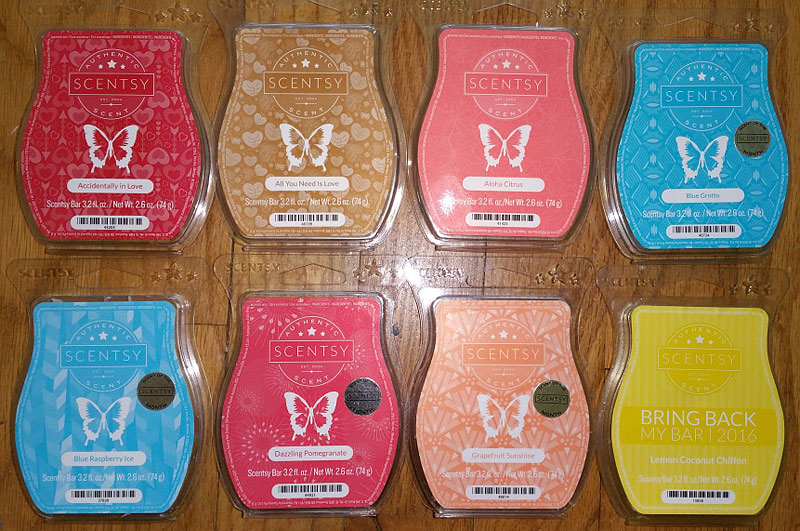 This is a review of Scentsy Bar Wax Melts from June 2018. Most of these are older scents.
Accidentally in Love
Crisp, gingery tangerine and exotic palm frond keep things clean and bright.
This smells like a lemongrass spa scent. Not sure why it's red! It's not sweet at all. I like it. Looking at the scent notes, I don't detect ginger, tangerine/orange or palm at all, although the palm might be the lemongrass I think I'm smelling.
All You Need is Love
Coconut Sugar, Creamy Vanilla and Bing Cherry
A rich buttery caramel butterscotch scent with a whipped cream note, but it's not overly sweet. There aren't any bakery notes either. Maybe a hint of coconut? Looking at the scent notes, I don't smell cherry. I really like this scent.
Aloha Citrus
A fresh tide of tangerine, jade blossom and vetiver.
A nice tropical fruit scent with a hint of floral and maybe a smidgen of a zesty peppery note. I like it.
Blue Grotto
Run away with fresh tropical notes, sweet citrus and lush botanicals.
A nice sweet orange scent with a hint of a tropical and/or berry note. It's not zesty or overly citrusy, and no sour notes. I like it. I think this scent came out last year.
Blue Hyacinth
Florals from heaven! Pure blue hyacinth is all about the flower power.
This doesn't smell like hyacinth at all (which smells a lot like lilac). This scent is floral with a bit of an earthy note, not perfumey or overly sweet, and kind of generic. The
Mainstays Blue Hyacinth
scent from Walmart is much better and extremely authentic. I did not buy this one.
Blue Raspberry Ice
Sweet cherry, icy white lemon and blue raspberry
This smells like a fruity (raspberry?) slushy with a little bit of a zesty lemony note. I really like it. I don't think this is a brand new scent.
Blueberry Rush
A sweet surge of ripe blueberry leads a luscious bouquet of lively cranberry, black currant and pomegranate.
Smells nice and very strong, but a typical fake blueberry bakery scent that every company makes (I have a lot of scents that smell just like this, from several wax melt companies). I did not buy this one.
Dazzling Pomegranate
Serve a sparkling medley of pomegranate, bright orange and mimosa accord.
A fantastic berry scent with a little bit of a lemon zest note, a slight savory note, and a smidgen of sourness (but not enough to be annoying). It's only very slightly sweet. I like it! Because of the sourness I would classify this as a tropical fruit scent.
Grapefruit Sunshine
Follow brisk citrus, pink grapefruit and subtle vanilla to a brighter place.
A slightly zesty scent with a lemony and grapefruit note. It's a little savory, not really sweet. It's similar to several other Scentsy scents, like
Citrus Garden
(but not as bitter),
Summer Sunset
, and
Citrus Pop
(but not as lemony). I love these types of scents.
Lemon Coconut Chiffon
Melt-in-your-mouth lemon custard layered with butter cake and sprinkled with toasted coconut
A yummy creamy lemon bakery scent. I do smell a little of the coconut. It's a very nice scent, although similar to a lot of other lemon bakery scents.
There are several scents that I did not buy (I have to really love a scent to spend $6.00!)
Coastal Strawberry - Very weak on cold sniff, and not as "succulent" and fruity as other strawberry scents I've smelled.
Darling Dahlia - Generic floral
Flower Child - Weak on cold sniff
Havana Cabana - Strong pineapple note (I don't care for pineapple scents)
Jungle Jam - Pineapple note (I don't care for pineapple scents)
Mandarin Grapefruit Amber - This smelled awful to me, with a bitter "moldy" note.
Mandarin Splash - Nice, but nothing special
Midnight in Curacao - Pineapple note (I don't care for pineapple scents)
Rainforest Bungalow - Smells like bug spray
Spring Forward - Generic floral, weak on cold sniff
Sugar - Nice cotton candy/pink sugar type scent, but weak on cold sniff
Summer Soleil - Coconut and tropical fruit, just okay
White Grapefruit - Nothing special