Tuscany Candle Christmas Wax Melts Reviews - 2021
November 6, 2021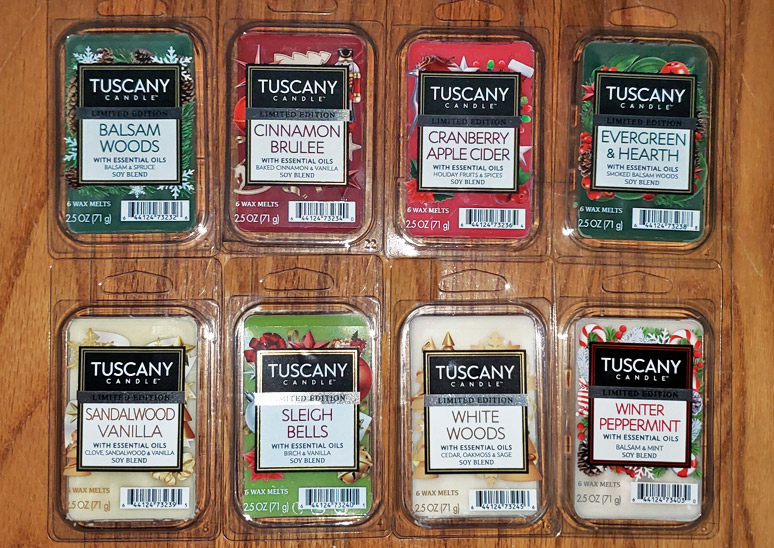 This is a review of the new Tuscany Candle Holiday 2021 wax melt scents Balsam Woods, Cinnamon Brulee, Cranberry Apple Cider, Evergreen & Hearth, Sandalwood Vanilla, Sleigh Bells, White Woods, and Winter Peppermint.
There may be more Tuscany Candle holiday collections out there from other stores. I found these at Wegmans food store, but I believe they're also available at Kroger, Meijer, H.E.B., and other stores (but not Walmart).
Balsam Woods
Balsam & Spruce
A wonderful smoky spruce scent with a soft wood note and a subtle note of biting pine. I think it's the same as the standard pine scents that Tuscany comes out with every holiday season.
Cinnamon Brulee
Baked Cinnamon & Vanilla
A sweet, super rich cinnamon bakery scent, kind of like a cinnamon roll, but more like cinnamon fudge, if that existed. It's not overly cinnamony, and has a hint of ginger that makes it smell like a combination of a cinnamon roll, gingerbread, and cinnamon fudge. I don't know if it's the same as their older
Vanilla Cinnamon Brulee
scent, which I described as a nondescript cinnamon bakery scent that smelled more like gingerbread, but it wasn't rich like this scent. I think this scent is not quite as gingerbready. It's quite nice.
Cranberry Apple Cider
Holiday Fruits & Spices
I'm getting a lot of different types of fruit in this scent. I smell mostly pineapple and black cherry, along with a hint of apple, possibly a hint of cranberry (not sure), and maybe a smidgen of grape. It's sweet and fruity, but also quite tart from the pineapple and/or cranberry. I don't think it's the same as
Berry Picking
, which I described as grape, cranberry, and a hint of raspberry; that scent was primarily grape, with no pineapply notes, and not quite as tart.
Evergreen & Hearth
Smoked Balsam Woods
This is a pine scent, like Balsam Woods, but it's not the same scent. That is more of a typical Christmas tree scent with a bit of a woodsy note and biting pine note. This is pine, or more like spruce, with a smoky note and a hint of sweetness that smells like it's from a combination of balsam, cranberry, and vanilla. Because of the smoky note, almost a hickory smokiness, it's totally different from, say,
ScentSationals Perfectly Pine
, which is also a pine scent with a tiny bit of sweetness. I'd say this scent is 60% spruce, 25% smoked wood, 10% sweet balsam, 4% cranberry, and 1% vanilla. It's fantastic!
Sandalwood Vanilla
Clove, Sandalwood & Vanilla
A fantastic super sweet scent that kind of smells like eggnog, but not quite. I get the sweet, rich, milky vanilla and a hint of nutmeg. But I also get a little bit of a raw wood note, like pencil wood, as well as possibly cedar and sandalwood (a milky woodsy note). So it's like a combination of super milky vanilla, eggnog, sandalwood and/or cedar. The longer it melts, the more milky it smells. It's an incredible scent! I don't think this is the same as their regular
Sandalwood
scent, which is a perfumey patchouli with a hint of wood, but no vanilla. Looking at the notes, there's the vanilla and sandalwood, but the slight spice I'm getting is nutmeg rather than clove.
Sleigh Bells
Birch & Vanilla
This is the same as
Hudson 43 Birch Moss
from Joann Fabric, which is made by Empire Brands, the company that makes Tuscany. Same wax color too. It smells a bit like Pink Sugar (a very sweet girly scent with notes of cotton candy, lily of the valley, vanilla, musk, and raspberry)! In fact, it smells a lot like
ScentSationals Girlfriend Night
! It's a super toothachingly sweet marshmallowy candy type scent with apple, a very sweet gardenia type floral, vanilla, musk, and a hint of raspberry, which also happen to be the scent notes for Pink Sugar perfume and ScentSationals Girlfriend Night. It's fantastic and I love these super sweet girly type scents!! It's not the same as
Holiday Home
, whose notes were also Vanilla & Birch (it smelled like vanilla and toasted marshmallow). Looking at the notes, I don't detect birch (which often gives scents a smoky, woodsy note, and there are no woodsy notes in this scent.
White Woods
Cedar, Oakmoss & Sage
A nice, sweet perfumey scent with a tiny bit of pine and cedar, and maybe a smidgen of vanilla. I like it! Looking at the notes, I guess what I think is pine is actually the sage.
Winter Peppermint
Balsam & Mint
Peppermint is a scent that always smells great, and this one is no exception. It's plain peppermint, sweet but not overly sweet, and not overly pepperminty, more like peppermint candies rather than candy canes which have a sweet vanilla note that this peppermint doesn't. I think it's the same as their Peppermint scent from
2015
. It's not the same as
Peppermint Candy
or
Peppermint Meringue
(dupes of each other), which was a super sweet, rich, fudgy peppermint scent with a hint of chocolate. Looking at the notes, I'm not getting balsam or pine or anything else but peppermint.