Tuscany Candle Fall Wax Melts Reviews - 2019
September 11, 2019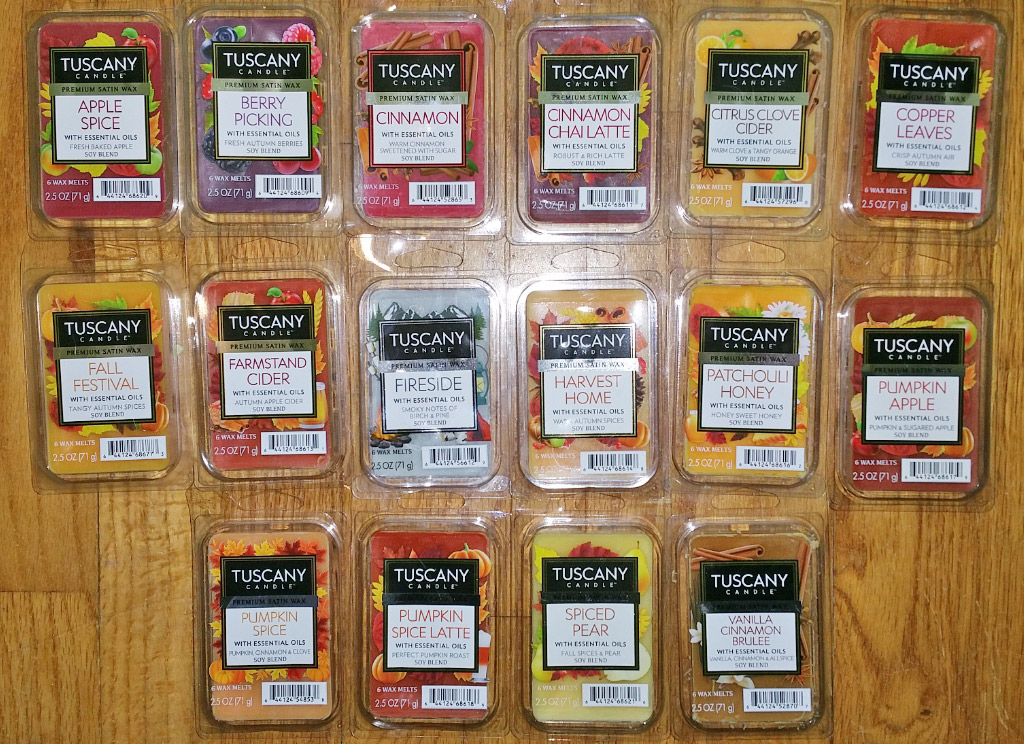 This is a review of Tuscany Candle Fall Wax Melts from 2019.
These Tuscany Fall 2019 wax melts are the same scents as the Hudson 43 wax melts from Joann Fabric for $4.99 each. But I found these at Wegman's food store for $2.75 each. They even have the same labels, except for the brand name. There are a couple of Tuscany scents that I didn't find at Joann Fabric (Berry Picking, Cinnamon, Citrus Clove Cider, Fireside, Pumpkin Spice Latte, Vanilla Cinnamon Brulee), and two Joann Fabric scents that I didn't find in the Tuscany brand (Candy Apple, Pumpkin & Acorns).
Apple Spice
Fresh Baked Apple
Fake cinnamon apple air freshener. It's not bad, but not sweet enough, and there are other similar scents out there that smell better. It might be the same as
Tuscany Harvest Cider
from 2018.
Berry Picking
Fresh Autumn Berries
This is a sweet, slightly tart fruity scent that smells like grape, cranberry, and maybe a hint of raspberry. It might be the same scent as last year's
Farmhouse Kitchen
from 2018, which smelled like raspberry and grape juice. It's a nice scent.
Cafe au Lait
Dark Roast with Cream
This scent has been around for years and it's not part of the fall lineup. It smells like mocha, like dark, very slightly bitter coffee with a sweet chocolate note, and a tiny bit of creaminess. Fantastic scent! When melted, it smells more like hot chocolate with a coffee note.
Cinnamon
Warm Cinnamon Sweetened with Sugar
It's cinnamon, a Big Red chewing gum or red hot cinnamon candy cinnamon.
Cinnamon Chai Latte
Robust & Rich Latte
I smell sweet cinnamon and a smidgen of mocha I think? I don't smell tea or chai. But I like it; it's a nice sweet rich cinnamon scent (not a harsh or Big Red type of cinnamon) that smells like a cinnamon roll without the bready note.
Citrus Clove Cider
Warm Clove & Tangy Orange
Clove and orange are the notes for orange pomander, a soapy, slightly sour scent that I don't like. And that's kind of what this is, but it has a bit more of the citrusy orange note, which makes it tolerable for me, but I'm still not a fan. I think there's also a hint of apple, which makes it smell a bit like sour apple cider.
Copper Leaves
Crisp Autumn Air
A biting, sour pine scent with a woodsy, slightly balsamic note and a hint of old brown apples (but not in a bad way). It smells a bit like
Better Homes & Gardens Crisp Fall Leaves
, which I don't like, but this scent is not as sour. I ADORE this scent, truly hoardworthy!
Fall Festival
Tangy Autumn Spices
This smells like sweet pumpkin pie filling with extra cinnamon. It's quite nice, and smells better than a lot of other pumpkiny scents out there. It might be the same as
Tuscany Fall Festival
.
Farmstand Cider
Autumn Apple Cider
This smells like homemade fermented apple cider, the opaque kind, made with old brown apples and a little bit of a bitter, sour note. It doesn't have the brown leaves or slight pine note that a lot of these types of scents have, which usually make the scent more interesting. I don't care for this one. It might be the same as
Tuscany Cranberry Apple Cider
from 2017.
Fireside
Smoky Notes of Birch & Pine
I've smelled this scent many times before. It smells like pine and smoky wood, and it's quite smoky, but it also has a little bit of that sour Play-Doh note. It smells a lot like
WoodWick Fireside
, although this scent has a little less of the sour note and a little more of the authentic smoky note, and even more so when melted, so it's quite nice.
Harvest Home
Warm Autumn Spices
This smells just like the Fall Festival scent. Even the color of the wax is the same. Maybe it's just a smidgen sweeter?
Patchouli Honey
Honey Sweet Honey
Tuscany Candle does have a Patchouli scent, but that one is pure, rich, authentic patchouli. This is a perfume scent with incensey, floral and slightly woodsy notes. I do smell the honey as well, but if I didn't know it was in there I might not know what it is. It smells a little bit like old perfume, but not in a bad way. It's a very nice scent, and I really like it!
Pumpkin Apple
Pumpkin Spice
Pumpkin, Clove & Cinnamon
A rich, yummy, sweet scent of cinnamon, cloves and nutmeg (pumpkin spices), and maybe a hint of molasses. It smells more like the pumpkin pie filling than the pie itself. It's similar to the Fall Festival scent, but Fall Festival is mostly cinnamon, while I think this scent has more nutmeg.
Pumpkin Spice Latte
Perfect Pumpkin Roast
This is definitely a coffee scent! But it's not a harsh, dark, burnt coffee, and it's not a sweet fake coffee either. It's a perfect coffee with sweet milky cream. I don't know if I detect pumpkin spices, but if they're in there, they're way in the background. It's an amazing scent. In fact, I'm almost positive that it's the same scent as
Sonoma Pumpkin Latte
from Kohl's from 2015 (but not the same as the newer
Sonoma Vanilla Pumpkin Latte
, which has a sweet buttercream and caramel note (Empire Candle Co. makes both the Tuscany and the Sonoma scents).
Sandalwood
Rich Sandalwood, Amber & Musk
This scent has been around for years and it's not part of the fall lineup. I love this scent! It smells like sweet patchouli with a perfumey note and a hint of wood. It kind of smells like perfume that's gotten a little bit old, but in a really good way.
Vanilla Cinnamon Brulee
Vanilla, Cinnamon & Allspice
This scent has been around for years, and I'm not sure if it's actually part of the Fall lineup. It's kind of a nondescript cinnamon bakery scent with a hint of ginger. It's not a rich, buttery cinnamon roll scent, nor is it a harsh Big Red gum type cinnamon, maybe more like gingerbread, kind of.