Tuscany Candle Wax Melts Reviews - May 2020
May 28, 2020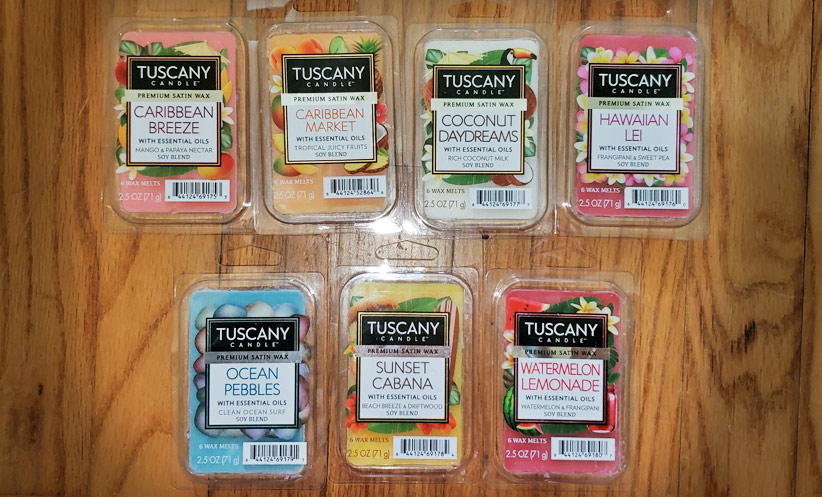 This is a review of new Tuscany Candle Wax Melts with a tropical theme. Most of them smell great.
For more information about Tuscany Candle wax melts and where to find them, go to our Tuscany Candle "About" page.
Caribbean Breeze
Mango & Papaya Nectar
This is primarily a peach scent, but unlike some peach scents that have that "cat pee" note, this one does not. It's a fresh, juicy, yummy peach scent with a little bit of a tropical fruit note (papaya and mango). I'm not a fan of peach scents, but I like this one. It may be the same scent as
Walgreens Papaya Mango
(although that one had bold throw).
Caribbean Market
Tropical Juicy Fruits
This is an older scent that's been around for years, but I included it in this review because, like most of these scents, it's a tropical scent, and I've never reviewed it before. I've smelled this scent many times before. It's a citrusy orange scent with a little bit of an orange "Tang" note and maybe a hint of tropical fruit. I like it! I think it's the same scent as
Walgreens Caribbean Market
, although that one has bold throw and lasts all day (this one lasted 2 or 3 hours).
Coconut Daydreams
Rich Coconut Milk
A standard coconut scent. It's milky and a little sweet, and smells quite nice. I don't think it has any tropical fruit notes, but if it does, it's barely noticeable and way in the background.
Hawaiian Lei
Frangipani & Sweet Pea
A super sweet flowery gardenia type floral scent with a little bit of a bright, clean note, but not a watery or oceany or body wash type scent at all, more like a slightly soapy sweet floral bubble bath. It's just pure perfumey flower, but not really a perfume scent either. A little powdery but not baby powder per se. Maybe a smidgen of orange blossom that gives it a barely detectable Coppertone beachy vibe. I love this scent, but if florals give you a headache, this might give you a migraine!
Ocean Pebbles
Clean Ocean Surf
Tuscany came out with an Ocean Pebbles scent in
2016
, but that was a fresh men's body wash scent, and this is a completely different scent. This scent is the same as Stressless (and I think Sea Heather as well), which is a Victoria's Secret Love Spell dupe. A lot of other wax melt companies make this scent, including
Scentsy Lucky in Love
,
ScentSationals Magic Spell
, and
Country Scents Love Poem
. I don't like this scent at all (or Victoria's Secret Love Spell perfume). It smells very bland to me, like grapefruit and paper. It's not really sweet, and has kind of a bitter note. But most people love this scent, so I'm in the minority.
Sunset Cabana
Beach Breeze & Driftwood
Unusual scent, woodsy with a salty, slightly smoky ("almost" hickory, but not nearly salty enough, or with that bacony note that hickory tends to have), slightly harsh note, along with bergamot which gives scents a cologne type note, even though this scent is barely sweet. It's also zesty, but not in a lemony or savory kind of way. And maybe a smidgen of pine. And possibly a barely detectable smidgen of fruit way in the background. This scent is a conundrum of notes, and I "kind of" like it.
Watermelon Lemonade
Watermelon & Frangipani
I do smell the watermelon, but no lemon at all. It doesn't even smell all that foodie. I don't know what frangipani is supposed to smell like; it's in the Hawaiian Lei scent, which smells fantastic. But this scent has an odd bitter fruity floral note. Lemon would have been a better note to add to a scent called Watermelon Lemonade! I didn't care for this one.