Tuscany Candle Wax Melts Reviews - April 2022
April 15, 2022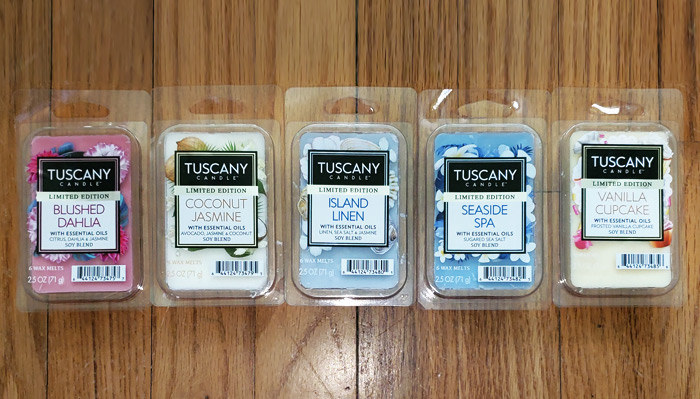 This is a review of new Tuscany Candle Wax Melts from April 2022.
For more information about Tuscany Candle wax melts and where to find them, go to our Tuscany Candle "About" page.
Blushed Dahlia
Citrus, Dahlia & Jasmine
I'm getting a floral and a tiny bit of something slightly sour in the background that could be tropical fruit or grapefruit, although it's not a tropical scent, but I think I do smell a barely detectable note of coconut. The sour note is much more subtle when melted. It's a nice scent, but kind of non-descript.
Coconut Jasmine
Avocado, Jasmine & Coconut
A lovely scent of coconut with a hint of a grassy floral and maybe a smidgen of a laundry note. I'm not sure if I detect jasmine per se, as the floral isn't quite that sweet (it's not a floral scent). Looking at the notes, avocado does have a fresh, green, grassy note, so that's what's probably tempering the sweetness of the jasmine. I like this scent!
Island Linen
Linen, Sea Salt & Jasmine
Fantastic, super sweet scent with a fresh note, coconut, a sweet floral (gardenia?), and a smidgen of oceany water. It might also have a barely detectable smidgen of fruit (peach?) and vanilla way, way in the background. It's quite similar to the Coconut Jasmine scent. I love it! It reminds me a tiny bit of
Better Homes & Gardens Sea Spray Linen
, although it's a different scent, but the same "type" of scent.
Seaside Spa
Sugared Sea Salt
This smells like briny, salty ocean sea water with just a little bit of sweetness. I've smelled it before, and I think it's a dupe of another Tuscany scent, but I don't remember which one. I'm not a fan, as it's too salty and briny, and not sweet enough.
Vanilla Cupcake
Frosted Vanilla Cupcake
This is not a vanilla cupcake scent at all... It's way better! It's a fantastic, super rich, salty, buttery scent that smells kind of like popcorn, but richer and a little sweeter. I think I'm also getting a smidgen of cardamom and bready notes. And way in the background there's a smidgen of barely noticeable fruit, strawberry I think, but I'm not sure. Wait! I described another cupcake scent the same way recently:
Threshold Frosted Vanilla Cupcake
from Target! In fact, sniffing them side by side, I can barely tell them apart. They may in fact be the same scent, but if not, I don't think most people will be able to tell the difference. It's strange, because they're made by different companies; Threshold wax melts are made by
Hanna's Candle
and
Tuscany Candle
wax melts are made by
Empire Candle
. Maybe this scent uses scented oil from the same supplier.