WoodWick Wax Melt Reviews from Walmart - Spring 2023
March 8, 2023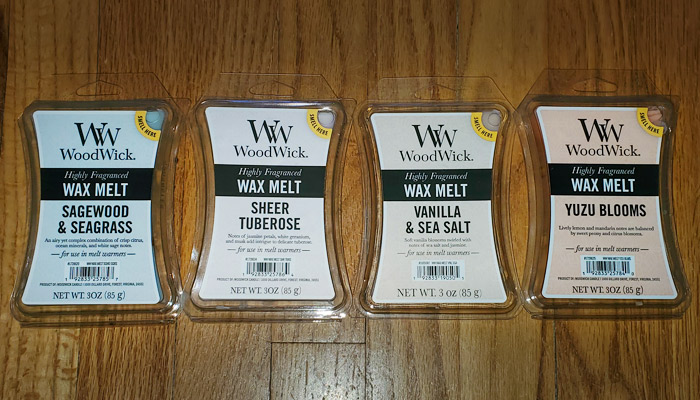 This is a review of 4 WoodWick wax melt scents from Walmart for Spring 2023: Sagewood & Seagrass, Sheer Tuberose, Vanilla & Sea Salt, and Yuzu Blooms.
These are $5.92 each, which is way too expensive for 3oz. wax melts. They're fairly nice scents with good throw, but not exceptional enough to justify the high price.
Sagewood & Seagrass
An airy yet complex combination of crisp citrus, ocean minerals, and white sage notes
On cold sniff this is an herbal scent with a savory sage note as well as a fresh note with a hint of bergamot that gives scents a citrusy men's cologne note (although it's not cologney at all, and not nearly sweet enough to be a men's body wash scent). It kind of smelled the same melting as it did on cold sniff for the first half hour or so, but then it turned very metallic and took on a weird note that I can't figure out, but it wasn't good.
Sheer Tuberose
Notes of jasmine petals, white geranium, and musk add intrigue to delicate tuberose
A fantastic and lovely perfumey scent of gardenia (or probably the tuberose, which is basically a more intense type of gardenia), with a little bit of musk. On cold sniff I'm also getting a tiny bit of a soapy note that makes it smell like a gardenia scented bubble bath, but when melting, it's not soapy, and smells kind of like White Shoulders perfume. I adore this scent!
Vanilla & Sea Salt
Soft vanilla blossoms swirled with notes of sea salt and jasmine
A combination of sweet vanilla buttercream, ocean water, a sweet floral, sandalwood, and maybe a bit of cedar. Other scents that blend vanilla with ocean water are
Carolina Candle Beachside Coconut
,
Goose Creek Candle Vanilla Sands
, and
Scentsy Vanilla Waves
. But this scent is different from those in that this scent is much sweeter, has the floral note that the others don't have, and that tiny bit of sandalwood. I like this scent more than the other similar scents.
Yuzu Blooms
Lively lemon and mandarin notes are balanced by sweet peony and citrus blossoms
A fruity floral with a bit of orange blossom/neroli, a hint of peach, and a slightly bitter, almost metallic note in the background that I don't care for. It would be a nice scent without the bitterness. Looking at the notes, I'm not getting lemon at all, or mandarin (orange) either. Interestingly, there are no yuzu notes in this scent, but yuzu is a sweet, tart, bitter citrus fruit; hence, the bitterness in this scent.