Yankee Candle Holiday 2020 Wax Melts Reviews
November 30, 2020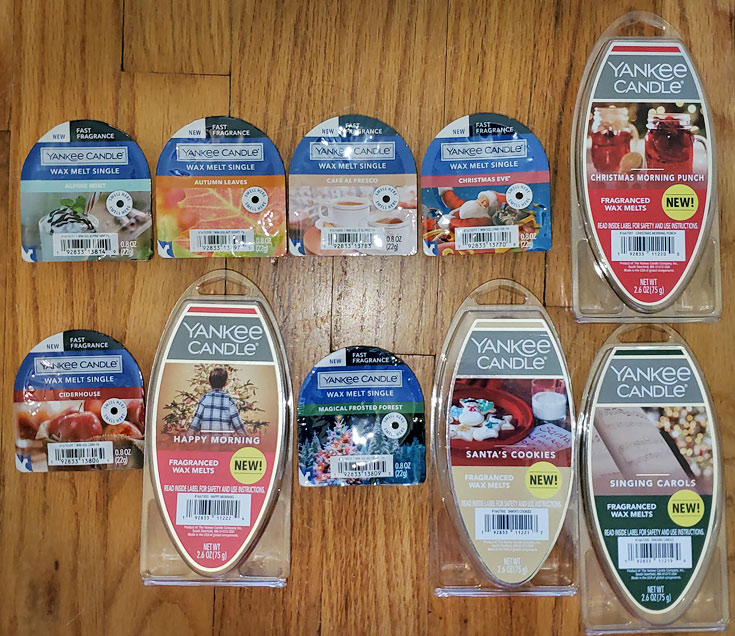 This is a review of Yankee Candle Holiday/Christmas 2020 wax melts from the Yankee Candle store, including the new Yankee Wax Melt Singles.
I believe that Yankee Candle will be doing away with their 6-cube oval-shaped wax packaging, and switching to the new .8 oz. wax melt singles which cost $2.00. The Yankee wax melt singles are meant for one-time use; although you "can" cut them in two, they crumble, and there's no way to save the other half since the top of the packaging peels off. $2.00 for a one-time use wax melt is equivalent to $12 for a regular 2.5 oz. wax melt from Walmart. Needless to say, I will not be purchasing the new Yankee Candle wax melt singles.
Alpine Mint
Top: Creme de Menthe, Cool Spearmint, Irish Cream; Mid: Spiced Rum, Dark Chocolate Syrup; Base: Vanilla Bean, Almond Extract
A creamy celebration of fresh mint, dark chocolate, almond, and sweet vanilla
On cold sniff, this super yummy scent smells like a peppermint patty, with icy peppermint, sweet milky vanilla and a hint of rich chocolate. But it's more minty, with the addition of a bit of spearmint. When melted, however, the mintiness dissipates and it becomes more of a milky whipped cream scent with a chocolate note and a hint of mint. Smells great!
Autumn Leaves
Top: Pomegranate, Orange Blossom, White Pine Needles; Mid: Blackberry, Juniper Berry, Rosemary; Base: Birch Leaf, Red Maple Leaf, Dried Persimmon Tree Leaves
A vibrant medley of birch and maple leaves with pomegranate, juniper berry and orange blossom.
This scent definitely smells like fall. It's wood and pine with a barely detectable smidgen of a fruit that I think might be cranberry. It has a tiny bit of a sour note, but it's still a great scent. I think it's similar to
Better Homes & Gardens Crisp Fall Leaves
. Looking at the notes, I don't detect orange blossom or any sweet or floral notes at all.
Cafe Al Fresco
Top: Cinnamon Sprinkle, Coffee; Mid: Cappuccino, Frothy Milk; Base: Crystallized Sugar, Caramel Drizzle
The warm air of a bustling outdoor cafe kissed with sweet notes of cinnamon, coffee and a dash of caramel
This smells like rich, milky, mocha flavored whipped cream. Super yummy scent!
Christmas Eve
Top: Orange, Almond, Lime, Lemon; Mid: Red Berry, Cinnamon, Nutmeg; Base: Violet, Amber, Creamy Praline, Vanilla
Traditional holiday scents of a warm hearth, sugared plums and candied fruits.
A happy scent that smells like a combination of maraschino cherry, cranberry and orange, with a hint of Ginger Ale without the fizziness, and a smidgen of vanilla as it has a little bit of a candy note although it's not overly sweet. Looking at the notes, the Ginger Ale note is probably the lime, although I don't smell lemon or lime per se. Almond and cinnamon? Possibly a smidgen, but only because I know they're there. The description doesn't really match the notes, as a warm hearth makes me think of a smoky note (which this doesn't have), and there are no plum notes in this scent.
Christmas Morning Punch
Top: Pomegranate, Cassis, Bergamot; Mid: Strawberry, Cranberry; Base: Sugar, Vanilla
A spectacular blend of ruby-red pomegranate, strawberry, cranberry — a celebratory drink the whole family will love.
This smells like cranberries with another fruit, maybe strawberry or pomegranate. It's sweet with a fair amount of tartness, and smells quite nice.
Ciderhouse
Top: Fuji Apple, Golden Honey; Mid: Cinnamon Bark, Clove, Nutmeg; Base: Clove Bud, Cedarwood, Vanilla
The ultimate autumn harvest treat… freshly pressed apples, lightly spiced and ready to sip.
Ooh this smells incredible, like apple crumble a la mode, although it's much sweeter, with a powdered sugar note. Not actually apple pie, as this scent doesn't have as much of the bakery note. And what differentiates this from other similar scents is that I can actually smell sweet, rich, milky vanilla ice cream and/or whipped cream! It's unbelievably yummy!! Looking at the notes, the extra sweetness is the honey, but I'm not sure I detect honey. And I'm surprised I don't see more "ice creamy" notes.
Happy Morning
Top: Cranberry, Raspberry, Blueberry; Mid: Blackberry, Caramel; Base: Pine Needle, Cedarwood
Awaken to the delight of Christmas morning with a cheerful fragrance bursting with bright berries, evergreens, and a touch of caramel.
This smells like cranberry soda, with a tiny bit of an effervescent note. I think I also detect a smidgen of pine way in the background. It's sweet, with a fair amount of tartness, and the fizzy note gives it a tiny bit of bitterness. It's kind of nice.
Magical Frosted Forest
Top: Icy Eucalyptus, Frozen Strawberry Leaf, Raspberry Ice; Mid: Pine Needles, Balsam Fir, Crushed Pineapple; Base: White Cedar, Tonka Bean, Golden Amber
An enchanted place where icy breezes playfully dance through tall, snow-coated pines.
A nice pine scent with subtle woodsy and black pepper notes. On cold sniff there's also a smidgen of soapiness, and just a barely detectable smidgen of sweetness way in the background (maybe something fruity?), but I don't smell any sweet or fruity notes when melting. Looking at the notes, the fruit is strawberry, raspberry and pineapple, although I don't actually detect those per se.
Santa's Cookies
Top: Vanilla Cookie; Mid: Cardamom, Cinnamon, Clove; Base: Vanilla, Sugar Crystals, Cedarwood
A treat worthy of Santa's attention: Freshly baked vanilla sugar cookies with a dash of spice.
It smells like molasses, maple, cloves, subtle cinnamon, vanilla and butter, and I do smell the cardamom (which smells a little like a nutty, buttery version of cloves, but with a smidgen of fennel and herbal undertones). Scrumptious! This is a different scent from
Santa's Treats
.
Singing Carols
Top: Mandarin, Eucalyptus; Mid: Fir Needle, Juniper, Clove; Base: Blackberry, Cedarwood, Pine
A harmonious combination of fruit, evergreen, and spice notes that create an inspiring Christmas melody.
A wonderful pine scent with a bit of a sweet, slightly tart fruity note which I assume is cranberry, but maybe also a hint of orange as well? It's primarily a pine scent though. Looking at the notes, mandarin is orange, and the combination of blackberry and clove (even though I don't detect clove, per se) is probably what I think is cranberry. The pine is a little biting because of the eucalyptus. I love this one!