Aldi Wax Melt Reviews - March 2022
March 22, 2022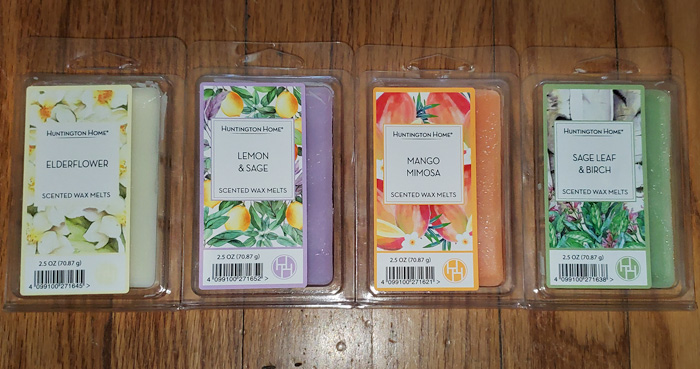 Read Aldi Wax Melt Reviews from March 2022 (Huntington Home): Elderflower, Lemon & Sage, Mango Mimosa, Sage Leaf & Birch.
Overall, I'm underwhelmed by most of these scents and their throw.
Elderflower
A fruity floral that smells kind of like magnolia (with the lemony note), along with another fruit that could be blackberry, and possibly a smidgen of peach. It's just a bit sweet but also very slightly salty. It doesn't smell as good as my description, like something is just missing but I can't figure out what it is. It's a nice scent, but kind of bland.
Lemon & Sage
Rich, tart, sour, salty, savory, lemon scent that's a little similar to
Better Homes & Gardens Meyer Lemon Basil
, but more sour. It has no sweetness, and the sourness almost has a tiny bit of a "gasoline" note, not nearly that bad, but the "type" of sourness that I described
Better Homes & Gardens Tropical Island Dream
as having. Despite the sourness, it's actually not a bad scent, and I kind of like it, although it's not one of my favorites.
Mango Mimosa
Unfortunately, this is so weak on both cold sniff and when melting, that I can't tell what I'm smelling. I'm definitely getting mango, which smells a little like peach but with a tropical fruit note. It might have a smidgen of pineapple and lemon.
Sage Leaf & Birch
A fantastic scent that smells a lot like
Mainstays Patchouli
and
Pier 1 Patchouli
(both of which were NOT patchouli, but were actually nag champa type scents with musky oriental spice notes), but mixed with a little bit of Brut men's aftershave! I love this incredible scent, but there are no sage, herbal, savory, or woodsy notes in this scent.