Better Homes & Gardens (Walmart) Holiday 2022 Candle-Lite Wax Melts Reviews
November 6, 2022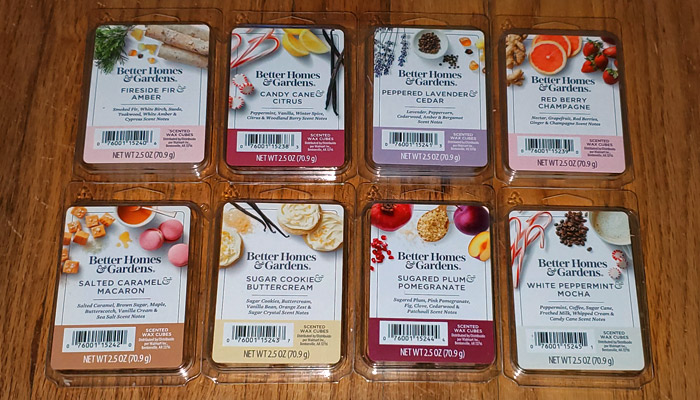 This is a review of 8 new Better Homes & Gardens Christmas/Holiday 2022 wax melts for Walmart, made by Candle-Lite: Candy Cane & Citrus, Fireside Fir & Amber, Peppered Lavender & Cedar, Red Berry Champagne, Salted Caramel & Macaron, Sugar Cookie & Buttercream, Sugared Plum & Pomegranate, White Peppermint & Mocha
We reviewed 6 additional Better Homes & Gardens Christmas/Holiday 2022 wax melts in October, made by MVP Group. They were in the larger, taller clamshells.
Since there are so many new Better Homes & Gardens holiday scents at Walmart this year, the best way to tell who the manufacturer is is by looking at the first number of the UPC code on the label (the tiny number that's separated a bit from the other numbers). UPC codes starting with "0" are made by Candle-Lite, those starting with "7" are MVP Group Intl, and those starting with "8" are Rimports (the company that has made most of the Better Homes & Gardens wax melts for Walmart over the years, as well as ScentSationals wax melts.)
I was very pleasantly surprised that, despite the different manufacturer (Candle-Lite), in general these scents smell fantastic, and every one has a strong throw! Even the wax is the same consistency as Walmart wax melts made by MVP Group and Rimports. I couldn't tell the difference. I've had issues with Candle-Lite brand wax melts not throwing well and smelling a bit generic, but because these wax melts are a Walmart brand (Better Homes & Gardens), Walmart dictates the scents and quality. And they did a great job with these!
Candy Cane & Citrus
Peppermint, Vanilla, Winter Spice, Citrus & Woodland Berry
I recognized this scent as soon as I smelled it, and it smells a lot like
Goose Creek Candle Christmas Magic
, but with more cinnamon. It smells like a combination of hard peppermint candies and cinnamon, with a hint of milky vanilla. Sometimes I sniff it and I smell more peppermint, other times I smell more cinnamon, but I think it's a pretty even combination. Looking at the notes, I'm not getting citrus or berry. Fantastic scent!
Fireside Fir & Amber
Smoked Fir, White Birch, Suede, Teakwood, White Amber & Cypress
A fantastic scent of pine with hickory smoke and a hint of black pepper. It's very rich and salty, but it also has just a smidgen of barely noticeable "softness" and sweetness (not perfumey at all). It could also have a hint of bergamot way in the background, which gives scents a cologney note, although this is not a cologne type scent at all. I adore this scent! Looking at the notes, they're spot on.
Peppered Lavender & Cedar
Lavender, Peppercorn, Cedarwood, Amber & Bergamot
I'm definitely getting lavender first. It's a bit sweet, but not a typical perfumey sweet lavender. There's also a milky, woodsy note that smells more like sandalwood than cedar, as well as a little bit of a fresh, very slightly soapy note, and maybe a barely detectable smidgen of citrus (lemon?). Looking at the notes, the citrus is bergamot, a citrusy note that's added to scents to give them a little bit of a cologney note, although this scent is not cologney at all. I do get a tiny bit of the peppery note as well, but it's more of an herbal pepper rather than black pepper. I no longer have this scent to compare, but I think it's very similar to
DD Lavender & Oakwood
from Hobby Lobby. I like it!
Red Berry Champagne
Nectar, Grapefruit, Red Berries, Ginger & Champagne
Lip puckeringly sour, lemony grapefruit with a bit of yuzu (pungent, tart, bitter grapefruit type note) and a little bit of that weird fermentation note that a lot of wine type scents tend to have. On cold sniff I kind of like it, and I thought I'd like it as it started to melt, but no, I'm not a fan. The sour note has kind of a gasoline vibe to it, not that bad though, but I can't figure out how else to describe it. It's sour, but peppery herbal sour like arugula, not a vinegary salad type sour. Or maybe satsuma (a pungent, sour orange type fruit), but extra sour, and not really in a good way. Someone said it smelled like beer, but I didn't get that at all. However, I sniffed it the next day, and I AM getting a beer note! That's most likely from the combination of citrus and champagne, which kind of makes sense.
I've described other scents in the past as having that sour, slightly lemony, slightly gasoline note, including Aldi Lemon & Sage and Better Homes & Gardens Tropical Island Dream. Looking at the notes, I'm not getting "nectar" (this scent is barely sweet), berry, or ginger at all, and the sourness is from the combination of grapefruit and champagne.
Salted Caramel & Macaron
Salted Caramel, Brown Sugar, Maple, Butterscotch, Vanilla Cream & Sea Salt
On cold sniff this smells amazing, a toothachingly sweet, decadent combination of butterscotch, caramel, and maple syrup, the gooey kind that would go on top of ice cream, but with a little bit of brown sugar. But when melted, it's just a caramely cookie scent, still nice, but it loses that super sweet, super buttery richness that I smell on cold sniff, making it more like a generic cookie scent. If it had retained those other notes, this one would be hoard-worthy. Again, it's still a nice scent, but not unlike other similar scents. And the scent weakened considerably in under 3 hours.
Sugar Cookie & Buttercream
Sugared Plum & Pomegranate
Sugared Plum, Pink Pomegranate, Fig, Clove, Cedarwood & Patchouli
If you're hoping for anything "sugared" in this scent, you'll be disappointed. But if you're looking for something different from anything you've smelled before, this is the scent! When I smelled it on cold sniff, I didn't like it at all. I'm not getting sugar, plum, pomegranate, or really anything fruity. What I'm getting, however, is fig, which is not a common wax melt scent. Real figs are sweet and fruity, but fig notes in candles and wax melts are, well, just like this scent. Earthy and slightly cedary, maybe slightly mildewy, almost like a root vegetable like beets or something. That sounds terrible, but it actually smells pretty good. It's just a little sweet, and I'm getting a tiny bit of floral which comes out a little more after it's been melting for a few hours. I'm also getting just a smidgen of fruit, very subtle, and no plum or pomegranate, per se. It also has a tiny bit of a whiskey type note, although it's not savory, sour, bitter, or vinegary, and it doesn't have that odd fermentation note that a lot of wine type scents have. Looking at the notes, I'm not getting clove or patchouli at all, but there's the cedarwood I smell. I like it, but I don't love it, although it's so different I can't stop smelling it. I think it would make a great mixer to tone down fruity or floral scents that are too sweet, or add a unique twist to a woodsy or pine scent.
White Peppermint & Mocha
Peppermint, Coffee, Sugar Cane, Frothed Milk, Whipped Cream & Candy Cane
I didn't think I'd like this on cold sniff because the combination of coffee and peppermint smelled a bit odd to me on cold sniff. But it's fantastic!! A nice, minty sweet peppermint with a hint of mocha (chocolate and coffee). The coffee differentiates it from other chocolate peppermint scents. It's more pepperminty than mocha. I really like it!