Dollar General Wax Melt Reviews (Freshworks & True Living)
November 2, 2017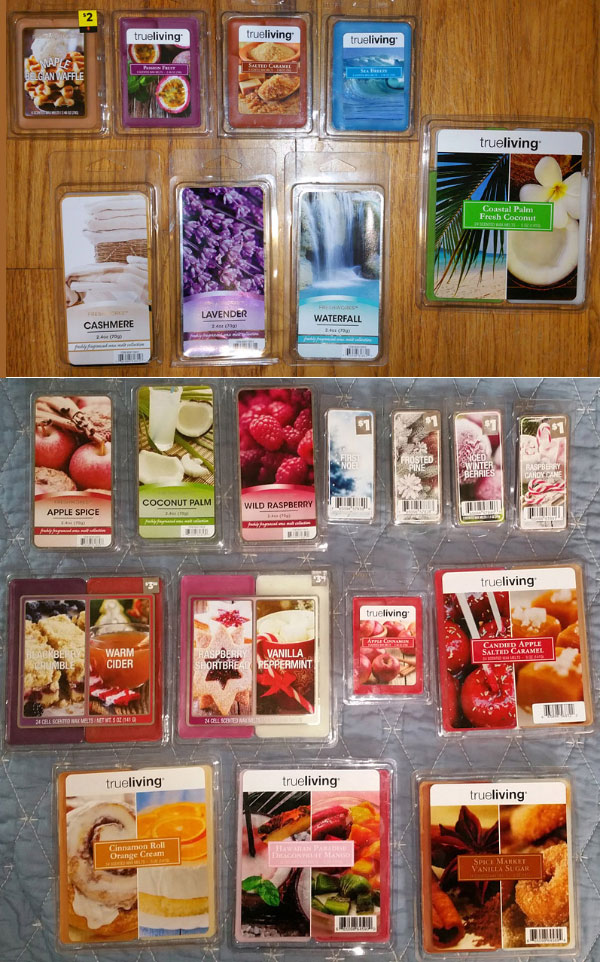 This is a reviews of wax melts from Dollar General: Freshworks, True Living, and MVP Group Intl brands. I was pleasantly surprised that the Dollar General True Living and FreshWorks wax melts were actually fairly good! Yes, the wax is very soft, and the scents generally dissipate within 2 or 3 hours. But the price is good, $2.00 for the True Living and Fresh Works scents, same as Walmart wax, and $3.50 for the duos.
Both FreshWorks and True Living wax melts are manufactured by MVP Group Intl., the company that makes Mainstays (for Walmart), Colonial Candle, Burt's Bees, Living Colors (for Big Lots), Red Shed (for Tractor Supply), K-mart and Sears brands, and several dollar store brands.
Although some of these may be shown on the Dollar General website, they can only be purchased in the store.
Freshworks Apple Spice
On cold sniff this smells like apple cinnamon scented vinyl, a very fake scent with a chemical note. But melted, it smells a bit better, with a slight floral or perfumey note.
Freshworks Cashmere
A very nice laundry detergent scent with a clean but slightly industrial note, but in a good way. It smells like a laundromat, but it's not a harsh biting detergent scent. It's sweet and a bit soapy, and I detect very faint notes of orange and baby powder. I really like this one.
Freshworks Coconut Palm
This smells like coconut with a slightly sweet chemical note. There may be a smidgen of a woodsy palm note, but it's barely detectable. It's actually a pretty nice scent.
Freshworks Lavender
A nice lavender scent with a fake note, almost like a lavender scented industrial or bathroom cleaner, but not like Fabuloso, which is a totally different scent. This has a biting note, kind of like Pine-Sol or an industrial lemon cleaner note. But I actually like this scent; it smells clean. The scent dissipated within 1 hour.
Freshworks Waterfall
I really like this scent. It's fresh and watery and a little floral, but a completely different scent from the True Living Sea Breeze. This scent also has a bit of warmth, and I smell a hint of vanilla and maybe a smidgen of pepper. It's very unique.
Freshworks Wild Raspberry
This is a fake raspberry scent. It's not overly sweet, and smells a bit like raspberry scented lipstick. It's actually a nice scent.
MVP Group Intl. First Noel
1.1 oz. pack of 3 wax cubes for $1.00. It smells like a fresh, crisp men's cologne or body wash.
MVP Group Intl. Frosted Pine
1.1 oz. pack of 3 wax cubes for $1.00. It's a pine scent that smells quite nice, with a bit of a tart sweet cranberry note, more complex of a scent than I expected.
MVP Group Intl. Iced Winter Berries
1.1 oz. pack of 3 wax cubes for $1.00. It's a sweet, tart, fake fruit scent, like cranberry or raspberry, but it's quite nice.
MVP Group Intl. Raspberry Candy Cane
1.1 oz. pack of 3 wax cubes for $1.00. It's just a fake sweet raspberry scent that smells very nice, but there's no mint or candy cane note at all.
MVP Group Intl. Blackberry Crumble / Warm Cider duo
Blackberry Crumble
A nice, but fake, scent that has been used as a blueberry muffin scent in other MVP Group wax melts.
---
Warm Cider
A fake but pleasant apple cinnamon scent.
MVP Group Intl. Raspberry Shortbread / Vanilla Peppermint duo
Raspberry Shortbread
A fake raspberry scent with a hint of a bakery note. It's a nice scent with a creamy note, and not overly sweet
---
Vanilla Peppermint
Very nice creamy vanilla peppermint scent. The peppermint is not overly minty.
True Living Apple Cinnamon
I barely smell anything on cold sniff except sweet wax with a slight fake apple cinnamon note. There's another note way in the background that might be mint or mildew (depending on how old this pack is). The little bit of scent I can smell is not too bad considering how fake it smells.
True Living Maple Belgian Waffle
A nice sweet caramel scent with a maple note.
True Living Passion Fruit
This smells like orange but I also detect hints of other fruit notes like grape, raspberry, and tropical fruit. Melted, I think I only smell the orange, and it's a fake orange but not in a bad way; it smells quite nice.
True Living Salted Caramel
On cold sniff, this smells more like chocolate milk to me. But melted, it smells like a rich milky caramel with a milk chocolate note. It's not really a salty caramel though, which is okay, since it smells fantastic.
True Living Sea Breeze
This is a fresh watery slightly floral air freshener type scent, and it would be perfect in a bathroom. Even though it's rather generic, it smells very nice, the kind of unobtrusive scent that could be used in any room.
True Living Candied Apple / Salted Caramel duo
Candied Apple
A nice caramel apple scent.
---
Salted Caramel
Very weak on cold sniff, I smell caramel with a waxy note, and it's not salty or overly sweet. But melted, it was actually a fantastic scent, like caramel fudge.
True Living Coastal Palm / Fresh Coconut duo
Coastal Palm (green0
Fantastic palm scent (palm is a soapy savory waxy scent with a hint of lemon). It's a sweet coconutty tropical fruit green palm scent with a slightly woodsy orangey/citrusy soapy note. Very nice, and the scent lasted all day, at least 8 hours!
---
Fresh Coconut (white)
A very nice sweet coconut scent
True Living Cinnamon Roll / Orange Cream duo
Cinnamon Roll
A very nice Cinnabon type sweet cinnamon roll scent.
---
Orange Cream
A very nice sweet almost marshmallowy creamy orange creamsicle scent. The orange was subtle when melting, and I smelled more of the buttercream
True Living Hawaiian Paradise / Dragonfruit Mango duo
Hawaiian Paradise
This smells like a nice combination of pineapple juice and grapefruit juice, with a hint of vanilla.
---
Dragonfruit Mango
This smells like a tropical fruit flavored powdered drink mix, but I can't figure out what kind of fruit as it's weak on cold sniff. It smells fake and not overly sweet, but it's a nice scent.
True Living Spice Market / Vanilla Sugar duo
Spice Market
A sweet vanilla with a very subtle hint of cinnamon.
---
Vanilla Sugar
A sweet vanilla marshmallow buttercream scent. Very nice!