Joann Fabric Hudson 43 Wax Melt Reviews - Fall 2019
August 21, 2019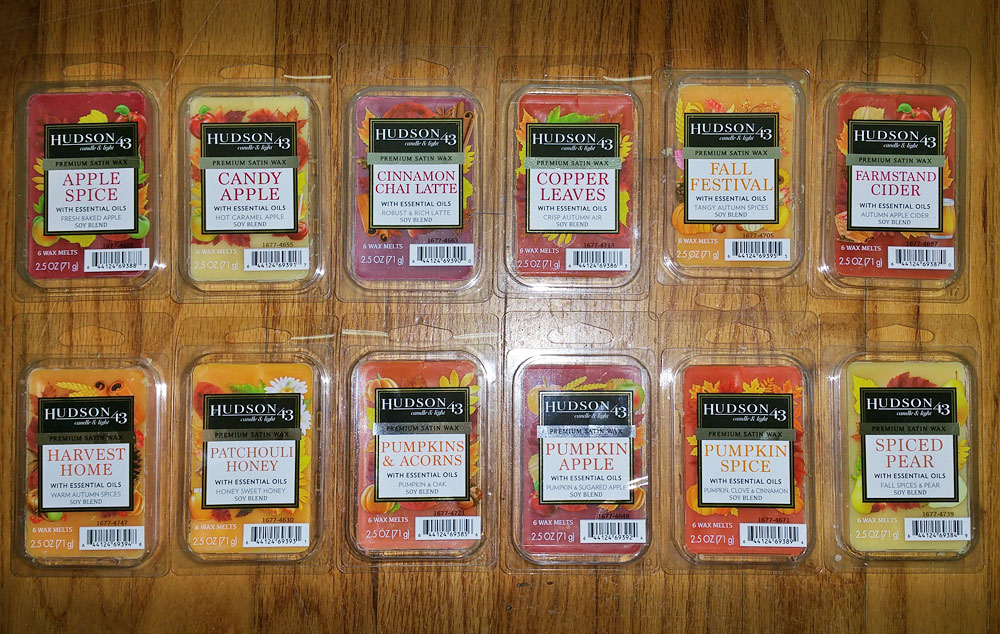 This is a review of Joann's (Joann Fabric) Hudson 43 wax melts for Fall 2019. These are made by Tuscany Candle.
The Hudson 43 Fall 2019 wax melts from Joann's cost $4.99, which is WAY too expensive for store-bought melts, and they weren't on sale like Joann's other Hudson 43 wax melts. But I was pleasantly surprised that, for the most part, they threw really well despite being made by Tuscany Candle (which often have weak throw). Even though the wax is the same consistency as Tuscany Candle wax melts have always been, they may have tweaked the formula, or added more fragrance oil. Some of the scents are really good too, although too many standard pumpkiny cinnamony apple scents that smell a lot a like; I would have liked to have seen more creative scents, like woodsy and tobacco type blends.
Apple Spice
Fresh Baked Apple
Fake cinnamon apple air freshener. It's not bad, but not sweet enough, and there are other similar scents out there that smell better. It might be the same as
Tuscany Harvest Cider
from 2018.
Candy Apple
Cinnamon Chai Latte
Copper Leaves
Crisp Autumn Air
A biting, sour pine scent with a woodsy, slightly balsamic note and a hint of old brown apples (but not in a bad way). It smells a bit like
Better Homes & Gardens Crisp Fall Leaves
, which I don't like, but this scent is not as sour. I ADORE this scent, truly hoardworthy!
Fall Festival
Tangy Autumn Spices
This smells like sweet pumpkin pie filling with extra cinnamon. It's quite nice, and smells better than a lot of other pumpkiny scents out there. It might be the same as
Tuscany Fall Festival
from 2018.
Farmstand Cider
Autumn Apple Cider
This smells like homemade fermented apple cider, the opaque kind, made with old brown apples and a little bit of a bitter, sour note. It doesn't have the brown leaves or slight pine note that a lot of these types of scents have, which usually make the scent more interesting. I don't care for this one. It might be the same as
Tuscany Cranberry Apple Cider
from 2017.
Harvest Home
Patchouli Honey
Honey Sweet Honey
Tuscany Candle does have a Patchouli scent, but that one is pure, rich, authentic patchouli. This is a perfume scent with incensey, floral and slightly woodsy notes. I do smell the honey as well, but if I didn't know it was in there I might not know what it is. It smells a little bit like old perfume, but not in a bad way. It's a very nice scent, and I really like it!
Pumpkin & Acorns
Pumpkin Apple
Pumpkin Spice
Pumpkin, Clove & Cinnamon
A rich, yummy, sweet scent of cinnamon, cloves and nutmeg (pumpkin spices), and maybe a hint of molasses. It smells more like the pumpkin pie filling than the pie itself. It's similar to the Fall Festival scent, but Fall Festival is mostly cinnamon, while I think this scent has more nutmeg.
Spiced Pear
Fall Spices & Pear
This smells almost exactly like the Candy Apple scent. Even the wax is the same color. Spiced Pear is more salty though, like salty buttered popcorn with just a hint of caramel apple. Another fantastic scent! It smells almost exactly like
ScentSationals Pumpkin Apple Muffins
, and it's definitely the same as
Tuscany Spiced Pear
.