Kohl's Sonoma Wax Melt Reviews - Spring 2020
December 18, 2019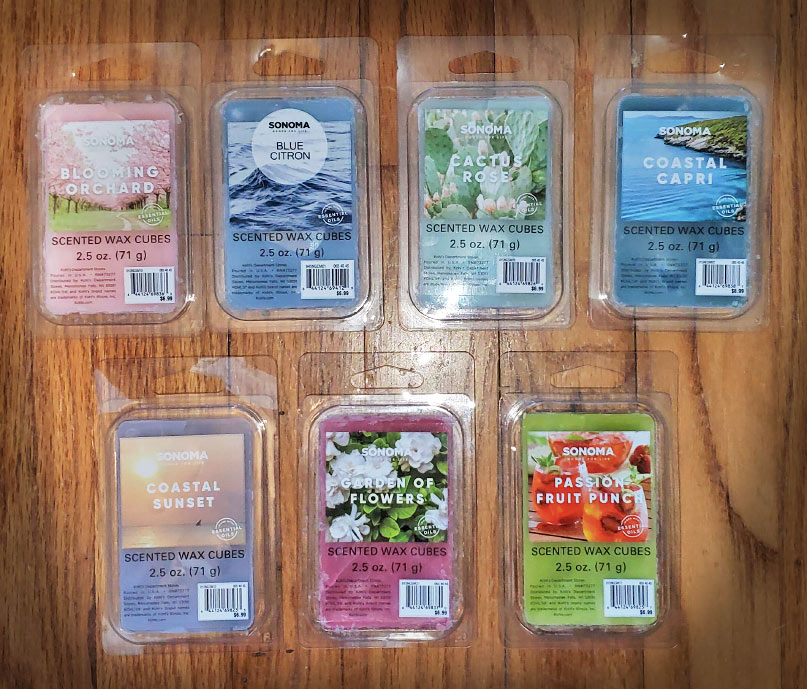 This is a review of Sonoma wax melts from Kohl's for Spring 2020.
Last year the spring scents came out in March. This year they've come out in December! 7 (or maybe 6) of the Spring 2020 scents are "new" scents, while 10 are scents from previous years.
Blooming Orchard
Pear, magnolia, sandalwood
This is a fruity floral (the main note is pear) with a hint of bitterness that smells a little bit like champagne, and a floral note that's not perfumey or overly sweet. It may also have a smidgen of pineapple and a light woodsy note way in the background. It's really a champagne type scent rather than a floral. Looking at the scent notes, they're spot on, although magnolia tends to have a lemony note, which this scent does not. I really like it! It's quite similar to
ScentSationals Festive Bubbly
(but that scent is more milky and this scent has a floral note). It's also a bit similar to
ScentSationals Celebration Time
(but that scent is sweeter, a little creamy, and slightly perfumey). It also smells like the Pear Blossom side of the old
ScentSationals Take Me to Paris
duo, although that scent had a stronger floral note and was not as sweet. All the scents that this scent smells like also have pear as a main note.
Blue Citron
Sugared citrus, tropical fruits, sandalwood
This might be an older scent that has returned (older label), but I've never seen it before. It's a nice citrusy orange scent with a super sweet hard candy note and a tiny bit of a tropical note way in the background. Very nice! It smells a lot like
Better Homes & Gardens Over the Rainbow
. I think it's supposed to be a dupe of the
Capri Blue Volcano
scent.
Cactus Rose
Coastal Capri
Herbal, evergreen, marine
A savory herbal scent with a strong black pepper note and fresh green garden herbs. It's not sweet at all, and it has a tiny bit of zestiness (but no lemony notes). It may also have a barely detectable smidgen of eucalyptus although it doesn't have that sinus clearing effect. It's nice and very different, but I'm not sure if I want my house smelling like a salad. Looking at the scent notes, evergreen and eucalyptus are kind of similar.
Coastal Sunset
Sun-kissed orange, vanilla, cedarwood
I smell cedar with lavender and maybe a hint of citrus and a soapy note (but it's not a body wash type scent). It smells similar to BBW Lavender Vanilla, but it's not the same. Looking at the notes, there's the cedar, but I think that should be the first note. I'm surprised I don't see lavender. This smells a little bit like a lavender based cleaner, a little bit like Fabuloso but different. I really like it.
Garden of Flowers
Apple, jasmine, gardenia
This is a floral scent with maybe rose and some other type of flower, but it also has a bitter note I don't care for. I'm very sensitive to even the slighest amount of bitterness in a scent, so I think most people won't notice or care. Looking at the scent notes, I don't smell apple at all. And I do smell the jasmine but I don't know where that bitter note is coming from. That's probably why I thought it was rose because that note sometimes has a little bit of bitterness.
Passion Fruit Punch
I reviewed the other 10 "new" scents that have returned from previous years at the links below:
---