ScentSationals Fall Wax Melt Reviews from Walmart - 2018
October 10, 2018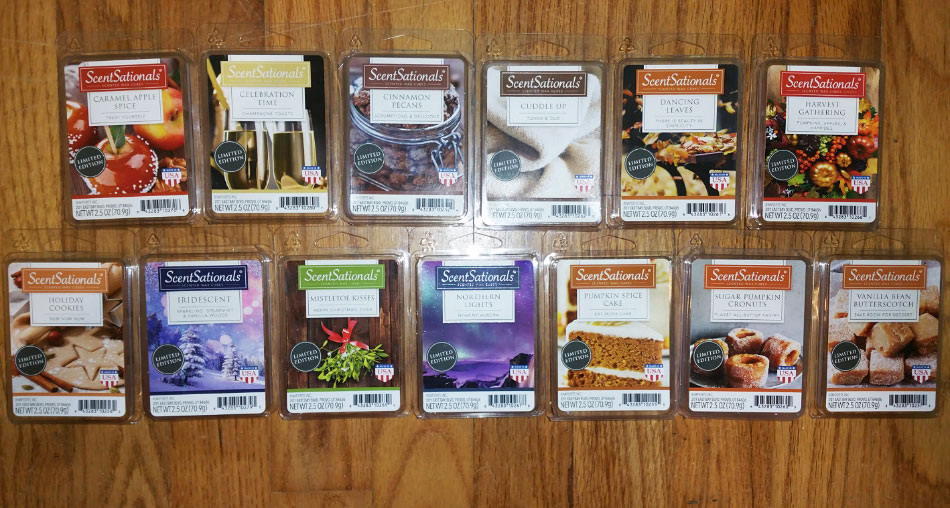 This is a review of ScentSationals Fall (and Christmas) Wax Melts from Walmart 2018. ScentSationals doesn't come out with Christmas scents at Walmart, so they include a couple of holiday/winter type scents with their fall collections.
Caramel Apple Spice
Notes of sweet vanilla infused caramel, swirled with juicy ripe apples, a dash of cinnamon spice and deliciously accented by sugared sprinkles
This smells like a combination of last year's
Harvest Moon
, which smells like a combination of apple cider, rich salted caramel, molasses and brown sugar, and
Pumpkin Apple Muffins
(a super rich salty and slightly sweet butter caramel corn scent). I LOVE it!! The word "spice" in the scent name is kind of a misnomer, since it's not spicy and I don't detect cinnamon.
Celebration Time
A sweet citrus blend accented by soft greens, fresh berries, ginger sparkle with hints of white jasmine, cala lily, white woods and golden amber finished with candied vanilla and toasted sugar
This is weak on cold sniff and I have no idea what I'm smelling, but when melted I really like it. I couldn't figure out the scent, but then I realized it's pear! But it also has a hint of a warm slightly perfumey note. It doesn't smell like champagne at all, which is good. It's a beautiful scent, and I really like it. Looking at the scent notes, I can't believe I don't see pear!
It's NOT the same scent as these other ScentSationals and Better Homes & Gardens pear scents:
It has some similarities to this year's Better Homes & Gardens Pear Blossom Tea (which I also love), but it's not the same scent.
Cinnamon Pecans
Warm cinnamon sticks, spicy crushed clove, and creamy nutmeg spun with toasted pecans and caramelized brown sugar, with mouthwatering sweet undertones of English toffee.
Cuddle Up
Classic notes of sweet cinnamon spice, crushed clove bud, sweet toasted nutmeg and bound by warm amber, rich cashmere musk and touched by shimmering white woods and opulent moss
The label looks a lot like
ScentSationals Cashmere Cream
from August 2016, but it's a totally different scent. I smell patchouli first, and a little bit of the oud (the label says "Tonka & Oud"), which is a dark resinous wood. But the intensity of the oud is tempered by a sweet perfumey note. I also smell a hint of the tonka (an intense dark vanilla with a caramel, almond, cinnamon and clove notes, and even a smidgen of cherry). It's an unusual, complex blend of notes, and I love it! Looking at the notes, I'm surprised I don't see patchouli. It reminds me of
ScentSationals Turkish Spice Market
from 2015, although it's not the same scent. It's fantastic!
Dancing Leaves
An enticing autumnal blend of aromatic fir, warm balsam, and pure cedar wrapped with crisp green apple and aromatic leaves. Freshened with a touch of white orchard pear and harvest berry swirled together for this perfect fall blend.
This is a very common fall scent that I've smelled many times. It smells like really old apples that have fallen on the ground at the end of the season and mixed with brown leaves. But not in a bad way. It also has a hint of spices that make it smell a little that make it smell like apple cider, but the harsh raw unprocessed homemade slightly fermented craft cider. It's fantastic, and the same scent as
AmbiEscents Turning Leaves
.
Although the notes are very similar to Better Homes & Gardens Fall Into Autumn ("Golden acorns and crisp green apple that combine with warm notes of smooth applewood and red cedar nestled with aromatic leaves, white orchard pear and gently spiced harvest berry"), it's not the same scent; Fall Into Autumn is also woodsy and smoky, but with no apple notes, and it has a weird sage type note in the background that I don't like (similar to ScentSationals Mountain Twilight (a very popular scent, whose notes are also similar, "A cool breeze with pine and aspen, with hints of balsamic, evergreen, juicy berry, and ambered greens"), but I also don't care for due to the biting, vinegary, sagey type note).
Harvest Gathering
A classic cornucopia of harvest goodness blending apple and ripe pear with sweet orange and crushed herbs, white pine, shimmering clove bud and cinnamon wrapped with toasted vanilla, spiced pumpkin and smoked warm woods
The label says "Pumpkins, Apples & Hayrides". But I'm not a fan of this scent. I don't smell any of those notes. It's smoky but also sour with a hint of a fruity note, but not enough to temper the sourness. There may also be a woodsy or even a pine note in there, but I don't know what that sourness is. It smells like Play-Doh to me. When melted, there is a little bit of sweetness that comes through, but in a weird way.
Holiday Cookies
Creamy cake batter spiced with grated ginger, sweet nutmeg, freshly ground cinnamon, melted butter, and allspice fused with rich vanilla extract and creamy buttercream. Simply baked to perfection with a light sprinkle of powdered sugar
If you're into bakery scents, this is quite nice. It smells like sweet warm vanilla cookies with a lot of cinnamon and even some nutmeg, giving it a little bit of a pumpkiny note. For me it's just "okay", and very similar to other cinnamony bakery scents.
Iridescent
A sparkling blend of crisp fresh mint accented with hint of ginger. A light touch of spice and sweet rum followed by a creamy heart of coconut, vanilla and a sweet gourmand finish
This scent seems to be everyone's favorite, and with good reason... it's fantastic!! Although the label says "Sparkling Spearmint & Vanilla Woods", I smell peppermint, not spearmint (which is good, because I'm not a fan of spearmint). And it's not an overly minty peppermint, more of a "soft" peppermint. It's a powdery, slightly buttery, very sweet milky vanilla buttercream peppermint scent, like a Buttermint candy. But it's not really a foodie scent because there's also a smidgen of light woods and a warm amber perfume note, so maybe what I'm thinking is the buttery note is really the amber. I love it, and it lasted 12 hours! I think this one is going to be everyone's favorite!! Looking at the scent notes, I'm surprised there aren't any woodsy notes.
This smells a lot like Goose Creek Candle Vanilla Wonderland scent, but it's not exactly the same. Comparing them side by side, Iridescent has a milky note that Vanilla Wonderland doesn't have, and Vanilla Wonderland is a tiny bit sweeter. But they're very close, and if you miss Vanilla Wonderland because it's discontinued, Iridescent is a close substitute!
Mistletoe Kisses
Fresh black balsam and a fruity mix of iced cranberries, red currant, juniper berry and ripened raspberry. Accented by a mix of frosted apple on top and a base of vanilla bean and winter spruce
This smells like raspberry and cranberry with a bit of a pine note. It also has a hint of sourness, just enough to work with the scent instead of overpowering it. The fruit is probably supposed to be just cranberry, but I really smell raspberry first, with just a smidgen of the cranberry bitterness. It's just slightly sweet. A nice holiday scent! And it's one of those unusual types of scents that's actually not very strong, but throws very well. So from downstairs I can smell it melting upstairs, but it's very subtle.
Northern Lights
Whipped vanilla, cinnamon, vetiver grass, and tangy blackberry, with underlying notes of white flower, absinthe, lively bergamot and finishing with an earthy whisper of black fig
I knew what scent this was as soon as I smelled it on cold sniff:
ScentSationals Midnight Summer
from February 2017! It's even the same color, with similar notes (Midnight Summer notes: Figs layered with Indian jasmine, ballerina rose and green notes of absinthe), and the labels are a little similar too. It's a warm, slightly perfumey blackberry, very similar to 2016's
ScentSationals Blackberry Cider
, but sweeter, with maybe a smidgen of a "pink sugar" note. It also smells a little like
Scentsy Luna
, but richer and sweeter. I guess the sweetness I'm smelling is the jasmine and rose, although this is not a floral scent. It's lovely, and kind of "sexy"! I contacted ScentSationals and they said it's not the same scent as Midnight Summer, but most people have said they smell exactly the same. Actually, sniffing them side by side again, Northern Lights might have a tiny bit of a smoky note that I don't detect in Midnight Summer?
Pumpkin Spice Cake
Spice cake fuses with freshly grated ginger root, brown sugar sweetened pumpkin, sparkling citrus orange, ground clove bud, grated cinnamon sticks and toasted allspice in a sweet vanilla bean batter
This smells like pumpkin pie with a little bit of a gingerbread note. It also has a little more nutmeg than some other pumpkin pie scents I've smelled.
Sugar Pumpkin Cronuts
Slow-mulled apple and pumpkin fruit baked between flaky all-buttered pastry layers dusted with ground cinnamon, golden nutmeg and aromatic clove sprinkled with candied brown sugar, and a splash of warm vanilla
I think this one will be a hit. It smells a lot like
ScentSationals Cider House Donuts
from Fall 2016. I no longer have that scent, but I described it like this: "I can smell the donut dough with a bit of a sweet apple cider note, a pinch of cinnamon, and powdered sugar." Come to think of it, that's how I would describe Pumpkin Cronuts! Although I think this scent is more cinnamony and might have a hint of nutmeg to give it a little bit of a pumpkiny note.
Vanilla Bean Butterscotch
Hints of smooth vanilla bean, swirled with creamy butterscotch, hints of caramel and frosted buttercream accents sweetened with a tantalizing touch of pure sugarcane
A fantastic, rich buttery butterscotch scent, and strong on cold sniff. It's very similar to
Better Homes & Gardens Butterscotch Maple Cream
, and might in fact be the same scent. But I think Vanilla Bean Butterscotch is richer, although that might just be because the Butterscotch Maple Cream wax melt I have is a few years old.
These ScentSationals scents have returned from Fall 2016:
Caramel Pumpkin Seeds, Perfectly Pine, Pumpkin Apple Muffins, Pumpkin Spice, Spice It Up
These ScentSationals scents have returned from Fall 2017:
Black Tux, Honey Crisp Cider, Pumpkin Marshmallow Cream, Red Hot Cinnamon, Welcome
---