ScentSationals Day of the Dead Wax Melts Reviews from Walmart - Fall 2023
September 4, 2023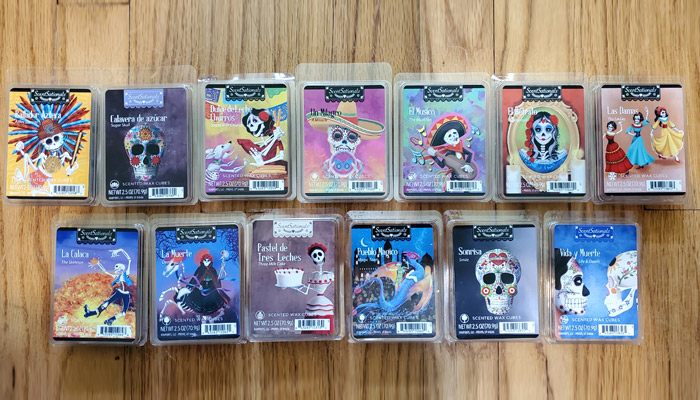 This is a review of the ScentSationals Day of the Dead Wax Melts Reviews from Walmart for Fall 2023.
Bailador Azteca (Aztec Dancer)
Black currant and crisp bergamot infused into a heart of cardamom, juniper berry and coastal pine. Rose petals add a gentle quality, while sea minerals provide a textural sensation. A dry down of chocolate suede, cedarwood, white moss and amber becomes the perfect finish.
A nice men's cologne that's not overly sweet. I'm getting a tiny bit of leather in the background, and maybe a bit of a soapy note.
Calvera de Azúcar (Sugar Skull)
Celebrate the end of the year with the sparkling colors of a Confetti Party!! It's a festive blend of sparkling fruits, flowing flower petals, sweet amber, and sugared vanilla.
This scent has returned from
2021
. A fantastic sweet, fruity, pink sugar type scent. I thought it might be the same scent as ScentSationals Pretty in Pink or Better Homes & Gardens Pink Sugar Berry, but although it's kind of similar, it's not the same. It's not truly a pink sugar scent, or cotton candy, and it's more fruity, with no perfumey notes, although I think it does include a subtle floral. I'm definitely getting raspberry and blackberry (no strawberry, I don't think), and possibly also pomegranate. I think I also detect an ever so subtle smidgen of pineapple, coconut, and maybe peach. My description sounds a lot like ScentSationals
Girlfriend Night
, but that's a totally different scent. Looking at the notes, I don't know which fruits comprise the "sparkling fruits".
Dulce de Leche Churros (Sweet Milk Churros)
El Musico (The Musician)
Delicate swirls of sparkling champagne accented with soft hints of luscious vanilla sweetness and a fresh infusion of sun-ripened raspberries and nectarous apricot
I can't figure out what I'm smelling, but it's different and I kind of like it. I'm getting some kind of fruit, but it also has a tiny bit of a sour note, as well as a green or even slightly savory note. I can't figure this one out. Looking at the notes, yes, champagne, which is often presented as a sour fruit scent in wax melts and candles.
El Retrato (The Portrait)
Resplendent notes of flowering spring lily, cherry-splashed rose petals, and sunlit island orchids gleam with sweet melon highlights, luminous greens, and cool, translucent musk
A lovely, feminine scent of rose with hints of cherry, baby powder, and maybe a smidgen of honeydew melon way in the background. I love it!
La Calaca (The Skeleton)
La Muerte (Death)
Smooth, barrel-aged whiskey is enhanced with fresh lemon zest, stone fruits and an edgy touch of spiced cinnamon. Warm cedarwood, leather and vanilla linger in the base.
This reminds me of a very old ScentSationals scent called October Rain. In fact, sniffing them side by side on cold sniff, they could indeed be the same scent. But when melted, they're slightly different. It's a difficult scent to describe. I think I'm getting lemon, wood, and ginger, and it's only a little bit sweet. This scent has a smidgen of caramel in the background that October Rain did not have. Looking at the notes, the only one I detect is the lemon, possibly the cedarwood, and a smidgen of vanilla. It's a nice, unusual scent.
Las Damas (The Ladies)
Ripened pink pear balance a sensual heart of fresh rose essence and smooth orris layered with rich white amber over creamy elements of pure vanilla bean and warm cedar
This scent has returned from
last year
. It's a warm, sweet, slightly incensey fruity floral with pear and amber. It's sweet, but not overly sweet, or perfumey, or even all that flowery. It could "almost" have a cologney note, but it's not that at all. I like it!
Pastel de Tres Leches (Three Milk Cake)
A sweet and delicious blend of crushed cinnamon, vanilla bean, and sugar mingled to create a creamy mouthwatering blend
This scent has returned from
2021
. It smells like a super milky vanilla cookie. It's not overly sweet, and it may have a barely detectable smidgen of cinnamon way in the background (barely noticeable, and not in the forefront as the notes suggest).
Pueblo Magico (Magic Town)
The brightness of citrus splashed greens, wild herbs and ambered fougere embrace dark woody patchouli, milky sandalwood and oriental amber spun with black suede and cocoa bean
The notes for this scent are the same as
Sienna Suede Fusion
,
Wicked Woods
, and
Warm Fireplace
. I love this yummy foodie incensey cologne type scent. I smell warm amber, patchouli and Eastern spices, vanilla, and maybe a hint of tobacco, and definitely a smidgen of apple. Looking at the scent notes, no apple, and I don't smell citrus (or maybe that's the apple?). And although I don't smell chocolate, that's probably what I think is the vanilla (and patchouli sometimes smells like chocolate). Fougere is a combination of lavender, oakmoss, and coumarin (a synthetic form of Tonka bean); now I think I do smell the lavender, but if I didn't know it was there, I wouldn't detect it. It's a bit similar to
ScentSationals Flirtatious
, but this scent is warmer, "darker", and more incensey, and with the smidgen of apple that Flirtatious doesn't have.
Sonrisa (Smile)
Green tobacco leaf entwined with fragrant notes of rich leather and ark oak wood balanced by smooth hints of barrel-aged whiskey, sweet vanilla, and peppery patchouli
This scent has returned from
last year
. It reminds me a little bit of the Day of the Dead
Mariachi Band
scent from 2021, which was a rich men's cologne with a lime note. But this scent is sweeter and without any lime, and smells a lot more like (but I don't think exactly the same as) ScentSationals
Flirtatious
, a warm, ambery, Oriental spice, mahogany cologne type scent. I think this scent has a bit more incensey and tobacco notes, so it's like 80% incense and 20% cologne. Looking at the notes, there's the tobacco, and I do get a bit of patchouli, but no leather or whiskey. I love this scent!
Un Milagro (A Miracle)
Bright grapefruit and cracked cardamom meld with peppered hints of leather licorice nestled with cinnamon-dusted nutmeg, woodland lavender, earthy vetiver, ambered fir needle, and creamy sandalwood
A warm, sweet men's cologne with maybe a tiny bit of citrus and smidgen of pine way in the background. Looking at the notes, they're the same notes as Christian Dior Sauvage Elixir cologne. I'm not getting licorice or nutmeg at all.
Vida y Muerte (Life & Death)
Oceanic breeze and Italian bergamot notes swirled with green apple, juicy melon and accented by watery blossoms
This scent has returned from
last year
. I'm getting a lot of different types of notes in this scent. It's fresh, watery, and slightly herbal, with a bit of a similar odd peach note I detect in Tapices de Flores has. It's like that scent with a fresh, watery note added, and just a tad less sweet/floral. This one is just okay for me.