ScentSationals Christmas/Holiday 2021 Wax Melt Reviews #2
October 25, 2021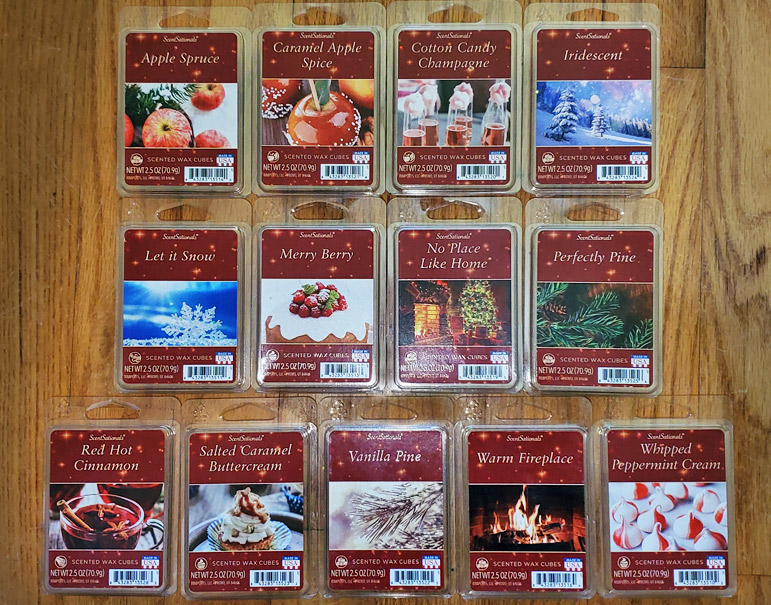 This is a review of the new ScentSationals Christmas/Holiday 2021 wax melts that can ONLY be purchased from the ScentSationals website: Apple Spruce, Cotton Candy Champagne, Let It Snow, Merry Berry, No Place Like Home, Red Hot Cinnamon, Warm Fireplace, Whipped Peppermint Cream.
ScentSationals also came out with a new collection of 5 Christmas/Holiday scents a few weeks ago that are available not only on the ScentSationals website, but from the Walmart website as well. We reviewed them HERE.
Apple Spruce
The opening is crisp and cool, with strong, vibrant citrus, French pear, sweet McIntosh apple coupled with cool juniper, woody spruce, and fresh vetiver (These notes are wrong: floating incense and the sweet earthiness of orris help to set the scene: A hint of smoke cutting through the summer air and the sun's reflection on water.)
This is the same as the new
AmbiEscents Spruce It Up
, but those notes are "Macintosh fragrance is coupled with cool juniper and fresh vetiver". I smell pine, ginger, apple, and a hint of citrus (orange or lemon), like 60% pine, 20% ginger, 10% apple, and 10% citrus. Very nice!
Cotton Candy Champagne
A cloud of decadent spun sugar with a twist of tangy aldehydic citrus punch
This doesn't smell like cotton candy or champagne... it smells more like an orange creamsicle, and it's fantastic! I get the orange and the sweet vanilla, and just a smidgen of tanginess from the "champagne" note that tempers some of the sweetness (but no bitter or sour notes that often accompany scents that include champagne or other alcoholic beverage notes). So it's not quite as sweet as an orange creamsicle, and it has that slight tanginess that a creamsicle doesn't have, but it's close. It might also have a hint of another fruit in there, like raspberry. I love this scent! (FUN FACT: Did you know that a Creamsicle is made with ice cream, and a Dreamsicle is made with ice milk?)
Let It Snow
Fresh lime, zesty lemon, and bright tones of bergamot sparkle above white neroli and fresh jasmine infused with blonde woods and an ozone spiked breeze.
A salty, fresh air scent with lemon rind and maybe a slightly smoky or peppery pine. It has a note that I can only describe as musty, but not really in a bad way. It has very little sweetness. Looking at the notes, I think I do detect a bit of lime. I don't detect neroli, jasmine or really any florals, although that could be the smidgen of sweetness I'm getting. It's different from anything I've smelled. I kind of like it, but it's not one of my favorites.
Merry Berry
Graham infused sugar cookies topped with a dollop of creamy cheesecake frosting and sweet raspberry drizzle
I thought this was the same as
Juicy
, but although it's very similar, it's not exactly the same. Both scents smell like soft, sweet, rich cherry fudge with raspberry and possibly a smidgen of almond. Juicy is a bit "brighter" than this scent, and with more of the maraschino cherry note. Merry Berry is "richer", with a hint of a bakery note (or maybe just more vanilla), definitely more raspberry, and maybe a smidgen of chocolate or caramel. I'm sure that Merry Berry uses Juicy as the base for this scent. They're both fantastic, and if you love one, you'll love the other! This scent lasted all day, at least 12 hours! Better Homes & Gardens had a scent called Raspberry Linzer Cookies in 2013 I believe; I no longer have that scent to compare, but I'm fairly certain it's different from this scent, and although it smelled great, it was more fake and not as rich.
No Place Like Home
The comforting essence of warm sandalwood and glowing amber infused with citrus-freshened woods, powdery blooms, and soft, transparent musk
This is a totally different scent from the old ScentSationals No Place Like Home (a clove type scent that I didn't care for). This smells like a combination of cinnamon and baby powder, but it's more complex than that. The cinnamon smells like an expensive Ceylon cinnamon powder (a mild, delicate cinnamon that almost has a floral note, not a harsh Big Red gum or Red Hot candies type cinnamon at all), with musk (it's quite sweet), baby powder, rich vanilla, and possibly a hint of sandalwood and smidgen of amber. It's nothing like other cinnamon scents I've smelled, since it's not all that cinnamony, even though I think cinnamon is the main note. It's such an amazing combination, and I can't stop sniffing it! The notes are similar to
Amber Cashmere Fusion
and
Better Homes & Gardens Soft Cashmere Amber
, but it's a different scent. I don't detect citrus at all, and I can't believe there's no cinnamon in the notes!
Red Hot Cinnamon
Aromatic notes of bright red hot cinnamon accented by crushed clove bud, sweet allspice, and a touch of shimmering nutmeg
This is a straight red hot cinnamon with a sweet, slightly candy note, which I originally reviewed in
2017
. It's almost exactly the same as the new
ScentSationals Cinnamon Bear
, with the same shade of red, but the notes are slightly different ("Freshly ground cinnamon accented with citrus sparkles, fragrant allspice, and warm clove"). I think Cinnamon Bear is very slightly sweeter with a little more of the candy note, but I think most people won't be able to tell them apart. I thought it was also the same as
Better Homes & Gardens Spicy Cinnamon Stick
, and the notes are basically the same ("freshly ground cinnamon sticks embellished with pure notes of crushed clove essence, sweet nutmeg, and a sprinkle of festive allspice"), but I no longer have that scent to compare, and Rimports said that they are indeed different.
Warm Fireplace
The brightness of citrus-splashed greens, wild herbs, and ambered fougere embrace dark woody patchouli, milky sandalwood, and oriental amber spun with black suede and cocoa bean.
This is the same as
Sienna Suede Fusion
and
Oak & Rye Wicked Woods
(those 2 are the same scents). Notes are the same, as well as the same rusty red wax color. I love this yummy foodie incensey cologne type scent. I smell warm amber, patchouli and Eastern spices, vanilla, and maybe a hint of tobacco, and definitely a smidgen of apple. Looking at the scent notes, no apple, and I don't smell citrus (or maybe that's the apple?). And although I don't smell chocolate, that's probably what I think is the vanilla (and patchouli sometimes smells like chocolate). Fougere is a combination of lavender, oakmoss, and coumarin (a synthetic form of Tonka bean); now I think I do smell the lavender, but if I didn't know it was there, I wouldn't detect it. This scent might also be similar to
Better Homes & Gardens Apple & Oud
, but I no longer have it compare. It's also a bit similar to
ScentSationals Flirtatious
, but this scent is warmer, "darker", and more incensey, and with the smidgen of apple that Flirtatious doesn't have.
Whipped Peppermint Cream
Vanilla bean sweetens red and white striped peppermint candy canes dusted with powdered sugar
A peppermint candy or candy cane scent with a little bit of vanilla. It's almost the same as Candy Cane Crush from
Oak & Rye
and
AmbiEscents
; those scents are also sweet candy cane scents, but this one is very slightly less sweet and might have a tiny bit more vanilla. It also has a very subtle musty note that Candy Cane Crush doesn't have, but it's a great scent. And peppermint is also great for mixing with scents like vanilla, chocolate, pine, lemon, and amber perfumey scents.
Other scents in this collection are older scents that I reviewed in 2016, 2018 and 2020: Caramel Apple Spice, Iridescent, Perfectly Pine, Salted Caramel Buttercream, and Vanilla Pine. But these come in the new red holiday clamshell, which makes them perfect for holiday gifts and stocking stuffers!