Better Homes & Gardens Christmas 2019 Wax Melt Reviews from Walmart
November 18, 2019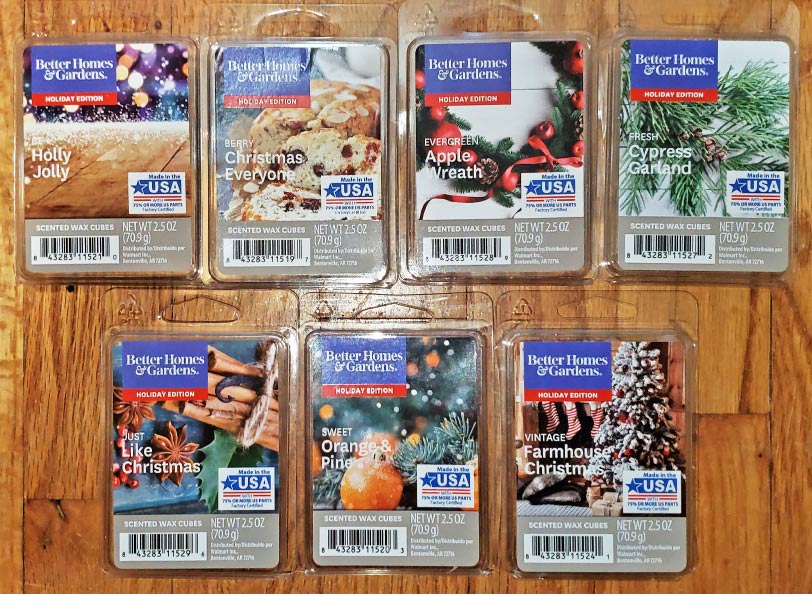 This is a review of Better Homes and Gardens Holiday 2019 Wax Melts from Walmart.
You can also read this review (and participate in the conversation!) in our Facebook group HERE (if you're not a member of the group, you'll be prompted to join).
Most of these scents were just "okay" for me, and many members of our group expressed the same sentiment. Too many pine scents, and only two scents really stood out (Just Like Christmas and Sweet Orange & Pine).
Be Holly Jolly
Berry, apple, rose, and kiwi, finished with musk and patchouli
This smells like a fruity candy, maybe grape flavored gumdrops (other people in our group have said the same thing), but there are some other notes I can't figure out. I think I smell apple as well, but also a slightly perfumey or floral note, although it's not a perfumey or overly sweet scent at all. And maybe a barely detectable smidgen of pine? It's just an okay scent for me, and it has a little bit of a chemical note. Looking at the notes, no pine, but now that I see rose, I guess I do detect it a little.
Berry Christmas Everyone
Raisins, fresh bread, sweet cream, plum, sandalwood, and musk make up this delightful raisin nut bread
This smells like raisins in a sweet sugary syrup with a berry note (maybe plum?). It has a burnt note though, but not enough to ruin the scent. Looking at the label, I guess it's supposed to be bread with cranberries, dates and almonds. I don't smell almond, or any tart cranberry type notes. Maybe a little bit of cinnamon, and a smidgen of a bakery or bready note way in the background. It's just an okay scent for me, and it started dissipating within 1 hour and was completely gone within 2 hours. Looking at the notes, yep, raisin bread! I don't smell any perfumey (musk) notes though.
Evergreen Apple Wreath
Evergreen pine and fresh spruce woven with mistletoe greens, fresh apples, and a hint of cinnamon spice
I smell both the apple and pine, but more of the apple. The apple is not a sweet, juicy apple and has a little bit of a waxy note, more like a green Granny Smith apple with the drier, less flavorful pulp. The hint of pine is not a smoky spruce type pine, and I detect a smidgen of a peppery note. Melted, it has a hint of an old perfume note, but not really in a bad way, and it's not actually a perfumey scent at all. I don't dislike the scent, but it kind of falls flat for me, especially since I had such high hopes based on the scent name. I would have loved this to have been a blend of a sweet, juicy, bold apple with an equal amount of slightly smoky spruce.
Fresh Cypress Garland
Fresh Leyland fir smoked with white birch and hickory fused with warm suede, teakwood, amber and cypress
This is a slightly biting pine scent with a eucalyptus note, a tiny bit of a saltiness and maybe a smidgen of a cologne note. It doesn't have the sinus clearing effect of eucalyptus, so maybe it's sage that I detect, since it has a little bit of a sour, savory note as well. Melted, however, the sour note pretty much disappears and this scent takes on a little of that fresh, aldehydic spruce note that I love in Colonial Candle Blue Spruce. I like it more melted than I do on cold sniff.
Just Like Christmas
Cinnamon, clove, and nutmeg sparkling with allspice, orange, sweet vanilla, and fresh ginger warmed with dark wood and amber
This smells just like
ScentSationals Season's Greetings
, although the notes are a little different (Season's Greetings: Thyme, and wild sage blend with spicy cinnamon embraced by ambered acorn and hints of buttered chestnut fused with warm woods, amber, and vanilla bean). I can barely tell the difference, although the throw for Season's Greetings is weaker (medium, 3 out of 5). Just Like Christmas is very slightly sweeter, with a hint of a powdery note, and may be the same scent as ScentSationals Twilight Mist & Dreams from Meijer, which I love. I'm usually not a fan of straight cinnamon, but I love this scent! Looking at the scent notes, I don't smell orange at all.
Sweet Orange & Pine
Siberian Pine and Orange Sanguine plus fresh cut grass, cinnamon sticks, clove, cedarwood, and balsam highlights
This smells almost exactly like
Goose Creek Christmas Tree Cutting
, even with the same dirt note. But this scent has more of the smoky spruce note than the Goose Creek scent does. I was disappointed that I don't smell orange at all, but that's okay, as it's still fantastic, and that dirt note makes it an incredibly authentic fir tree scent. This is my favorite of the new scents!
Vintage Farmhouse Christmas
Smoked hickory and aromatic birch gleaming with luminous evergreens and wild apples over creamy vanilla, tonka, and tobacco infused amber