Tuscany Candle Fall Wax Melts Reviews - 2020
September 7, 2020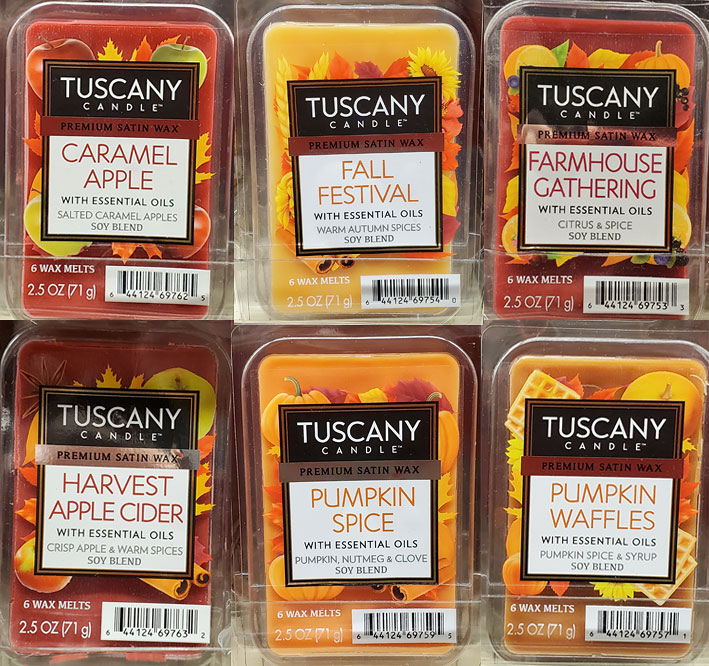 This is a review of the Tuscany Candle Fall 2020 wax melts Caramel Apple, Fall Festival, Farmhouse Gathering, Harvest Apple Cider, Pumpkin Spice, and Pumpkin Waffles. Half of these are brand new scents, and half are scents that have returned from previous years.
Tuscany Candle wax melts can be found at stores like Wegmans, Kroger, Meijer, and many other stores across the country. They can range in price from $2.50 to $3.50. I got them at Wegmans for $2.75.
Caramel Apple
Salted Caramel Apples
This is a sweet caramel scent with a little bit of caramel, and vanilla that makes it smells a little like red velvet cake. It's a nice, pleasant scent, but weak on cold sniff. It's not the same as the same as their Caramel Apple scent from
2017
, which I described as a "A nice fake apple or pear candy scent with caramel (like potpourri)".
Fall Festival
Warm Autumn Spices
This is the same as Fall Festival from
2019
. It smells like sweet pumpkin pie filling with extra cinnamon. It's quite nice, and smells better than a lot of other pumpkiny scents out there.
Farmhouse Gathering
Citrus & Spice
The name and notes suggest that this is a typical fall scent, but it's absolutely not, and the notes are totally wrong. In fact, I thought the lid might have been switched with another scent, but no, they had like 10 of these and they were all the same. But I'm so happy it's not what I expected, because it's WAYYYYY better. It's a super rich blackberry scent with a strawberry rhubarb note, and maybe a hint of maraschino cherry. It's sweet but not cloyingly sweet, with a barely detectable tanginess. It's one of the fruitiest - and one of the BEST - scents I've ever smelled, and the scent lasted all day. Hoard-worthy!!
Harvest Apple Cider
Crisp Apple & Warm Spices
Apple cider with a waxy note and maybe a hint of woodsy note. Fresh apple, maybe with another berry. Not overly sweet. It might be the same as their
Harvest Cider
scent from 2018.
Pumpkin Spice
Pumpkin, Nutmeg & Clove
This is the same as Pumpkin Spice from
2019
. It's a rich, yummy, sweet scent of cinnamon, cloves and nutmeg (pumpkin spices), and maybe a hint of molasses. It smells more like the pumpkin pie filling than the pie itself. It's similar to the Fall Festival scent, but Fall Festival is mostly cinnamon, while I think this scent has more nutmeg.
Pumpkin Waffles
Pumpkin Spice & Syrup
This smells like pumpkin pie (with nutmeg and cinnamon) and a little bit of maple. Despite the name, it's nothing like the Bath & Body Works Pumpkin Pecan Waffles candle.