Tuscany Candle Fall Wax Melts Reviews - 2022
August 28, 2022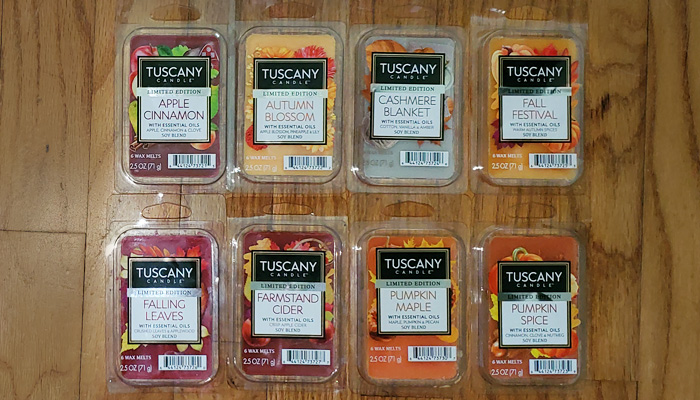 This is a review of Tuscany Candle Fall 2022 wax melts Apple Cinnamon, Autumn Blossom, Cashmere Blanket, Fall Festival, Falling Leaves, Farmstand Cider, Pumpkin Maple, and Pumpkin Spice. Some of these scents have returned from previous years.
I found these at Wegmans food store, but they may be available at other stores like Meijer and Kroger; in fact, there may be more Tuscany Candle fall scents than these.
Apple Cinnamon
Apple, Cinnamon & Clove
This smells like apple cider. It's not overly sweet (like apple juice) and has a tiny bit of a soapy note (which is actually the spices). It's not overly cinnamony though. It might be the same as
Apple Spice
from 2019, as I described it similarly.
Autumn Blossom
Apple Blossom, Pineapple & Lily
I'm getting cedar, fruit (peach, I think), a milky note, and a smidgen of a very slightly sour note. It's a bit sweet. Looking at the notes, I'm not getting any of them, but maybe the cedar, peachy and sour notes are actually pineapple? It's just okay for me.
Cashmere Blanket
Cotton, Vanilla & Amber
A fantastic scent that smells like super sweet sugary rock candy, but without any fruity notes. It's like pure sugar, and has a little bit of a vanilla note, a slight buttery note, and just a hint of perfumey cashmere (which is a warm, ambery note with a hint of laundry). I love this scent!
Fall Festival
Warm Autumn Spices
This is the same as Fall Festival that comes out every year. It's a sweet, rich scent of cinnamon and nutmeg (pumpkin pie filling), without any pie crust or "pumpkin pie" type notes. I like it, and it's better than (and not as generic as) other pumpkiny type scents out there, including their own Pumpkin Spice scent.
Falling Leaves
Crushed Leaves & Applewood
This smells like sandalwood (a milky light wood type scent) with an additional note of super milky vanilla, a hint of musky perfume, and a smidgen of barely detectable, very slightly sweet incensey spice (like frankincense). It's like 50% sandalwood, 25% musk, 15% vanilla, and 10% incense. It's quite pleasant. It's not the same as the
2018
scent (which was a pumpkin pie scent) or
Rustling Leaves
from 2021 (which has the same notes).
Farmstand Cider
Crisp Apple Cider
I'm certain this is the same scent as
Sonoma Falling Leaves
from Kohl's, that has been returning every year since 2015 (Sonoma wax melts are made by Empire Candle, the company that makes Tuscany wax melts). It's one my favorite scents, that typical musty fall apple scent that smells like apples on the ground at the end of the season, mixed with brown leaves, pine, moss, and a hint of apple cider. It's not sweet, or maybe just barely sweet. This is not the same scent as their
2019
Farmstand Cider scent (which was an apple cider scent but without the brown leaves, woodsy or pine notes).
Pumpkin Maple
Maple, Pumpkin & Pecan
This smells like a combination of maple and butterscotch. It's super sweet, and smells incredible! It's not a rich, buttery butterscotch, and I'm not getting any pumpkiny notes. I don't think I detect pecan either, although there could be just a smidgen. It's not the same as
Pumpkin Waffles
(whose notes were Pumpkin Spice & Syrup), as that smelled more like pumpkin pie.
Pumpkin Spice
Cinnamon, Clove & Nutmeg
This is the same as Pumpkin Spice that comes out every year. It's a nice but standard pumpkin pie filling scent with nutmeg and a little bit of cloves and cinnamon.