Walmart ScentSationals Blast From The Past Wax Melt Reviews
July 9, 2022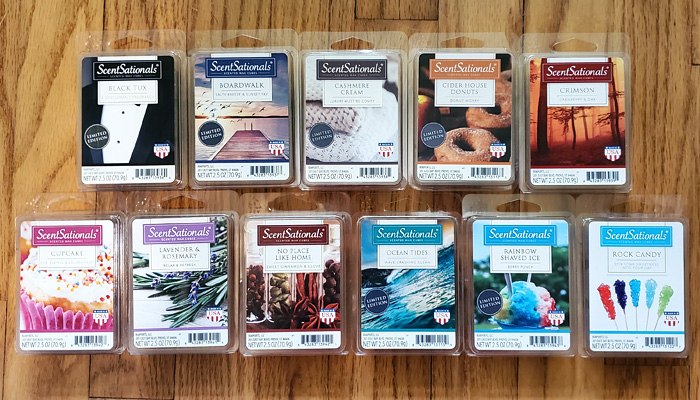 This is a review of the Walmart ScentSationals Blast From The Past Wax Melts Collection from July 2022, made up of 11 discontinued ScentSationals scents that have returned for a limited time.
Unlike last year, there will be no Better Homes & Gardens scents in this collection.
Black Tux
An elegant blend of bergamot, fresh marine notes, and spicy florals, with delicate notes of white sandalwood and ambered musk
A nice fresh cologne scent that's not overly sweet and has just a smidgen of smokiness. Melted, it's fresh but yet kind of "dark" with maybe a barely detectable smidgen of leather or something similar. Even if you don't like cologne scents, you might like this one because it's not too sweet or overly cologney. The scent lasted at least 12 hours!
Boardwalk
Sparkling ozone of sea salt drift over floral jasmine, cyclamen, and tender lily touched with hints of tropical peach and warm, musk-infused woods
Soapy and a little fresh with a little bit of a sweet watery note and a perfumey note and maybe a hint of baby powder. There might possibly be a barely detectable smidgen of coconut way in the background, but I'm not sure. When melted though, the perfumey note is much more subtle and it takes on more of a soapy note that's not overly sweet. It's quite pleasant and I like it.
Cashmere Cream
Luxurious, brushed cashmere floats above white suede and shimmering silk blossom coupled with white sandalwood, pure cedar and white amber touched by luminous musk and creamy, vanilla undertones
This is a nice milky vanilla scent with just a hint of perfumey cashmere, like 85% milky vanilla and 15% amber or cashmere (or maybe even 90% / 10%). It's very nice as is, but I'd like a bit more of the cashmere.
Cider House Donuts
Golden-brown, freshly fried donuts topped with brown sugared apple and smooth pumpkin puree dusted with cinnamon-spiced crumbles. Top: Apple, Spice; Middle: Pumpkin, Fried donut accord; Bottom: Brown sugar, Vanilla
I can smell the donut dough with a bit of a sweet apple cider note, a hint of nutmeg that gives it a tiny bit of a pumpkiny note, a pinch of cinnamon, and powdered sugar. It's a very nice scent. This scent originally came out in 2016, but came back briefly with the Blast From The Past collection of
June 2021
.
Crimson
Red grapefruit united with cranberry and Italian lemon blends with herbal sage, ambered saffron and lavender over sweet woods, musk and suede (label says "Cranberry & Oak")
A very nice warm, snuggly, sexy, slightly spicy winter men's cologne type scent with a mahogany note (the "oak"?), amber for warmth, and just a hint of bergamot (which gives scents a cologne note). It's a little soapy and not overly sweet. It may also have a barely detectable smidgen of balsam or patchouli way in the background. I'm not getting cranberry or any fruit notes. I thought it might be similar to ScentSationals
Simple Romance
, but comparing them side by side, they're completely different (other than both having warm mahogany notes). This scent, although not overly cologney on its own, is much more cologney than Simple Romance, and Simple Romance has oud, vanilla, and patchouli notes that gives it a bit of a foodie quality that this scent doesn't have. Looking at the notes, I'm not getting grapefruit or lemon at all. The notes are almost identical to a men's body wash a "Beverly Hills Polo Club" body wash called "
Blaze
, which is probably supposed to be a dupe for another scent with very similar notes called Ralph Lauren
Polo Red Intense
.
Cupcake
White cupcake topped with rich butter cream frosting OR Warm vanilla, pure sugarcane, and whipped cream frosting
A perfect, sweet vanilla scent that smells like a cross between yellow cake and buttercream frosting. It originally came out in 2011 and was a core scent until around 2016 or so when it was discontinued.
Lavender & Rosemary
Freshly picked lavender blossom accented with rosemary, soft citrus highlights and gently crushed clove.
A fantastic authentic lavender scent. It has a slight medicinal note due to the rosemary, but not enough to be bothersome. It has just a smidgen of sweetness, but it's not a soft, powdery, sweet lavender scent. Very nice, and a great mixer; it would mix well with lemon or lemongrass to make a nice spa scent, or with a floral or perfumey scent. Looking at the notes, I'm not getting citrus or clove at all; this is just a nice authentic lavender.
No Place Like Home
The comforting essence of sweet cinnamon, warm clove and fresh nutmeg accented with subtle nuances of fresh basil and eucalyptus
This is mostly clove, but it's not a warm, cozy clove like most clove scents. It's more of a "harsh" clove, like the way some cinnamon scents smell like red hot candies or Big Red gum. In fact, that harshness may indeed be coming from the cinnamon. It's a nice scent, and different from other cinnamon and clove type scents. Looking at the notes, I'm not getting basil or eucalyptus at all.
This is a completely different scent from the No Place Like Home holiday scent that came out in October 2021.
Ocean Tides
An inspiring exotic blend of sweet citrus, leafy greens, and soft tropical fruits combined with sugared melon, calming island florals, and a hint of pure woods and sea salted vanilla
This is the same scent as
AmbiEscents Maui Beach
, which is the same scent as the old ScentSationals Calypso Sands, a fantastic sweet watery scent with honeydew, floral, vanilla, and a hint of coconut (label says "light floral and honeydew on a fresh breeze"). This scent originally came out in February 2018 , but came back briefly with the Blast From The Past collection of
June 2021
.
Rainbow Shaved Ice
A sugared fusion of fresh lemon and red cherry brushed with sweet raspberry, hints of melon and candied strawberry
A sweet but lip-puckeringly tart, super fake (not in a bad way) scent of pineapple and harsh black cherry that makes it smell more like sour fruit candies than water ice. It's very tart, like those sour hard candies that have citric acid added to them to bring out the tartness. It's not a bitter tartness, more like the tartness of fresh lemon but without actually being a lemony scent. When I originally reviewed this scent in 2018, I thought it had a bitter chemical note, but that's just the tartness. It's not one of my favorites, but I think it would smell better mixed with vanilla, fruit, or even lemon. Looking at the notes, no pineapple, so maybe it's the combination of lemon and melon that smells odd to me.
Rock Candy
A sweet and fun fragrance that mingles sugared lemon, apple, and pineapple into a sweet heart of tropical punch and red currant. Sugar cane and vanilla bean in the base deliver a captivating finish. Top: Sweet, Berry; Middle: Sugar Cane, Citrus; Bottom: Berry, Vanilla.
Alt Notes: The sherbet sweetness of granulated sugar combined with rich notes of red berries and zesty citrus orange.
Original Notes: A blend of crystalized sugar, sweet citrus, and ripened raspberries
A very popular, super sweet fake (in a good way!) hard candy scent of cherry, strawberry, a bit of raspberry, and a hint of pineapple, and it smells fantastic. It's different from Rainbow Shaved Ice, doesn't have the tartness, and only has a tiny bit of pineapple. This scent originally came out in 2014 I think, but came back briefly with the Blast From The Past collection of
June 2021
.