Wax Warm Ups Reviews
November 14, 2021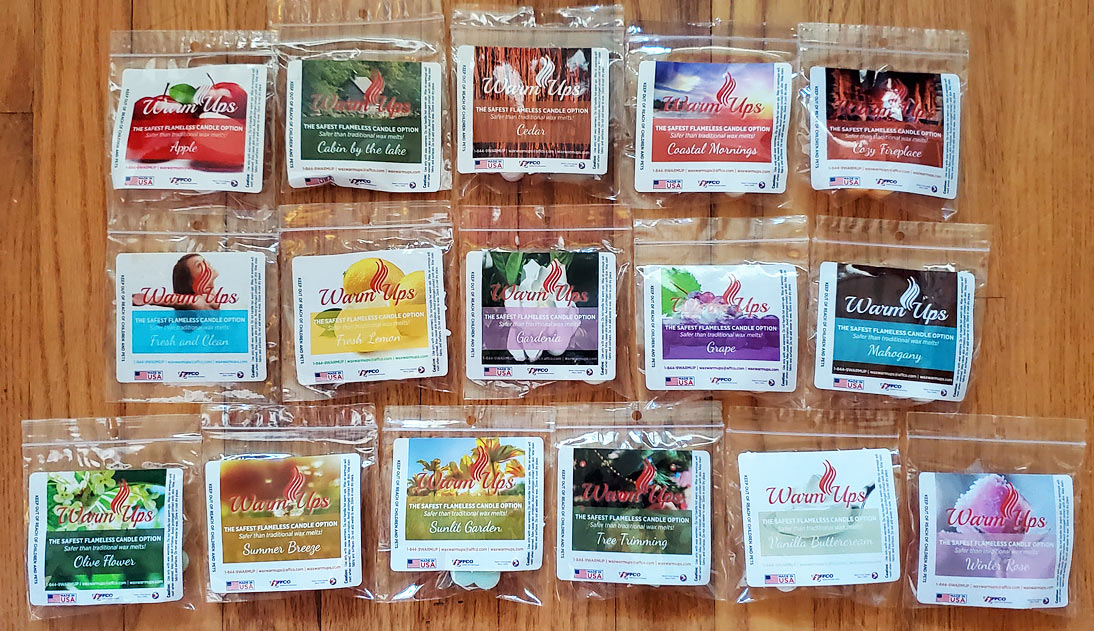 This is a review of Wax Warm Ups, an alternative home fragrance product that uses a wax melt warmer but contains no wax, for a no-mess, no-cleanup experience! They can be purchased at www.waxwarmups.com.
CONVENIENCE
Wax Warm Ups are hard fabric discs infused with scented oils. The oils stay inside the discs and the discs keep their shape when warming. They're a good alternative to wax melts if you're looking for something that's easier to use. No more tossing liquid wax into the trash can, soaking it up with a cotton ball or paper towel, or scraping hardened wax out with a knife. Instead, just place a disc on the warmer's warming tray and that's it! When the scent dissipates, simply remove the disc from the warmer and toss in the trash. It does leave a thin film of oil on the tray only where the disc was placed, but that easily wipes off with a tissue.
SAFETY
Wax Warm Ups never get hot to the touch, so they're safe to pick up. However, be sure to wash your hands (and nose!) after touching these. One of these touched my nose when I sniffed it, causing redness and slight burning afterwards. And sniffing a couple too closely burned the inside of my nostrils and nearly took my breath away, leaving me coughing and gagging. The scents I sniffed weren't overly strong, so I assume it was a chemical. Also, for safety reasons, keep these away from children and pets. I have cats and none of them had any interest, but children might be tempted to lick or bite the discs!
SCENT QUALITY
The majority of scents were quite nice. Some were fantastic and really stood out, some were pleasant but "generic", a few didn't smell like the scent name or notes, and a couple had a noticeable chemical note.
SCENT DURATION
I tested these using the 25 watt bulb warmer that the company sent me. The website says that one Wax Warm Up will last 3 days, but can last up to 5 days when flipped over. 2 of the scents did indeed last 2 straight days, a few others lasted a day, and one did indeed last for 5 straight days (12 hours a day)! The majority, however, dissipated within a few hours, even after flipping the disc over.
GREAT FOR MIXING
With regular wax melts, putting more than one melt in the same warmer can result in poor throw as it creates a deeper wax pool that doesn't get hot enough in the middle. However, since Wax Warm Ups don't create a pool, you could theoretically get double the throw by putting more than one disc in the same warmer. I don't think that would increase the longevity of the scents though. Also, because there's no blending of oils that cancel each other out, mixing scents is an area where Wax Warm Ups definitely shine! It's as easy as putting two or more discs of different scents in the same warmer!
PRICING
Each pack of 3 discs is $3.50 (on sale from $5.25) as of the date of this review. Which is quite pricey for the scents that only last a few hours. It's basically half a pack of a 6-pack wax melt that costs $2 at Walmart. The equivalent price for Wax Warm Ups at $3.50 for 3 discs works out to $7. For the scents that last 2 days, or longer if you use more than 1 disc, it's actually not a bad price.
SIMILAR PRODUCTS
I reviewed another wax-free product in 2019 that uses a wax warmer to disperse the scent, called Kefi Scent Discs. They use hard, chalky tablets rather than fabric soaked with scented oil, they left zero residue in the warmer, and they didn't cause irritation to my skin or nasal passages. They were pricier though, $3.74 for only 2 discs, the equivalent of $11.22 of a standard 6-cube pack of wax melts!
I also reviewed Enviroscent paper scent bursts and Better Homes and Gardens Fragranced Paper Scent Bursts in 2017. Both were hard pellets made of paper infused with scented oils, with zero cleanup and fairly strong throw. But the rice-sized pellets are not as convenient to use as discs, and both of these products have been discontinued anyway.
Apple
Bergamot, Apple Peel, Wild Berry, Leafy Greens, Macintosh, Red Delicious, Freesia, Lily of the Valley, Musk, Cedar leaf, Clove
A nice but generic apple scent that smells like apple scented room spray with no other notes (no spices, caramel, etc). The scent started dissipating within 1 hour and was pretty much gone within 3 hours, but I got another hour out of it when I turned the disc over to the other side! Looking at the notes, I'm just getting the apple notes.
Cabin by the Lake
Citrus fresh top made up of bergamot & vibrant greens. Cardamom & cinnamon bark for a warm spicy touch. Dashes of sheer flowers & white musk, added for complexity to a creamy sandalwood note & smooth patchouli finish.
I smell pine, balsam, and maybe an earthy floral way in the background (although it's not sweet or floral). It's quite nice, and smells a lot like
Better Homes & Gardens Fragrant Woodland Walk
. The scent dissipated quickly and was gone within an hour. Looking at the notes, no pine, although that's definitely what I'm smelling. I don't get cardamom or cinnamon at all.
Cedar
Bergamot, smoked apple peels, mandarin, blackwood, incense, crisp cedar, sweet resins, vetiver, black amber, agar wood, musk and cedar leaf
This is not a cedar scent at all, unless it's cedar wood used in the fireplace. It is, however, a smoked hickory or smoky birch or "liquid smoke" type scent, and it's fantastic. It smells almost exactly like one of my favorite scents, ScentSationals Smoked Birch (same as
AmbiEscents Happy Camper
). I love it, and it lasted all day, at least 12 hours and probably would have gone longer if I hadn't turned off the warmer for the evening. Looking at the notes, I don't get bergamot (it's not a cologney scent at all), apple, or mandarin (or any fruity notes).
Coastal Mornings
A fresh blend of mouth-watering apple and orange mingle with soft blossoms of rose, jasmine and orange blossom, with lingering notes of warm woods and stone washed denim.
A very pleasant, strong laundry scent with a smidgen of orange and a tiny bit of a bubble bath note. It's not a harsh detergent scent nor is it a soft, powdery fabric softener scent. It's fantastic, and lasted 2 straight days! Looking at the notes, I don't get apple.
Cozy Fireplace
I think the wrong scent was put in the wrong package, because this is not a fireplace scent at all. But it's a fantastic scent nonetheless. It's lemon verbena with orange, bergamot, and possibly a smidgen of a woodsy note, vanilla, and something slightly sweet way in the background like gardenia. So it's sharp, a little savory, zesty, tangy, sweet, and rich. There's a lot going on in this scent! But it's definitely not a fireplace scent. The discs are even a bright orangey yellow, different from the light tan color shown on their website (I can't find any on that website with that color). I think the Cedar scent was supposed to go in this package. But I don't know what would have gone in the Cedar package; definitely not this scent. This smells similar to
Better Homes & Gardens Meyer Lemon Basil
.
Fresh and Clean
This smells like a fresh bathroom! It's a fantastic soapy scent that smells like a combination of a bar of soap, the smell of a bathroom after someone took a shower, and a hint of Fabuloso lavender scented cleaner. I LOVE this scent! I can't find it on their website, but the light slightly bluish green color (and its notes) looks like it could be their Fresh Morning Dew (citrus, florals, lavender, lily, with base notes of dry woods and a sheer musk) scent.
Fresh Lemon
This is not a fresh lemon or lemon juice type scent. It is, however, a very nice spa lemon scent of lemongrass with a bit of rich lemon verbena and a hint of mint (the mint is not as apparent in the room as it is when I get the nasal clearing effects up close). Great scent, crazy strong, and lasted for days! I can't find this scent on their website, but they do have a Lemon Sorbet scent which has notes of Lemon, Orange Peels, Crushed Mint Leaf, Eucalyptus, Lemongrass, Verbena, Cedarleaf, Sheer Musks, Raw Sugar; so that may be the same scent, as that has the lemongrass, verbena, and mint notes. This scent lasted a day in the 25W bulb warmer, and then an additional 5 days in a small 15W plug-in wall warmer! Halfway through I flipped the disc over, which probably extended the scent. Incredible!!
Gardenia
Ozonic Breeze, Sun-kissed Orange, Palm Leaves, Gardenia, Ylang Blossoms, Orange Flower, Coconut Milk, Sheer Vanilla, Patchouli, Musk
On cold sniff this is definitely gardenia, and it smells great! It's very sweet, more like gardenia perfume with a little bit of musk. But within a few minutes after putting it on the warming tray, the scent changed, became a bit less sweet, and took on a terrible chemical note. Looking at the notes, I don't get any of them except the gardenia.
Grape
This sweet fragrance combines notes of Candied Apple, Sugarcane, Orange, Cherry, Blackberry, Red Grape, Sweet Merlot, Vanilla, Malt, and Coconut.
This is a fake, chemical grape scent, but it's actually not bad at all. Looking at the notes, I don't get any of them except the grape, and maybe the merlot.
Mahogany
Top notes of bergamot and lemon zest, rosewood mid notes, with a creamy sandalwood, mahogany and vanilla musk base
A sweet, cologney or perfumey scent with a strong note of authentic wood. Very nice!
Olive Flower
Citrus and Armoise top notes, mid floral notes; olive flower, violet, freesia, with a warm cedar musk base
A fantastic, zesty, savory scent that smells like lemon and strong olive oil with a smidgen of sweet grass. It kind of smells like a salad, but different from other zesty savory scents with that salad note. I like it, although I'm not sure I want my house to smell like a salad!
Summer Breeze
Top notes of lemon & bergamot, surround a marine accord, with middle notes of lavender, finishing with a touch of cedar wood and silk musks
A generic but very pleasant fresh men's body wash type scent with a little bit of a floral note.
Sunlit Garden
Bright citrus notes are blended with delicate orange blossom and gardenia, then layered with white woods and musk.
A pleasant scent that smells like laundry combined with a fresh room spray scent.
Tree Trimming
Fill your home with the aroma of a fresh cut Christmas tree.
A very nice, super smoky spruce type scent. It's not a harsh or sour pine. I love it!
Vanilla Buttercream
Confectionary sugar, orange zest, coconut milk, vanilla crème, white chocolate, buttercream, glazed walnuts, maple, whipped vanilla, amber, tonka bean and patchouli
A fantastic scent that smells like sweet banana ice cream! Yes, it's banana, although I'm getting the vanilla buttercream too. It's super sweet, like banana buttercream frosting. Yummy! Looking at the notes, there's a lot more in there than just vanilla buttercream! But no banana, even though I'm sure I smell it, but it might be a combination of the orange and coconut (although I don't smell that per se).
Winter Rose
This is a generic unidentifiable floral type scent that is either a dud or very old. It smells like perfume that has gone bad. I can't find this scent on their website, but they do have a Winter's Blush scent, although that doesn't show any notes.