Aldi Essential Oil Wax Melt Reviews - March 2021
April 4, 2021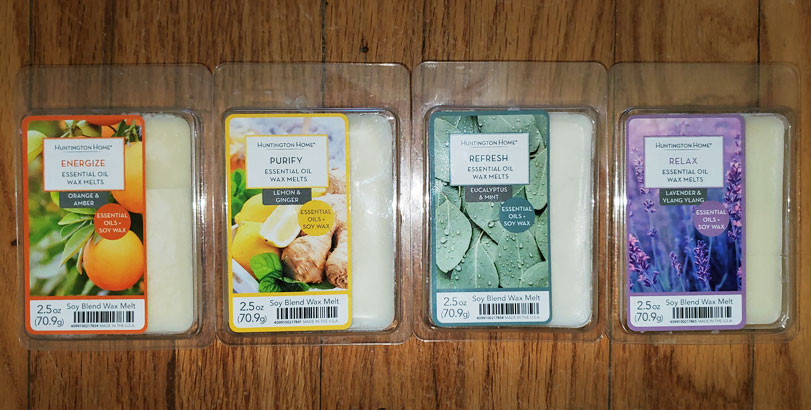 This is a review of the new Aldi Huntington Home Essential Oil Soy Blend Wax Melts from March 2021: Energize, Purify, Refresh, and Relax.
Like last month's Odor Eliminating melts, these are also manufactured by CandleWarmers. The wax is soft and greasy. They're $2.29 each (more than the $1.69 for the harder paraffin melts that come out 4 times a year and are manufactured by Hanna's Candle).
Energize
Orange & Amber
I reviewed this scent in the Candle Warmers brand in
2019
. I do smell orange, but this scent smells awful. I don't smell amber, which would give this a sweet, warm, very slightly woodsy note. Instead, I'm smelling maybe cedar, but it's like "rotted" cedar. It smells like a spoiled orange. The pungent note is similar to an old Better Homes & Gardens scent called Valencia Blood Orange, but that scent had more orange so it smelled much better. It's also similar to
Better Homes & Gardens Aromatherapy Orange Cedarwood
, but the additional slightly soapy, slightly woodsy note of that scent makes it smell quite nice.
Purify
Lemon & Ginger
I reviewed this scent in the Odor Eliminating version in
February
, and I said it was like 75% ginger root powder (not gingerbread) and 25% lemon. I no longer have that scent to compare, but this scent is more lemony, like a lemon scented cleaner. I think I detect the ginger in this scent, but it might actually be lemon verbena (similar to lemongrass). It's still a nice scent, but I liked the Odor Eliminating version better.
Refresh
Eucalyptus & Mint
This is a very soft spearmint and eucalyptus scent with a musk or baby powder note, and it's just a little sweet. It's very similar to
ScentSationals Zen
, but with some subtle differences. Sniffing them side by side, Zen smells fresher and with slightly more mint, very little eucalyptus, and a smidgen of a laundry note. While this scent is very slightly sweeter and "richer", I can smell the eucalyptus, and no laundry notes. I like both scents.
Relax
Lavender & Ylang Ylang
An incredible, sweet, perfumey scent that smells like musk with a bit of lavender, a hint of baby powder and amber (for warmth), and a smidgen of vanilla. I don't detect Ylang Ylang at all, which is okay, as it's a bit of a weird scent. I adore this scent!