AmbiEscents Wax Melts Reviews - March 2021 - Bon Voyage/ Destinations/ Travel Collection
March 23, 2021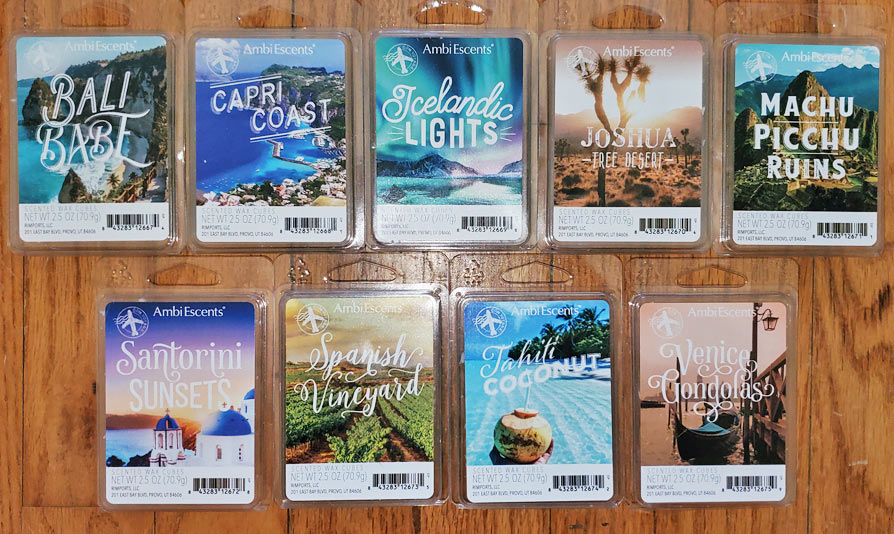 This is a review of the new travel-inspired AmbiEscents Bon Voyage/ Destinations Collection Wax Melts from Bed Bath & Beyond, from March 2021.
ScentSationals has the same collection with some of the same and different scents, which are available at some Walmart stores, and I've reviewed separately. The ScentSationals scents are $2.00, while the AmbiEscents scents are $3.99 for the same 2.5 oz. amount.
AmbiEscents also has 7 other new wax melts scents (not part of this collection) which I've reviewed separately.
Bali Babe
Island fruit, Tahitian jasmine, ylang-ylang and coconut flower float on a salted breeze embraced with shimmers of vanilla and island palm
This is the same as the new
ScentSationals Bali Babe
. It's a lovely musky fruity floral with jasmine or gardenia, a hint of fruity (apricot?), a smidgen of coconut, a bit of a soapy note, and maybe a barely detectable smidgen of lemon. Looking at the notes, they're spot on, although I don't detect ylang-ylang. There's a weird metallic note I don't like when I sniff it up close when melted, but thankfully I don't smell that in the room. I wonder if this is the same scent as
Better Homes & Gardens Aromatherapy Jasmine & Ylang Ylang
, as I described it the same way (I no longer have it to compare). After a few hours, the metallic chemical note becomes more pronounced. Still a nice scent though
Capri Coast
Soft sea breeze, bringing forward a sensual blend of sea salt and chamomile, with the zest of citron and beautiful floral hints of jasmine, and traces of lychee
This is the same as the new AmbiEscents
Saltwater Coast
and the new
ScentSationals Greece Getaway
. It's a fresh, sweet fruity floral that smells like honeysuckle, fruit (apple and/or melon?), and a fresh, slightly soapy, oceany note. It may also have a smidgen of orange blossom that gives it a tiny bit of a beachy vibe (or maybe it's a barely detectable smidgen of coconut). It's a bit like Bali Babe, but much sweeter, and without the metallic note. I really like this one!
Icelandic Lights
Brilliant citrus and entrancing herbs collide with magical white cedar, tobacco leaf and ambered musk
I thought this was the same as the new
ScentSationals Icelandic Lights
, but the notes are different. And sniffing them side by side, there are very subtle differences. This is a bright men's cologne scent with a smidgen of smoky cedar and a barely detectable smidgen of something foodie, like vanilla. The ScentSationals version is slightly less sweet and has a tiny bit of citrus or lime way in the background. And that scent lasted all day and has a 4 out of 5 throw, while this one lasted about 4 hours and has a 3.5 out of 5 throw, so because of the subtle scent difference, throw and duration, I prefer the ScentSationals version. It's also similar to
Dia de Muertos (Day of the Dead)
(Walmart version, not Meijer and H.E.B. version, which was a different scent). It's also quite similar to
ScentSationals Dapper
(which doesn't have the foodie note).
Joshua Tree Desert
Bright orange, sweet satsuma, and fresh tangerine sparkle with green eucalyptus and wild thyme amid herbaceous rosemary, spiced cypress, and red cedar
This may be the same as
Better Homes & Gardens Weekend Camping Trip
, as the notes are very similar (Bright orange, sweet satsuma, and touches of tangerine sparkle above green cypress, warm clove, cinnamon, vetiver, and cedar) and I described it very similarly as well. It's a harsh, sour pine with a hint of ginger and a little bit of sweetness. I love pine scents, but I'm not a fan of this one.
Machu Picchu Ruins
Fresh and crisp aroma provokes visions of a lush, green forest landscape freshly capped with snow with a timeless and masculine inspired blend comprised of juniper berry and iced orange peel anchored with woody and earthy notes of Siberian fir needle and frozen moss
This is the same as the new
ScentSationals Machu Picchu Mystique
. On cold sniff, this is a nice combination of fresh, oceany water... and basil. With perhaps a smidgen of garden mint in the background. It's not sweet, but it's also not overly savory like most basil type scents (that end up smelling like a salad). Melted, though, it's just another oceany water scent and I don't really get the herbal note. It's a nice scent, but similar to a lot of others.
Santorini Sunsets
Time worn sands blend oriental amber with blonde woods over a fusion of orange blossom and iris warmed with bergamot and patchouli
I thought based on the notes that this might be the same as
Better Homes & Gardens Orange Blossom Oak
, but although it's the same orange color, they're different scents. This is a fantastic warm, sweet, perfumey scent with a very sweet floral (honeysuckle?), a subtle fruity note (apricot?), warm vanilla, and maybe a smidgen of incense (patchouli?). Looking at the notes, they're spot on, and yes, now I realize that the "fruit" is indeed orange blossom, although I think there may be a smidgen of another fruit. I love this scent! The Meijer version has the same name and label, but the scents listed are from Joshua Tree Desert (the notes on the Meijer website are messed up, because they also carry Joshua Tree Desert which shows the same notes).
Spanish Vineyard
Frosted cranberry features a blend of citrus burst and delicate florals with swirls of sugar and white musk
As soon as I smelled this I knew what it was:
ScentSationals Raspberry Margarita
. It's not a scent you'll forget, as it smells like raspberry and eucalyptus, like an even mix of fruit and Vicks VapoRub. It's a weird combination, but I love that scent. This scent, however, is not exactly the same. It's like Raspberry Margarita with a hint of wine added, which gives it a little bit of that sour fermentation note that I don't like, kind of like the fruit in Raspberry Margarita has gone bad. Or like Raspberry Margarita with a tiny bit of
Better Homes & Gardens Iced Winter Cranberry
mixed in. When melted, a lot of that sour fermentation note disappears, and it smells a lot more like Raspberry Margarita. It's an odd scent, but I kind of like it. Very strong, so be sure to melt it in a large room!
Tahiti Coconut
Fresh ozone, dewy palms and coconut water with fresh splashes of lime and tropical flowers accented by salted teakwood
This is very similar to
ScentSationals Coconut Vacay
, and might be the same scent, but I don't think so. Both scents are lime and coconut, but Tahiti Coconut seems more limey and "bright", with a little bit of saltiness for richness and maybe a bit of lemon as well. It's different from Mainstays Coconut Lime, which was much sweeter, like a lime-based drink, and without the rich saltiness of the lemon. Looking at the notes, I don't detect any woodsy notes at all. I love this scent!
Venice Gondolas
Shimmers of sea salt and sea misted greens balance white ozone and blonde woods with fresh floralcy and musk
This is a totally different scent than the new
ScentSationals Venice Gondolas
(which smells like roses, raspberry and almonds). This is a super watery, oceany scent with a bit of a swampy, mossy, peppery note. It's not sweet. It's kind of a "natural" scent that actually does smell a bit like the Venice waterways! I kind of like it. The Meijer's version scent description is, "Freshly shaved coconut flakes toasted with brown sugar and cinnamon spice", so theirs may be yet a third scent with the same name.