AmbiEscents Wax Melt Reviews - March 2021
March 23, 2021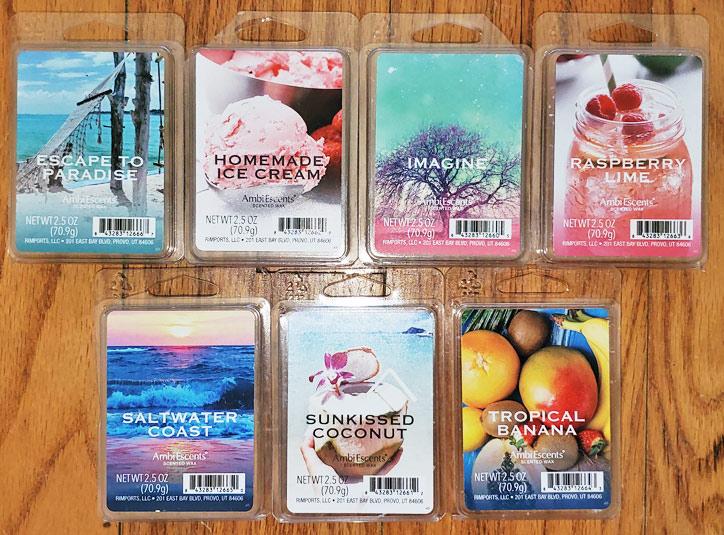 This is a review of the 7 new AmbiEscents wax melts from Bed Bath & Beyond: Escape to Paradise, Homemade Ice Cream, Imagine, Raspberry Lime, Saltwater Coast, Sunkissed Coconut, Tropical Banana.
AmbiEscents wax melts are $3.99, as opposed to $2.00 for ScentSationals wax melts from Walmart for the same 2.5 oz. size. So buy the dupes from Walmart (such as Imagine, Sunkissed Coconut, and Tropical Banana, which are dupes of new ScentSational scents that are currently available at Walmart).
AmbiEscents also has a new travel-inspiredBon Voyage collection which I've reviewed separately.
Escape to Paradise
Depicting sun-kissed seas, this invigorating yet calming blend opens with citrus notes and pink pepper intertwined with salted air accord and dewy white florals, anchored by sun-drenched woods and water moss
A fresh, clean scent that smells just like a bar of soap, a little like Irish Spring. It's a great scent, and perfect for the bathroom. I described
ScentSationals Hideaway
the same way, but the notes are completely different, and I no longer have that scent to compare. It's exactly the same shade of blue though, so it could be the same scent.
Homemade Ice Cream
Sweet vanilla and berry cupcakes baked to golden brown perfection and topped with a rich, creamy raspberry buttercream frosting
Imagine
Let your senses take a whimsical journey to Wonderland as you experience a magical blend of dewy white flowers, sparkling strawberry and whipped vanilla
This is the same as
ScentSationals Wonderland
. It's a beautiful, relaxing sweet scent of apples and sweet floral (like gardenia or jasmine) with a soft, watery note, and a hint of coconut. It might also have a smidgen of honeydew melon way in the background. Looking at the notes, I guess the honeydew is actually the strawberry. I'm surprised I don't see coconut, because I'm sure I smell a bit of coconut. It's a very sweet scent, and I love it!
Raspberry Lime
Shaved island coconut wrapped with brilliant citrus lime floats of juicy, sun-ripe raspberries, hints of blackberry and wild currant
This is the same as
ScentSationals Berry Chill
. I smell pineapple, lime, orange, strawberry, and a smidgen of coconut. It's similar to
ScentSationals Pineapple Strawberry Smoothie
, but that scent was sweeter, richer, and with slightly more of the strawberry note, and no citrusy or coconut notes. This is definitely a tropical summer drink type scent, and it's fantastic, but very strong, almost nauseatingly so.
Saltwater Coast
Blend of sea salt and chamomile, with the zest of citron and floral hints of jasmine and lychee with beechwood and the complex accords of ozone
This is the same as the new AmbiEscents
Capri Coast
and the new
ScentSationals Greece Getaway
. It's a fresh, sweet fruity floral that smells like honeysuckle, fruit (apple and/or melon?), and a fresh, slightly soapy, oceany note. It may also have a smidgen of orange blossom that gives it a tiny bit of a beachy vibe (or maybe it's a barely detectable smidgen of coconut). I really like it!
Sunkissed Coconut
Fresh ozone, dewy palms and coconut water infused with lime and orange for tropical energy while pineapple and tangelo intertwine with banana flower, mango flower and bamboo, ending with salted teak and sugarcane
This is the same as
ScentSationals Coconut Sands
, even though the notes are completely different. The notes for this scent appear to be messed up; there are zero fruit (lime, orange, pineapple, tangelo, banana) notes in this scent, and part of the notes are from the Tahiti Coconut scent. And I think part of the notes for Coconut Sands were wrong as well since they listed peach and pineapple (that scent had no fruit notes either).
Tropical Banana
Freshly sliced banana and tangy passion fruit are infused with glittering mango nectar, tart cassis, and pink grapefruit lavished with sweet vanilla sugar
This is the same as
ScentSationals Passion Fruit Banana
. It's a fantastic, sweet tropical fruit scent that smells a bit like pineapple (passion fruit supposedly does have a pineapple note), but sweeter, not as harsh, and a bit "softer". It has a hint of sourness, but not nearly as much as some tropical scents, and in this case it actually works well with this scent. The softness might be the banana, but I really don't smell banana, although that might be what's tempering any harshness or sourness. It might also have a smidgen of vanilla way in the background. Looking at the notes, I don't smell grapefruit, although maybe that's the sourness, or the sourness could be from the "tart cassis" (although the sourness is not actually tart or bitter like grapefruit) or the "tangy" passion fruit. I'm not a fan of pineapple scents, but this scent is so much more. I really really like this one!