Better Homes & Gardens Christmas Wax Melt Reviews from Walmart - 2017
October 18, 2017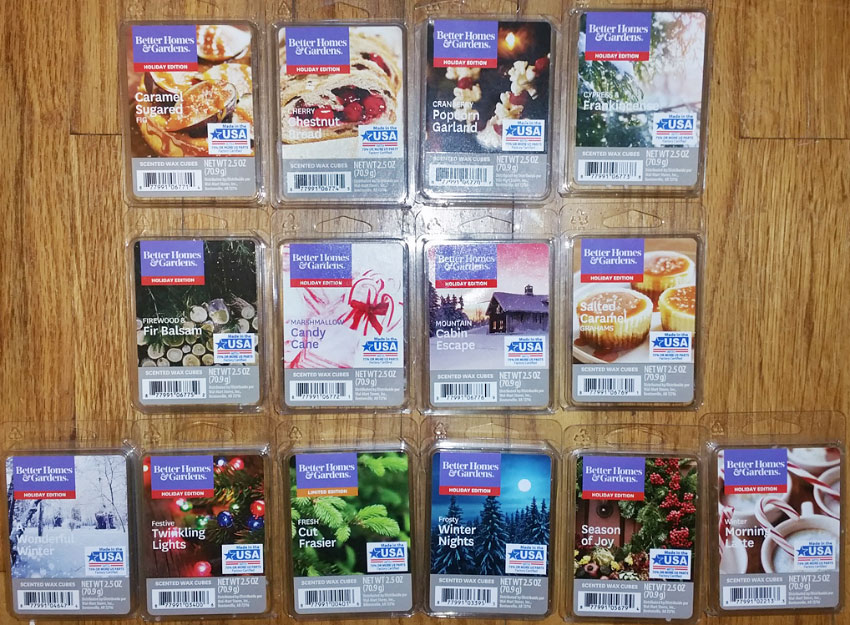 This is a review of Better Homes & Gardens Holiday Edition Winter 2017 Scented Wax Melts from Walmart. As always, ScentSationals does not come out with winter/holiday melts at Walmart. The labels on these melts are slightly textured, a nice high quality look and feel. And this is the first year that the winter melts say "Holiday Edition" in red underneath the Better Homes & Gardens logo.
Caramel Sugared Fig
Warm roasted figs sprinkled with brown sugar enveloped in the sweet scent of creamy toffee caramel drizzled with rich vanilla essence and soft spices.
I love this scent! But it's not really a foodie scent. It's a little bit similar to
ScentSationals Blackberry Cider
or
Scentsy Luna
, with that deep, rich, slightly perfumey blackberry fig type note. This one does have some foodie elements, like maybe a caramel and vanilla note. Looking at the scent notes, there's the fig, caramel and vanilla, but no perfumey notes. The scent dissipated within 2 hours.
Cherry Chestnut Bread
Maraschino cherries and warm chestnut bread with red delicious apple and buttered rum. Brown sugar, vanilla bean and musk adds further sweetness.
This smells like an apple fritter. It's a nice authentic scent. I can smell the bread and a bit of cinnamon. I also smell a hint of cherry which gives this scent some richness. I also smell the brown sugar. I don't smell any nutty notes though. I really like this scent. And the scent lasted all day, at least 8 hours.
Cranberry Popcorn Garland
Salted popcorn and fresh cranberries strung together with hints of melted butter and vanilla sugar
I smell popcorn with just a smidgen of fruit. I can actually smell the corn, although this smells more like stale Fritos corn chips to me than popcorn (which other people have noticed too). It's very rich too. And I can smell a smidgen of the slightly sweet/tart cranberry. It was actually too strong and rich for me and I had to remove it from the warmer even before it finished melting. This is not at all similar to the old Better Homes & Gardens Country Kettle Corn, which some people were wondering. A lot of people don't like this one, and I don't care for it either.
Cypress & Frankincense
White cypress and embraced with ambered balsam, crushed spruce, and cedar leaf wrapped in oriental frankincense and warm tonka splashed with aromatic herbs and sparkling citrus
This is a pine type scent but not a biting pine, and the pine is subtle. I also smell maybe a slight floral note which makes this a little bit like
Better Homes & Gardens Fragrant Woodland Walk
. But there's also maybe a slight herbal note and even a smidgen of a warm cologne note although this is not a cologne scent.
Firewood & Fir Balsam
Smoky firewood and fir balsam with forest pine, warm eucalyptus, burning embers and white cedar. A touch of black pepper adds dimension.
I really like this scent. It's pine with a woodsy smoky note. The smoky note has a real "burning embers" vibe, rather than a fake smokiness. And I think I do detect a smidgen of black pepper.
Marshmallow Candy Cane
Sweet spearmint and peppermint candy canes swirl into a creamy, delicious mix of whipped marshmallow fluff, vanilla creme and crystallized sugar. Vanilla wafers add a crispy sensation
A wonderful sweet peppermint with a subtle vanilla marshmallow note. Looking at the scent notes, I don't smell spearmint at all (which would have a toothpasty note), and I don't think I smell the wafer notes either.
Mountain Cabin Escape
A combination of fragrant cedarwood and lavender breeze over a snowy ozone complex touched by white pine and woodland herbs fused with green apple, warm moss, ambered musk, and a hint of spice
This is a smoky pine with a sharp fresh men's cologne note, although it's not a sweet scent at all. It's very strong on cold sniff, and the picture of the cabin in the snow on the label is lovely. There's a sharpness to this scent that I don't care for.
Salted Caramel Grahams
Salted caramel and graham cracker accord swirled together with whipped latte froth and sweet sugar crystals in this decadent holiday fragrance combination. The addition of buttered vanilla bean and mocha bark add further delight leaving mouths watering.
This smells like super rich creamy caramely chocolate fudge, but it's not salty (which is good). It's not a burnt chocolate scent, and it smells a lot like the old ScentSationals Chocolate Chip Cookies scent (with slightly different notes).
Scents that have returned from previous years are: A Wonderful Winter (2015), Candied Caramel Pecan (2015), Iced Winter Cranberry (2015), Festive Twinkling Lights (formerly Twinkling Holiday Lights - 2015), Fresh Cut Frasier, Frosty Winter Nights (2015), Season of Joy (2016), and Winter Morning Latte (formerly called Christmas Morning Latte - 2015).
---