Carolina Candles Walmart Wax Melts Reviews
July 20, 2022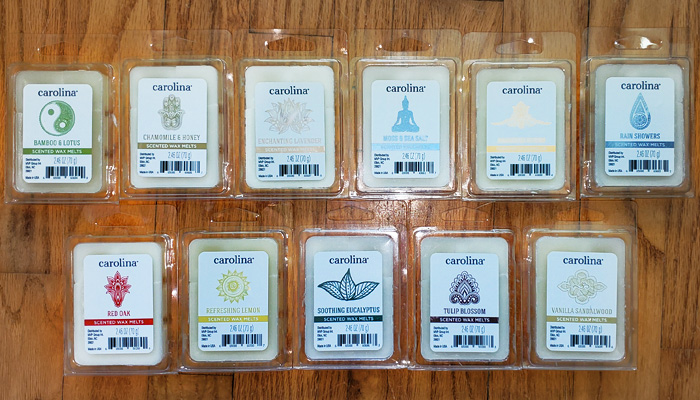 This is a review of Carolina Candles wax melts, which should start arriving at Walmart stores at the end of July 2022. These are made by MVP Group Intl., the company that makes Mainstays wax melts for Walmart. This is the first time that Walmart is carrying Carolina wax melts.
These can also be found on the Carolina Candle website, where they're priced at $7.00.
Also read my review of February 2023 Carolina Candles wax melts.
The only other time I reviewed Carolina Candle wax melts was in 2017, when they were being sold at Lowe's for the holidays. The wax was very soft and messy, and in general the throw was not good. These wax melts are made with hard white paraffin and the texture reminds me slightly of dollar store wax that's manufactured overseas (although the labels say, "Made in USA"), so I was pleasantly surprised that, in general, these smell quite nice and most have good or excellent throw.
Bamboo & Lotus
Top: Bamboo, Oak; Middle: Lotus, Jasmine, Woodsy; Base Notes: Amber, Florals
A nice jasmine gardenia scent with a hint of an herbal note that makes it smell a bit like a hothouse or greenhouse flower. It's sweet but not perfumey or overly flowery. It reminds me a lot of Sonoma Fresh Bamboo from Kohl's.
Chamomile & Honey
Top: Green, Herbal; Middle: Herbal, Chamomile, Tagette, Floral; Base: Honey, Musk, Wood
This is neither chamomile nor honey. Not even close. It's rose! And it smells great! It's not an authentic rose, but more like a combination of rose, Ivory soap, and maybe a smidgen of sandalwood. Despite the rose, it's not all that flowery, and not too sweet either. But it also doesn't have that bitter note that a lot of rose scents tend to have (and that I don't like). When I sniff the wax up close when it's melting, I get a bit of a nasal clearing effect that's common with mint and eucalyptus scents, but I'm not getting any mint or eucalyptus in this scent at all, so maybe the nasal clearing effect is from the chemicals, although I'm not getting that from any of the other scents in this collection. I love this scent!
Enchanting Lavender
Moss & Sea Salt
Top: Lush Greens, Bertram, Citrus, Marine; Middle: Aquatic Floral, Rose, Jasmine, Lily, Heliotrope, Rhubarb; Base: Sheer Musk, Woody, Sea Moss, Amber
A nice men's cologne type scent that's sweeter than most with a bit of jasmine I think, fresh with possibly a smidgen of lemon (probably bergamot), and maybe even a smidgen of vanilla way in the background. I like it!
Orange Blossom
Rain Showers
Top: Green, Ozone; Middle: Green, Aquatic, Lotus Flower, Jasmine; Base: Aquatic, White Woods
I'm almost certain this is the same scent as
Mainstays Garden Rain
(I no longer have it to compare), which came out around 2014, I believe, and was available for many years. It's a fresh, watery, clean, slightly grassy scent that's not overly sweet, and has a tiny bit of a bitter note (but not enough to ruin the scent). It smells like fake air freshener, but not in a bad way, and it's a perfect scent for a bathroom. This is one of those unusual scents where the scent itself is weak, but the throw is bold. So I'm smelling just a hint of the scent throughout the entire house. It's a nice scent, but has never been my favorite (although I think most people really like it!)
Red Oak
Refreshing Lemon
Top: Lemon, Citrus; Middle: Lemon Rind, Greens; Base: Orange, Lime
This is not lemon, it's orange, and it's exactly the same as the Orange Blossom scent. I even did the "bag test"... put both clamshells in a bag, shook the bag, took each clamshell out with my eyes closed, sniffed them, and couldn't tell the difference. But strangely, throw for this scent is slightly better than that for the Orange Blossom scent.
Soothing Eucalyptus
Top: Citrus, Herbal; Middle: Floral, Eucalyptus, Mint, Lavender; Base: Musk
Eucalyptus and a hint of garden mint, blended with sweet musk. It's only a little bit sweet, but not perfumey at all. The eucalyptus is subtle, tempered by the musk. And the sweetness of the musk is tempered by the eucalyptus. Maybe 50% eucalyptus, 40% musk, and 10% garden mint. It smells a lot like
ScentSationals Zen
, but this scent has a bit more of the eucalyptus and no laundry note. Looking at the notes, I'm not getting citrus. Fantastic, relaxing scent.
Tulip Blossom
Green leaves, red tulips and jasmine blend with hints of bergamot and rosewood
A fantastic fresh, slightly floral, grassy scent with maybe a hint of aloe, and just a smidgen of bitterness for authenticity. Yes, I knew I smelled this scent before! It's almost exactly the same as
ScentSationals Secret Garden
. Incredible scent, and super strong!
Vanilla & Sandalwood
Top: Heliotrope; Middle: Balsam; Base: Vanilla, Sandalwood
This is different from other vanilla sandalwood scents I've smelled, which tend to be more sandalwood. This scent is primarily a super sweet vanilla buttercream, with just a smidgen of sandalwood (milky wood) and possibly a smidgen of maple (honey?). From up close I get the vanilla buttercream with a bit of raw wood in the background, like a newly sharpened pencil. In the room, however, you might not notice the wood at all. It's 90% vanilla buttercream (maybe more), 5% maple, and 5% sandalwood. The wood imparts just a smidgen of barely noticeable smokiness. It's a great scent, although I would have like a bit more wood in the scent.