ScentSationals Wax Melt Reviews from Meijer (2020)
June 21, 2020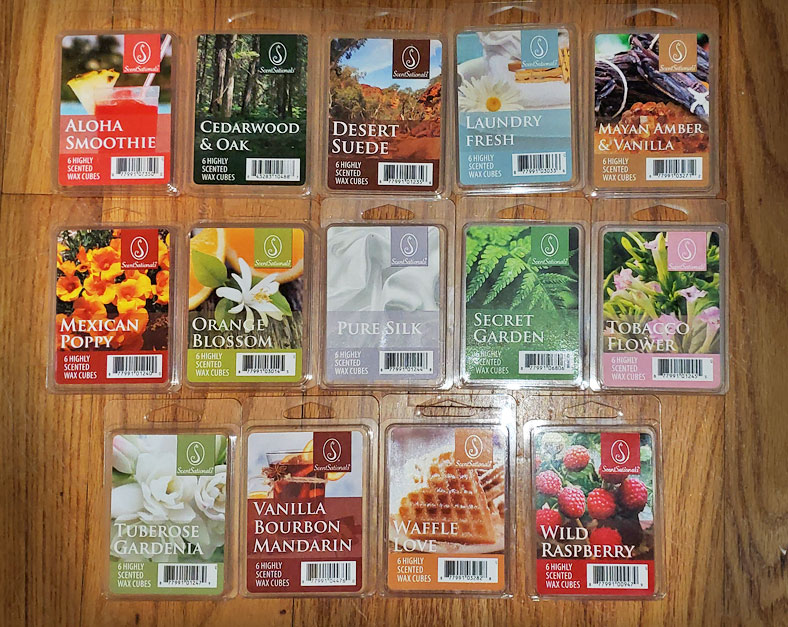 This is a review of ScentSationals Wax Melts from Meijer and H-E-B stores.
Meijer stores can be found in Michigan, Indiana, Kentucky, Ohio and Wisconsin. H-E-B stores are only in Texas and Northeast Mexico.
Aloha Smoothie
Strawberry with pineapple sprinkled with sugar over a natural hint of strawberry greens
This is the same as same as
ScentSationals Pineapple Strawberry Smoothie
. It's a sweet, yummy, refreshing combination of pineapple and strawberry. This does smell like a smoothie, or a sweet pineapple strawberry hard candy. I'm not a fan of pineapple scents, but I love this one because it smells great mixed with the strawberry. I think I smell a little bit more of the pineapple than the strawberry. This is a fun, happy scent, and kids will especially love this one!
Cedarwood & Oak
A masculine blend of mahogany wood with southern bourbon, creamy vanilla with warm amber
A fantastic super sweet scent that smells like men's cologne that has candy-like sugar crystals added. I do detect the cedar, which is a pungent, sweet woodsy note, but it's really just more of that super almost sickeningly sugary sweet candy with a cologne note. I adore this scent! But it started fizzling within 3 hours.
Desert Suede
An intriguing woods and spice combination inspired by the beauty of maple leaves, lush woodland greens, spiced herbs, and pure mandarin leaf infused with peppered amber, aromatic oak, earthy patchouli, and powdery tonka
This is one of the best scents I've ever smelled. It's a super rich, super sweet tobacco scent with Eastern spices, cedar, patchouli, bergamot (which gives it a teensy bit of a cologne note), a hint of nag champa, and maybe a smidgen of leather. It's the same as the Tobacco & Cedar side of the old ScentSationals Grandpa's Workshop duo. The scent lasted all day, at least 12 hours, and probably would have gone a few more hours if I hadn't turned off the warmer for the evening.
Laundry Fresh
Crisp line dried linens, fresh ozone, and white tender florals
Mayan Amber & Vanilla
Mayan amber with a hint of vanilla
Fantastic scent that smells like warm, sweet, very slightly woodsy amber, a hint of cedar and incense, and a smidgen of a foodie note which is probably the vanilla. Melted, it's VERY sweet, much more so than it is on cold sniff, like burnt sugar with a slightly caramely note (in a good way), but I also detect a slightly perfumey note. It's kind of like Pink Sugar (without any fruit notes) mixed with incensey and amber notes. It's almost the same as the Pure Silk scent, but this scent is sharper while Pure Silk is softer, without the incensey and vanilla notes, and with a hint of expensive perfume.
Mexican Poppy
Luminous poppy leaf stirred with golden poppy petal, sweet jasmine and wild rose over shimmering summer fruits, island guava and warm ozone speckled musk
This is one of the best scents I've ever smelled! It's a perfumey scent with Oriental spices, definitely an oriental perfume scent, and with a hint of exotic spices and a floral. It's not an authentic floral type scent though. It's unlike anything else I've ever smelled, and the scent lasted all day, at least 12 hours, and probably would have gone longer if I hadn't turned off the warmer for the night. Looking at the notes, I don't smell fruit.
Orange Blossom
Sweet orange fruit and sugar-coated lemon blend with fragrant orange blossoms swirled over smooth vanilla cream and tantalizing drizzles of pure golden honey
Despite the scent name, this doesn't actually smell like orange blossoms, which is closer to neroli and petitgrain. This scent smells more like a mixture of orange and honey, and it's fantastic! And looking at the scent notes, there's th e honey! But I don't detect lemon at all.
Pure Silk
Sensual notes of glowing amber drift through the shimmering allure of effervescent bergamot, oriental florals, pure white musk and smooth, vanilla-infused teak.
A sweet, warm ambery scent with a hint of expensive perfume, and perhaps a smidgen of floral and cedar. It's similar to Mayan Amber & Vanilla, but a little softer, and without the incensey and vanilla notes.
Secret Garden
Vibrant, leafy greens reveal the fantasy floralcy of shimmering daisy accented by pure hyacinth, blushed lilac, and fresh bluebell balanced by cut grass and luminous clover
If there were a wax melt that smells like fresh grass, Secret Garden is it!! It also has a fresh note, like aloe or maybe a hint of cucumber, which I normally don't like, but there's also a hint of sweetness in the background like wildflowers. I like it! It does have a smidgen of bitterness that gives it some authenticity, but it's not enough to be annoying.
Tobacco Flower
Sweet jasmine and rose over raspberry and orange blossom, touched by spicy greens and softened with vanilla
It's a super sweet, warm, incensey, exotic scent with Oriental spices, sweet cedar (although it's not woodsy), a hint of jasmine, and maybe a hint of patchouli. It's one of the best scents I've ever smelled! It might be the same scent as
Turkish Spice Market
from 2015. Looking at the scent notes, there's the jasmine, but I don't detect rose, raspberry or orange blossom at all. And this is the only scent I've ever melted that has lasted for DAYS!! I had it melting in my bedroom but it smelled so good that I didn't want to dispose of it 12 hours later, so I dumped it into my bathroom warmer. That was FOUR DAYS ago, melting continuously, and it's still throwing! Amazing!!
Tuberose Gardenia
Glimmering floral nectars of sweet honeysuckle, white jasmine, and velvet tuberose sparkle with lustrous green undertones, precious woods, and transparent musks
One of my favorite scents, this combines super sweet gardenia, rich tuberose, and musk perfume. Tuberose, despite its name, is not rose. It's like gardenia on steroids in terms of sweetness and richness, so rich that it almost has an edible quality. This is a fantastic feminine white floral scent that smells a bit like White Shoulders (the classic perfume that has notes of gardenia, jasmine, tuberose, and lily-of-the-valley). Looking at the scent notes, I don't detect any woodsy notes at all.
Vanilla Bourbon Mandarin
A surprising twist on vanilla, the sweet richness of marshmallow fluff is paired with sugared mandarin; rounding out this warm blend is the spicy yet sweet essence of vanilla bourbon
If I had to melt one scent for the rest of my life, this would be it. This might be one of the yummiest scents I've ever smelled! It smells like an orange vanilla creamsicle, but with an extra sweet, rich warmth that's probably supposed to be the bourbon and does smell like it might have a brandy or bourbon note, but without zero sourness or bitterness that sometimes comes with scents that have a liquor note.
Waffle Love
The scrumptious allure of warm waffles sweetened with hints of creamy caramel topped with freshly churned butter and drizzles of sweet maple syrup
Wild Raspberry
Fruity highlights of juicy raspberry, sugar-dusted blueberry, and blushed strawberry blend with vine-ripened grape and a splash of bold black cherry.
This is the same as
ScentSationals Fusion Wild Raspberry
. It smells like grape candy and raspberry candy, a fun, happy scent! Looking at the notes, yes, I do detect the blueberry and strawberry as well!