Goose Creek Candle Christmas Wax Melt Reviews 2018
November 13, 2018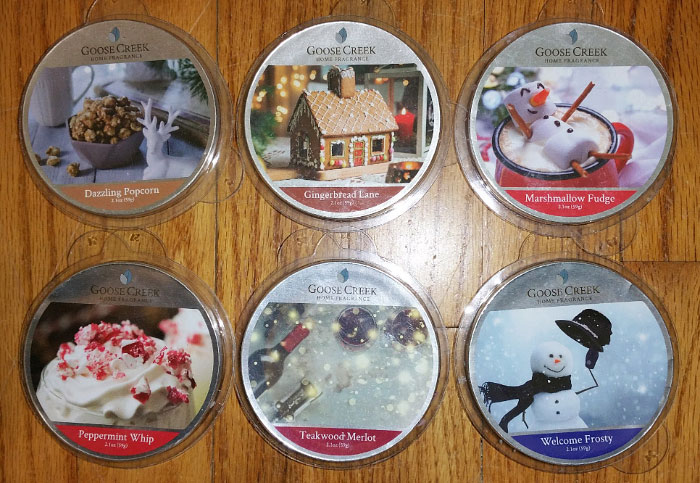 This is a review of Goose Creek Candle Christmas Wax Melts from 2018. These are perfect holiday type scents to melt on a chilly winter day. Goose Creek Candle wax melts and candles can be found on their website at goosecreekcandle.com, and at some stores like Gabe's and Tuesday Morning.
Sorry, no video for this review. YouTube kept playing it upside down even though I took the video right side up!
Dazzling Popcorn
Top: Dazzling Popcorn, Buttery Vanilla; Mid: Vanilla Spice, Gourmand Notes; Base: Caramel, Soft Coconut, Apple
This smells a lot like the Spiced Caramel Corn side of Better Homes & Gardens At the Fair duo, and similar to
ScentSationals Pumpkin Apple Muffins
. This scent is slightly sweeter than the BHG scent (although it's really not a sweet scent). And like that scent, this is a salty popcorn scent with just a hint of caramel and maybe a barely detectable smidgen of apple. Looking at the notes, I don't smell coconut at all.
Eggnog Icing
Top: Honey, Cinnamon, Butter; Mid: Cream, Caramel, Soft Spice; Base: Vanilla Bean, Milk
This scent wasn't available when I got these from the Goose Creek website, but I found it at Gabe's store a few weeks later. It's so much better than I was anticipating! But it's not an eggnog scent... it's butter pecan, like sweet rich butter pecan ice cream. The nutty note is quite strong, so I'm surprised I don't see it in the scent notes (maybe the "Butter" in the notes is supposed to say "Butter Pecan"?) I don't really detect cinnamon. This is a scent to hoard!
Frozen in Time
Top: Vanilla Peppermint; Mid: Frosted Grapefruit, Fruity Citrus Blend; Base: Frozen Snowdrops, Cashmere Woods
This scent wasn't available when I got these from the Goose Creek website, but I found it at Gabe's store a few weeks later. It's a fantastic minty/eucalyptus type scent with a hint of a smoky note (but it's not actually a "smoky" or woodsy scent). I don't detect any grapefruit or citrus. It's very similar to the beloved but discontinued Goose Creek 
Vanilla Wonderland
, but with a little less sweetness and slightly more smoky mint. It's also very similar to the new
ScentSationals Iridescent
, but comparing them side by side... I just realized that Vanilla Wonderland and Iridescent smell almost exactly alike. 
Gingerbread Lane
Top: Gingerbread Crackers, Vanilla Icing; Mid: Cinnamon, Nutmeg, Clove; Base: Light Coconut, Vanilla, Warm Sugar
This smells like a combination of apples, berries, and gingerbread. Like warm freshly baked gingerbread with a rich compote of sweet apples and red berries on top. It smells a bit like
Better Homes & Gardens Farm Apple Pumpkin
and
Mainstays Apple Pumpkin
, but with the gingerbread note. Fantastic scent! Looking at the notes, I can't believe I don't see any fruit, because apple is the main note I'm smelling.
Marshmallow Fudge
Top: Fluffy Marshmallows, Chocolate Fudge; Mid: Powdered Sugar, Vanilla Bean; Base: Chocolate Cream, Salted Butter
This smells like milk chocolate Cadbury cream eggs more than hot cocoa, with that super sweet rich marshmallow filling. It smells so yummy, I want to take a bite out of the wax! Of course since this scent and
Better Homes & Gardens Creamy Marshmallow Cocoa
are coming out around the same time, I have to provide a comparison. The BHG scent is an authentic hot cocoa scent. It's a richer, fudgy, almost buttery cocoa (rather than just chocolate), with a sweet marshmallow note, and it's not as sweet as the Goose Creek scent. Neither chocolate scent has that bitter, burnt note that a lot of chocolate scents tend to have. I can't say one is better than the other, as they both smell fantastic to me; they're just different types of chocolate. Melted, however, I think I like the Goose Creek version better because it's sweeter.
Peppermint Whip
Top: Sparkling Peppermint, Frozen Vanilla; Mid: Candy Cane Swirl, Candied Sugar; Base: Whipped Cream, Snowflakes
A fantastic peppermint scent with creamy vanilla. It's different from their
Peppermint
scent (which was much more pepperminty and smelled like peppermint hard candies) and
Peppermint Snowflake
(which was also a little more pepperminty but also had a creamy milky note, whereas the Peppermint Whip doesn't have that milky note). And it's a totally different scent from
Vanilla Wonderland
. It's definitely pepperminty, but a little softer than other peppermint scents I've smelled.
Sparkling Woods
Top: Sparkling Bergamot, Black Pepper; Mid: Cool Snow Drift; Base: Light Woods
This scent wasn't available when I got these from the Goose Creek website, but I found it at Gabe's store a few weeks later. This scent was only available in candle format two years ago and I bought the 1.5 oz. Firefly candle and fell in love with this scent. So I'm very pleased that it finally came out in a wax melt! It's basically a combination of milky sandalwood and citrusy lemon, with a smidgen of a peppery note. It's not a sweet scent at all. It's fantastic. Looking at the notes, I'm surprised I don't see lemon. I don't detect bergamot which would give this a cologney note, although bergamot also can have a citrusy note. And I'm not sure what a "cool snow drift" smells like!
Teakwood Merlot
Top: Parisian Merlot, Black Wine Grapes; Mid: Wine Barrel, Cardamom, Rosemary; Base: Teakwood, Oakmoss, Mahogany
A fantastic men's cologne scent with a warm amber note, a hint of woodsiness, a smidgen of fruit (plum and grape) and maybe a tiny bit of leather. Looking at the scent notes, this scent is not as fruity as the notes suggest. I definitely smell the mahogany (which is the warm ambery wood note), but although I smell the fruit, it's not very noticeable, but it certainly enhances the scent. I really like this one!
Welcome Frosty
Top: Vanilla Marshmallow, Buttercream Vanilla; Mid: Butter Cream, Soft Peach, Gentle Spice; Base: Soft Coconut, Vanilla, Sandalwood
I can't figure out the notes on this one, but I like it. I smell a super sweet sugary vanilla with a smidgen of cinnamon and perhaps a barely detectable caramel or rum, and a smidgen of a milky note. It has a bit of a cookie vibe, but it's not completely a bakery scent. Looking at the notes, I don't smell peach or coconut, but now I do detect a smidgen of fruit and possibly coconut way in the background that I probably wouldn't have noticed if I didn't know it was in the notes. I really like this scent, and I love that not all of their holiday scents are the typical cinnamon, pine and pumpkin.