ScentSationals Christmas/Holiday 2021 Wax Melt Reviews
October 11, 2021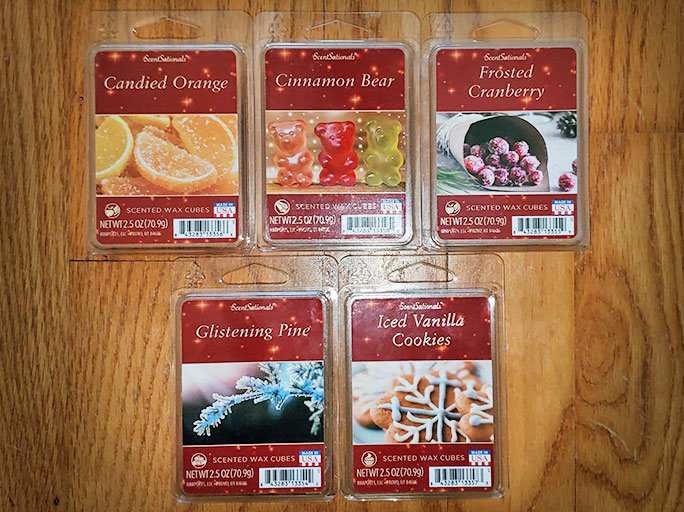 This is a review of 5 new ScentSationals Christmas/Holiday 2021 wax melts (Candied Orange, Cinnamon Bear, Frosted Cranberry, Glistening Pine, and Iced Vanilla Cookie), available on the Walmart website as a variety pack.
It's still too early in the season to know if any of these scents will be available in stores or for individual purchase.
This is the first time that Walmart has ever carried ScentSationals Christmas/Holiday scents. Every year, 2 or 3 holiday type scents come out with the fall scents, but there's no actual holiday collection like with the Better Homes & Gardens wax melts.
I've found that all of these scents mix really well with one another!
ScentSationals has even MORE new Christmas/Holiday wax melt scents that can only be purchased from their website. We've reviewed them HERE.
Candied Orange
Bright, energetic tones of frozen lemon peel and fresh squeezed tangerine are enriched by winter white mango and sugared snow crystals. The bottom notes are soft and comforting, as the blonde woods tie this timeless scent together.
There are few scents from Rimports brands that I really dislike, but unfortunately this is one of them. It's a slightly bitter, sour orange scent (but not the rich, yummy sourness of satsuma oranges) with a weird, waxy chemical note that makes it smell a little like moldy oranges. I also detect lemon, and up close I'm getting a slight nasal clearing effect that's usually present in mint and eucalyptus notes, so it's possible that this has a smidgen of eucalyptus in it which is creating the odd savory note. I expected this to be a sweet, sugary, well, "candied" orange scent, but this scent is not even really sweet.
It's actually pretty good mixed with the Cinnamon Bear scent (it tones down the sweetness and cinnamoniness) and Glistening Pine scent.
UPDATE: I got the first collection directly from Rimports, but I got a second collection from Walmart right after I posted this review. The Candied Orange from the second collection has much less eucalyptus and more of the orange. While I'm still not a fan of this scent, this one smells much better than the one I reviewed!
Cinnamon Bear
Freshly ground cinnamon accented with citrus sparkles, fragrant allspice, and warm clove
A sweet, very cinnamony, straight cinnamon scent that smells like sweet Red Hot cinnamon candies. It's almost exactly the same as
ScentSationals Red Hot Cinnamon
(notes: bright red hot cinnamon accented by crushed clove bud, sweet allspice, and a touch of shimmering nutmeg) and/or
Better Homes & Gardens Spicy Cinnamon Stick
(notes: freshly ground cinnamon sticks embellished with pure notes of crushed clove essence, sweet nutmeg, and a sprinkle of festive allspice). I think Cinnamon Bear might be very slightly sweeter and with more of a candy note than the other two, but I really can't tell the difference. Looking at the notes for this scent, I don't detect any citrus in this scent. If you love super cinnamony scents, this is the scent for you! I'm not a fan of strong cinnamon scents, but this one is super sweet so I actually like it.
This scent is a great mixer to add a sweet cinnamon note to any scent, like vanilla or caramel (or any bakery scent), fruit (apple, pear, or any kind of berry), pine, coffee (coffee with a little bit of cinnamon smells fantastic), incensey or tobacco or warm masculine scents like cologne, etc. Try it with the Frosted Cranberry, Glistening Pine, or Iced Vanilla Cookies scents. But remember to use less of this scent and more of the other scent, as the cinnamon is so strong it will take over.
Frosted Cranberry
Cool ozone swirls through frosted red cranberry and tart currant combined with harvest apple, pink plum, and sparkling touches of effervescent clementine
I'm fairly certain this is the same as
Better Homes & Gardens Iced Winter Cranberry
. It smells like fruity wine or champagne, with a bitter, slightly fermented, vinegary note that candles and wax melts with alcohol type scents sometimes have. Notes for IWC were, "Juicy red cranberries sparkle amid sweet red currant accents, fresh mulberry, sugared plum and bright winter citrus over shimmering holly leaf and a glint of icy, cool peppermint" (even though there was no mint in that scent), but those notes are kind of similar; they both contain cranberry, currant, plum, citrus (clementine), a "cool" note, and effervescent (shimmering) notes. I'm not a fan of bitter, fermented type scents, but it's also very fruity, so it's not that bad. Looking at the notes, I don't get any fresh ozone type notes, but I do get the currant.
I think it would also be a great mixer to tone down overly sweet scents while also adding a fruity note (I'll bet it smells fantastic mixed with super sweet vanilla buttercream, or a sweet girly Pink Sugar type perfume scent), as well as adding a fruity note to other types of scents without making them sweet (like pine). Try it with the Cinnamon Bear, Glistening Pine, or Iced Vanilla Cookies scent.
Glistening Pine
Pine, bergamot, and mint into a heart of balsam and geranium for a hypnotic winter experience. Vanilla, fir, and cedarwood provide extra depth.
This is almost exactly the same as
Better Homes & Gardens Frosted Winter Flurries
(even a similar off-white color), but it's not the same scent, and the notes are different (FWF notes are, "Crisp ozone, bergamot, leafy greens, and eucalyptus with middle notes of winter evergreen, pine needle, and white birch"). Most people probably won't be able to tell the difference between these two scents. They're both spruce (not a biting, bitter, or sour pine at all) with a rich, intense, salty, smoky note, like smoked birch, almost like a mesquite smokiness but not quite, with maybe a touch of eucalyptus. There is zero mint in either scent. The difference between this scent and FWF is that this scent has a smidgen less pine, a smidgen more smoke, and also has a vanilla note that FWF does not have. The vanilla note is barely noticeable, and both scents are not sweet at all. They're both fantastic scents!
Iced Vanilla Cookies
Sugared vanilla mixed with warm buttery richness create this homemade sugar cookie dough
This is the same as
ScentSationals Cookies n' Cream
. Even the wax is the same color, and notes are similar (Cookies n' Cream: "Warm vanilla infuses buttery rich homemade cookie dough sweetened with sugar crystals"). It's a toothachingly sweet vanilla buttercream scent with a bit of a milk chocolate note. It's fantastic and yummy. It's very similar to (or maybe the same as)
ScentSationals Pan de Muerto
and
ScentSationals Cake Batter Ice Cream
, although I think this scent is sweeter and more chocolatey.
For something different, mix it with the Cinnamon Bear or Frosted Cranberry scents, and even the Glistening Pine!