Walgreens Wax Melts Reviews (Patriot & Complete Home Brand)
May 28, 2020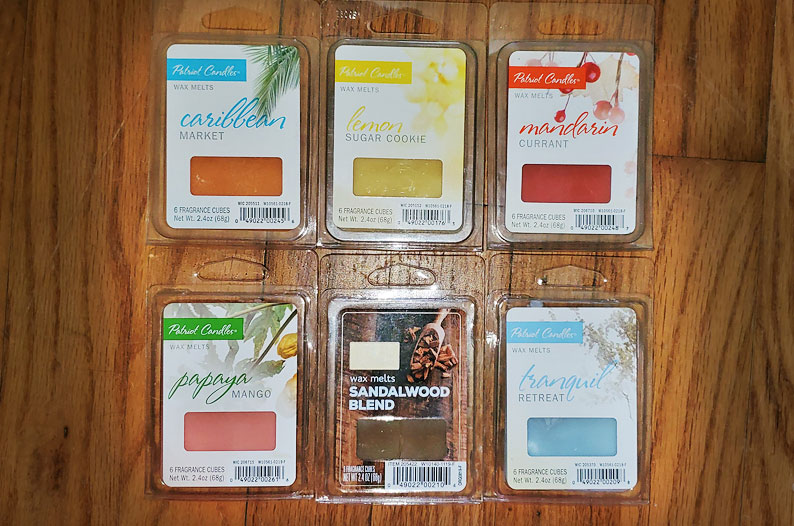 This is a review of Walgreens wax melts (Patriot and Complete Home brand). These are fantastic scents with incredible throw!
They can be found on Walgreen's website. They can't be ordered online, but you can look for a local Walgreen's store that carries them. They're $3.95 each, which is a bit pricey considering that Walmart wax is $2 for the same amount (2.4 oz.), but if you buy 3 then they're $3 each. And they're well worth the extra cost! They're so strong that an open clamshell can fill a small room with scent even if you don't put it in a warmer, and you can even smell some of the scent through the closed clamshell!
Walgreens had Patriot wax melts in 2014, and they were always strong throwers with great scents. They had a dozen or so scents (now there are only 6). But by 2017 they were all gone, although some stores still had old stock which was starting to crumble and discolor. I believe they brought them back in 2018, but with a new wax formula. These are soft and messy, like tub margarine, rather than the older, hard wax formula. And they may be in the process of switching the brand from Patriot to Complete Home (no difference in quality, as I believe they're made by the same manufacturer). They can be found in the air freshener/candle aisle, but not every store carries them, and those that do tend to only have 3 or 4 of each scent (until they restock).
Since most of these Walgreen wax melt scents are the same as Tuscany Candle scents, I believe that Empire Candle is the manufacturer. Empire makes Tuscany wax melts, Sonoma for Kohl's, and Hallmark/Crafters wax melts. But Empire Candles has always made hard wax; I didn't realize they were making soft wax now.
Caribbean Market
I've smelled this scent many times before. It's a citrusy orange scent with a little bit of an orange "Tang" note and maybe a hint of tropical fruit. I like it! Great scent, and it lasted all day, at least 10 hours. And I could still smell it the next day even though it was no longer in the warmer! I think it's the same scent as
Tuscany Candle Caribbean Market
.
Lemon Sugar Cookie
A perfect bakery lemon scent! It doesn't smell like cookies; it smells like the inside of a lemon meringue pie, very lemony, sweet but not cloyingly sweet, and with maybe a hint of vanilla. Fantastic! It might be the same scent as
Tuscany Lemon Sugar Cookie
(one of the best bakery lemon scents I've ever smelled), but I no longer have that scent to compare.
Papaya Mango
This is primarily a peach scent, but unlike some peach scents that have that "cat pee" note, this one does not. It's a fresh, juicy, yummy peach scent with a little bit of a tropical fruit note (papaya and mango). I'm not a fan of peach scents, but I like this one. I think it's the same scent as
Tuscany Candle Caribbean Breeze
.
Sandalwood Blend
This is an amazing scent that I've smelled many times before but I don't remember what scent or brand. It's a milky sandalwood scent with a hint of patchouli. It's not sweet at all. It may be the same as
Joann Fabric's Hudson 43 Sandalwood
scent, which I described as a "milky wood" scent. Hudson 43 is made by Tuscany Candle, but this is not the same as Tuscany's regular
Sandalwood
scent, which I said is perfumey (this scent is definitely not).
Tranquil Retreat
This smells like a combination of
ScentSationals Zen
(a clean scent combining garden mint, laundry, and a hint of eucalyptus) with a bit of a fresh, slightly sweeter, soapy body wash note. The eucalyptus note is a bit stronger than Zen (and with a bit of nasal clearing effect). Fantastic scent!