Aldi Holiday Wax Melt Reviews 2022
December 3, 2022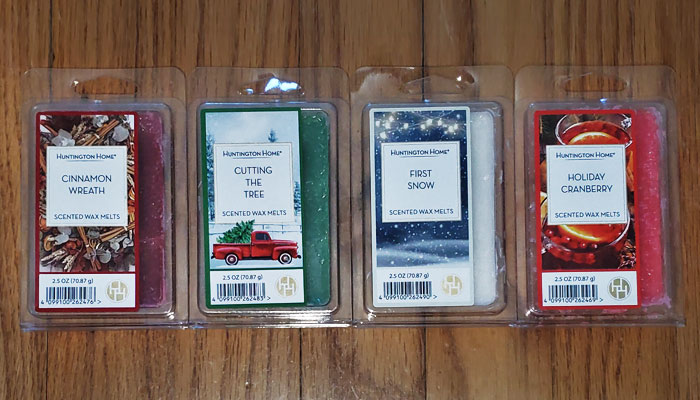 This is a review of the Aldi Holiday 2022 wax melts (Huntington Home brand): Cinnamon Wreath, Cutting the Tree, First Snow, and Holiday Cranberry. They're $1.89 each.
Only one of these scents (Cinnamon Wreath) is a new scent, while the rest are dupes of older scents.
Cinnamon Wreath
I think this is best scent of this collection. It's incredible! It smells like cinnamon with a bit of pine and maybe a hint of chestnut, like 60% cinnamon, 30% pine and 10% chestnut. The only other scent that I've smelled with this combination is the new
Goose Creek Candle This Is Christmas
. They're very similar, as they're both a combination of pine and cinnamon. But this scent is slightly sweeter and a bit more cinnamony, while the Goose Creek scent has more pine and a tiny bit of a woodsy note. I love both of these amazing scents!
Cutting the Tree
This is the same as the
2021
and
2019
Aldi scent Woodland Pine (which is the same as Hanna's Candle
Dusted Pine
and
Through the Woods
), and I'm so glad they brought it back, because it's the best pine/spruce scent I've ever smelled. It's not a biting, eucalyptus, sour, rubbery, or Play-Doh type pine, but a rich, slightly smoky, slightly woodsy spruce scent. And if you like mixing pine with other scents (pine makes everything smell better), this is the perfect pine scent to use.
First Snow
This is the same as the First Snow scent from
last year
. It's a fantastic scent of peppermint and milky vanilla, with a hint of wood, balsam, pine, and/or eucalyptus. It's like 65% peppermint, 15% vanilla, 15% of the woodsy balsamy pine/eucalyptus note, and maybe 5% chestnut because I think there's a smidgen of that way in the background. It's not smoky, and the vanilla note softens the scent and gives it a tiny bit of a foodie quality. It could also have a barely detectable smidgen of musk and/or amber.
Holiday Cranberry
This is the same as the Holiday Cranberry scent from
last year
. It's a sweet, very fruity scent with a slightly bitter, fermented, vinegary note that candles and wax melts with alcohol type notes sometimes have; it smells more like wine than cranberry. No spice notes (cinnamon, nutmeg, etc.) at all. Thankfully, the fruity note is so fruity that it tempers a lot of that vinegary note so it's more subtle. It smells a lot like
ScentSationals Frosted Cranberry
(which I believe is also a dupe of the old
Better Homes & Gardens Iced Winter Cranberry
), but that scent has a much stronger vinegary wine note than this one, so I like this scent much, much more.