Aldi Holiday Wax Melt Reviews 2019
October 28, 2019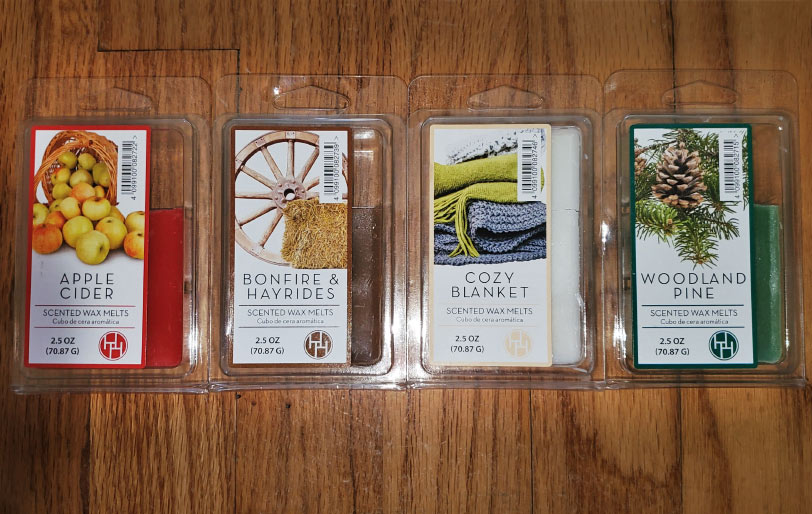 This is a review of the new Aldi Holiday 2019 wax melt scents: Apple Cider, Bonfire & Hayrides, Cozy Blanket, and Woodland Pine. These Aldi 2019 holiday scents are the first holiday wax melts that Aldi has carried. Every year they only come out in Spring, Summer and Fall.
Like the fall melts, you have to make sure every corner of the clamshell snaps shut when you close it, or the scent could dissipate.
If any of these scents interest you, make sure you buy them as soon as possible, as they sell out within 2 or 3 weeks. Some scents could end up returning next year. They cannot be ordered online, although since they are made by Hanna's Candle, some of the scents may be available under a different name on the Candlemart (Hanna's Candle) website (not confirmed by Hanna's Candle).
Apple Cider
Cinnamon, nutmeg, and crisp apple
This is not an apple cider scent; it's just "apple". It's a pleasant apple scent, not totally authentic, but quite nice. It might be the same as
Warm Apple Pie
from a few months ago, as I described it the same way. The scent lasted almost all day.
Bonfire & Hayride
White oak wood, birch, citrus bergamot, florals, musk, and cedarwood
Cozy Blanket
Delicate lilies, violet, rose and freesia blossoms, warm driftwood, sheer musks, and white amber
This is a sweet watery scent with a soft warm ambery note and a hint of musk. It has a little bit of a soapy note, and it's not a perfumey scent. But it also has a richness and a bit of a foodie note, maybe vanilla or even caramel, that's a tiny bit nauseating and just "too much" when mixed with the freesia. Looking at the notes, I don't see anything foodie.
This is the same scent, with the same notes, as Hanna's Candle Tranquil Waters, Calm Waters from the Aldi Fresh Trio from 2018, Aldi Tranquil Waters from Spring 2019, and Tranquil Waters from the Aldi Ocean Trio from Summer 2019. But this scent originated from Mainstays Peaceful Waters from Walmart (manufactured by Hanna's Candle).
Woodland Pine
Siberian fir needle oil, Texas cedar wood, sandalwood, spruce, fir balsam and raspberry
This is the same scent, with the same notes, as
Hanna's Candle Through the Woods
. This is one of my favorite pine scents. It's not a biting or eucalyptus type pine, but more of a slightly smoky, slightly woodsy spruce scent. And if you like mixing pine with other scents (pine makes everything smell better), this is the perfect pine scent to use. Looking at the scent notes, there's no raspberry in this scent, and absolutely no fruity or sweet notes.