Better Homes & Gardens Christmas 2020 Wax Melt Reviews from Walmart
November 11, 2020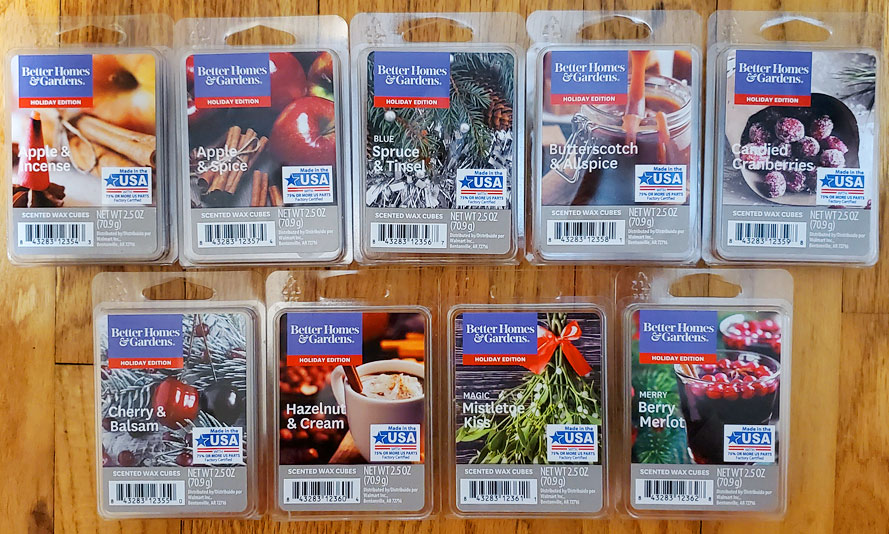 This is a review of Better Homes & Gardens Holiday 2020 Wax Melts from Walmart: Apple & Incense, Apple & Spice, Blue Spruce & Tinsel, Butterscotch & Allspice, Candied Cranberries, Cherry & Balsam, Hazelnut & Cream, Magic Mistletoe Kiss, and Merry Berry Merlot.
Apple & Incense
Warm notes of citrus and cinnamon weaved through ambered applewood and oriental incense infused with soft vanilla bean and clove bud, cashmere musk, and amber
Despite the similar names, this is nothing like
Better Homes & Gardens Apple & Oud
. This smells like apple crisp (not apple pie) with a hint of cinnamon, a smidgen of vanilla, and just a slight hint of incense (maybe tobacco and/or Nag Champa?) that gives it a tiny bit of a perfumey note. It's mostly foodie though, like 90%, with only around 10% of the perfumey note. And although it's sweet, it's not overly sweet. VERY nice scent! When melted, however, I don't really smell the incense and perfuminess, and it just smells like a nice, yummy apple crisp. It smells like a slightly sweeter, very slightly more cinnamony version of
ScentSationals Baked Orchard Apple
.
Apple & Spice
Cinnamon, brown sugar spiced apples, and pears stirred with butter roasted pecans infused with vanilla essence
I expected based on the name that this was going to be just another generic cinnamon apple or apple pie type scent, but it's not! It smells SO good, like super sweet, rich caramel, apple and cinnamon, and marshmallow! It's quite similar to
ScentSationals Salted Caramel Buttercream
, like if that scent also had a hint of apple and cinnamon. I LOVE it!! Looking at the notes, I actually do smell a subtle hint of the pear, which is a more delicate, slightly floral version of apple. I think I do detect a smidgen of pecan as well, but I wouldn't notice it if I didn't know it was supposed to be in there.
Blue Spruce & Tinsel
Eucalyptus, Siberian Pine, and frozen greens intertwined with cardamom, clove bud, and silver geranium
This is a very nice soft pine scent (not a biting pine) with a hint of nuttiness, maybe a smidgen of vanilla way in the background (although it's not sweet at all), and possibly a barely detectable smokiness. Comparing it to
Better Homes & Gardens Fresh Cut Frasier
and
ScentSationals Perfectly Pine
, both of those scents are slightly sweeter, with slightly different notes, and FCF is more of a "harsh" pine. Looking at the notes, the nuttiness is the cardamom (a nutty, buttery version of cloves, with a smidgen of fennel and herbal undertones). I don't actually smell cloves in this scent, although that might be that smidgen of smokiness I detect.
Butterscotch & Allspice
Spicy pimento berry, sweet bay, and shimmers of ginger spiked atop of a rich butterscotch and vanilla combining with sweetened toffee and caramel
This is not at all what I expected. I thought it was going to be just another caramely type scent, but it's not. And it's so unique! It smells like sweet, buttery butterscotch with a hint of cinnamon... and black tea! I definitely do smell the tea note at the end, and there are no caramel or salty notes at all. Looking at the notes, no tea, but "sweet bay" is an herbal, slightly floral scent with an oregano or thyme note. And pimento berry smells like clove, juniper and cinnamon with a dash of black pepper. So it's the combination of bay and pimento berry that probably smells like tea.
Candied Cranberries
Bright cranberry sparkles with fresh Frasier Fir and cypress fused with notes of woodsmoke, cinnamon, and peppered clove
I expected that this would be a super sweet, powdery sugary type cranberry based on the name and label, but it's not. It's cranberry plus pine, with a little bit of smokiness. It has a bit of a sour note that I don't care for, but I think most people won't notice that.
Cherry & Balsam
Black cherry, raspberry, and black currant infused with notes of pine, fir balsam, and spruce
An amazing, incredible sweet, fruity scent of cherry (not as harsh as black cherry, more like maraschino but somewhere in-between) and pine. On cold sniff I'd say 70% cherry, 25% pine, and 5% some other notes which could be raspberry, vanilla, nutty, and/or perfumey (baby powder?). When melted, it's more cherry, like maybe 85%, and it smells kind of like cherry cough syrup (but in a good way; I happen to like that scent!) It's like a richer, warmer version of
Yankee Candle Merry Cherry
, and it's so rich it might be a bit nauseating for some people (but easy to solve by mixing with vanilla or another fruity scent). After about an hour, I started noticing a tobacco-ey note that made it smell more like cherry tobacco. I LOVE this "chameleon" scent!
Hazelnut & Cream
Cinnamon, clove, and nutmeg stirred into a comforting brew of almond, hazelnut, and caramel. With toasted coconut and vanilla.
I definitely smell the hazelnut. It's nutty and sweet, with cinnamon (a fair amount, but not overkill), a bit of caramel, and a milky note. It's different, and I like it! Looking at the notes, I don't smell clove. Nutmeg? Maybe, although that would give this a pumpkin pie vibe, which this scent does not have. Coconut? Perhaps, but if it's there, it's very very subtle, and I wouldn't detect it if it were not in the scent notes.
Magic Mistletoe Kiss
Bright citrus bergamot and crisp herbaceous juniper berries weaved through elements of green pine and mistletoe touched with a shimmer of peppered woods
A very interesting scent that smells like pine and a slightly sweet citrusy type fruit, but not orange or lemon; maybe lime or pineapple? It's not as "piney" as other pine type scents, and has a peppery note. It's different from anything else I've smelled. I kind of like it, but melted it takes on a little bit of a vinegary note. Looking at the notes, there's the citrus, and bergamot is usually in cologne type scents but this scent has no cologne or perfumey notes at all.
Merry Berry Merlot
And several older holiday scents have returned this year (shown below with the year they first came out): Be Holly Jolly (2019), Cookies for Santa (2018), Crisp Frosted Fir (2018), Fresh Cypress Garland (2019), Evergreen & Apple Wreath (2019), Frosty Winter Nights (2015), Iced Winter Cranberry (2015), Just Like Christmas (2019), Sweet Orange & Pine (2019), Vintage Farmhouse Christmas (2019), Warm Fireside Flurries (2018). There may be other older scents that have returned that I haven't listed.