Mainstays (Walmart) Wax Melt Reviews - Spring 2023
March 8, 2023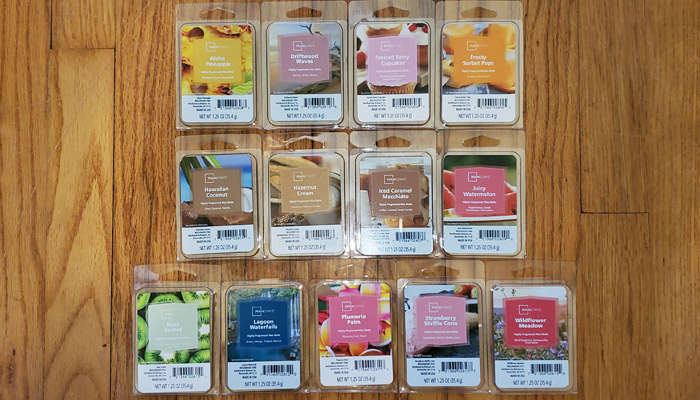 This is a review of the new Mainstays wax melts for Spring/Summer 2023. They're $1.10 each for 1.25 oz.
MVP Group Intl. has hit it out of the park for the 2023 Spring/Summer season with 12 new Mainstays wax melt scents that, for the most part, smell fantastic and are very strong.
Aloha Pineapple
Sweet vanilla-infused buttercream stirred with delicious pieces of fresh Hawaiian pineapple, juicy guava, and nectarous passionfruit finished with a sprinkle of island sugarcane
I'm not a fan of a lot of pineapple scents, but I adore this scent! Rather than being a harsh pineapple scent without a lot of sweetness, this scent is soft, very rich, and super sweet, with a note of sweet vanilla. It could almost be a bakery scent, but not quite. Looking at the notes, there's the vanilla buttercream!
Driftwood Waves
Midnight seas, sweet coconut, and fragrant dune flowers swirl with golden amber, earthy patchouli, and salted driftwood atop fruit-infused, sun-warmed sand
A fantastic, super sweet scent of coconut, light wood, cedar, and maybe a tiny bit of amber for warmth, as well as a possible smidgen of an incensey note. I think I'm also getting a hint of musk, although it's not a perfumey scent. And perhaps a barely detectable smidgen of some kind of fruit, like apricot, although I'm not sure about the fruit. But it's not a tropical scent, and there are no pineapple or tropical fruit notes. It's really nice, and different. I love it! Looking at the notes, that teensy bit of a incensey note is probably the patchouli, but I really don't smell patchouli.
Frosted Berry Cupcakes
Sugar-dipped summer berries swirled within a delectable, buttery cupcake complex topped with scrumptious vanilla frosting
This is a rich, buttery blueberry bakery scent, like blueberry muffins with a ton of blueberries, and maybe a hint of some other fruit. It's not authentic, but that's okay, because it's fantastic. It smells almost exactly like several berry and blueberry scents by Rimports that are all dupes of each other. If it's not the same scent, it's incredibly close, and I can't figure out the differences. Those other scents are
Empanada de Fresa (Strawberry Empanada)
from ScentSationals Day Of The Dead collection,
ScentSationals Berry Cobbler
from H.E.B.,
Oak & Rye Berry Crunch Muffins
, etc. It's also similar to, but not the same as,
Better Homes & Gardens Wild Blueberry Pie
.
Frosty Sorbet Pops
Sparkling lemon, sun-kissed orange zest, and sweet mandarin swirl with tart raspberry and island pineapple candied with pure cane sugar and aquatic shimmers of icy freshness
A bitter orange scent. It's not actually grapefruit, although that may be one of the notes too. It's like the bitter rind of the orange, it's not really sweet, and it's very fake and kind of waxy. Definitely not a sorbet pops scent. Melted, it was even worse. Tart, bitter, a bit sour, fake, slightly waxy... I had to remove it from the warmer as it was nauseating to me. It kind of smells like a citrusy, orangey version of Victoria's Secret Love Spell dupes like
ScentSationals Magic Spell
, which to me smells like bitter grapefruit blended with wax paper. Most people really like the Love Spell scent though, so perhaps I'm in the minority of people who don't like this scent. Although I do think it would make a terrific mixer for other scents, like sweet vanilla, or maybe even their Strawberry Waffle Cone scent, which is exceedingly sweet, as it would cut down on some of that sweetness while also adding a little bit of a citrus note. Looking at the notes, I'm not getting any "sparkling" or fizzy or soda type notes, but sometimes scents with those notes tend to be on the bitter side. Pineapple? Yes, that might be contributing to the weirdness of this scent if it's an unsweetened pineapple. I'm not getting anything shimmery or icy, which would suggest mint.
Hawaiian Coconut
Warm and creamy coconut milk swirled with a splash of tropical lime and sugared citrus zest layered with salted vanilla bean
A nice scent of coconut and lime. I thought it might be the same as Mainstays
Coconut Lime
, but that scent had a bit more lime, and the lime was sweet, creamy, and citrusy. I think it's more similar to
ScentSationals Coconut Vacay
, which was not as sweet as Mainstays Coconut Lime, and was more of an even combination of coconut and lime (I no longer have it to compare).
Hazelnut Cream
Steamed hazelnut coffee sweetened with a sprinkle of brown sugar and caramel, as almond milk & mocha cream kissed with maple & vanilla beans swirl throughout the heart of this scent
Mainstays has been making this scent for many years, at least since 2014, possibly earlier. I've never reviewed it before, but I wanted to see how it compares to the new Iced Caramel Macchiato. It's a sweet nutty scent with just a hint of coffee, a little bit of a milky note, and a smidgen of chocolate. The coffee is very subtle and not bitter at all, so it's more like a latte. Despite the fakeness, it's quite nice. Looking at the notes, on cold sniff I get a teensy bit of caramel, but not really when melting. And although this scent is sweet, I'm not getting brown sugar or maple. A lot of candle and wax melt companies were making this type of fake coffee scent 7 to 10 years ago, so this one is kind of nostalgic for me.
Iced Caramel Macchiato
Freshly brewed French roast coffee infused with rich sugarcane accents swirled with frothy milk and a delectable touch of sweet, golden caramel
Like the Hazelnut Cream scent, this is also a super fake, almost chemical type coffee scent. It's coffee with caramel and with lots of vanilla. Also like Hazelnut Cream, it doesn't have a super strong coffee note, and no bitterness. So even it's very fake, it's also a really nice scent. It's kind of similar to the Hazelnut Cream scent, but this scent doesn't have the nutty, milky, or chocolate notes, and it's slightly more coffee-ish.
Juicy Watermelon
Juicy watermelon, sweet cantaloupe, sugared honeydew, and glimmers of ripe casaba over fresh hints of orchard apple and white pear
I believe this scent was available as a candle for a few years. It's a bright, sweet, very fake (not in a bad way though) watermelon scent that could smell like watermelon candy if it were a little sweeter. It smells a bit like watermelon lemonade, but the lemon note is not as pronounced as it is in other similar scents. It also has a little bit of a sour note that a lot of watermelon scents tend to have, but not as much as other watermelon scents I've reviewed recently. Comparing it to
ScentSationals Watermelon Sugar
, that scent is definitely more sour and has the stronger lemon note, and comparing them side by side, even though the ScentSationals scent is more sour, it's also sweeter, with a rich, almost spun sugar or even caramel note way, way in the background that I don't really detect unless I'm comparing it to this scent. This scent is brighter and crisper, with maybe a smidgen of watery cucumber in the background. I don't like a lot of watermelon scents, but I do like this one. Looking at the notes, yes, I'm getting some of that cantaloupe, and this scent does indeed have a cucumber note, which is shown on the Walmart website for the candle: "watermelon, cucumber water and berry". The cucumber note is not mentioned for the wax melt though. Apple and pear? Now that I know it's in there, I guess I do detect it very slightly.
Kiwi Sorbet
Star fruit, kiwi and passionfruits blended with hints of mandarin blossom, wisteria, sugar cane and musk
This is an odd scent that smells nothing like I expected it would. On cold sniff it's very milky, like creme fraiche, with vanilla and a bit of a fruity note that smells more like raspberry than kiwi (but the fruitiness so subtle, it's hard to tell). When melted, it's not as milky, the fruity note becomes even more subtle, and it smells more like some kind of sugary syrup, not maple (I don't think?), in a really good way. It's a fantastic scent; I just wish it were stronger. Looking at the notes, I'm not getting mandarin (orange), floral, or perfumey notes.
Lagoon Waterfalls
Cascading green waters and tropical fruits of island mango and sweet pineapple surrounded by emerald vines and verdant palm fronds accented with coconut bark
I believe this scent was available as a candle for a few years. It's a very nice, sweet scent of coconut, fresh water, and bergamot, which gives scents a slight cologney note (although this not a cologne or even body wash type scent, due to the coconut note). It's the same type of scent as, and even slightly similar to (but not the same scent)
Better Homes & Gardens Blue Harbor Cove
and
ScentSationals Boardwalk
. Looking at the notes, I'm not getting any fruity notes, and definitely no pineapple or tropical fruits.
Plumeria Palm
Lush coconut palm layered with sweet island plumeria and velvet sea rose amid shimmers of exotic orchid, lightly fruited hibiscus, and warm, coastal woods
A very nice sweet, rich, fruity floral with a tiny bit of plum or blackberry, a hint of a fresh note, a smidgen of coconut, and possibly a smidgen of bergamot that gives scents a citrusy, cologney note (although this scent is not a cologne type scent at all, and it's a bit too "feminine" to be a men's body wash scent, but it has a tiny bit of that rich, very slightly salty "bite"). It's kind of like the "type" of scent that
ScentSationals Girlfriend Night
is, although it's not the same scent. It's a little bit like the Lagoon Waterfalls scent, but that scent is fresher and more watery, with more coconut, and without any fruity notes, and maybe also without any floral notes (or they're very subtle). Looking at the notes, yes, I do detect rose, but it doesn't have that bitterness that rose scents tend to have, and I think there are some other florals besides rose, although it's not strictly a floral scent.
Strawberry Waffle Cone
Home-made vanilla bean waffle cones filled with sweet strawberry ice cream topped with fresh whipped cream, toasted marshmallows, chopped nuts, and drizzles of chocolate sauce
This fantastic scent is pure sugar, like toothachingly sweet sugary syrup (but not maple) with a little bit of a strawberry note, and sweet vanilla. It kind of smells like strawberry ice cream, and it's rich, but it's not creamy or milky enough to be an ice cream scent. It's actually similar to the Kiwi Sorbet scent, but not as milky, and with more fruitiness. And I swear I'm getting a smidgen of chocolate in the background. Looking at the notes, there's the chocolate! And the marshmallow helps with that super sweet richness. I'm not getting any waffle cone or cookie or bakery type notes, but I think I do detect a teensy bit of nuttiness.
Wildflower Meadow
Sweet and floral notes of wild raspberry, golden apricot and red plum blended with blackcurrant and wild honeysuckle with hints of fresh moss, woods and green musk
I believe this scent was available as a candle for a few years. It's a fantastic fruity floral with a lot of different notes. I get the floral first, then the fruit which is not far behind, but also a fresh note, and then a tiny bit of a candy type note. I think the floral is rose first, but also something else, like jasmine or honeysuckle or lily. And I think there are several fruits, apple first, and then strawberry I think, and possibly a hint of honeydew and/or peach. It's bright and crisp rather than soft and warm. After melting for 2 or 3 hours, I get more of the apple and apricot than initially. I adore this scent! Looking at the notes, no rose, and my fruits were off. I suppose I detect raspberry way, way in the background, maybe. I'm not getting musk or any perfumey notes.