MVP Group Walmart Holiday 2021 Wax Melts Reviews
December 11, 2021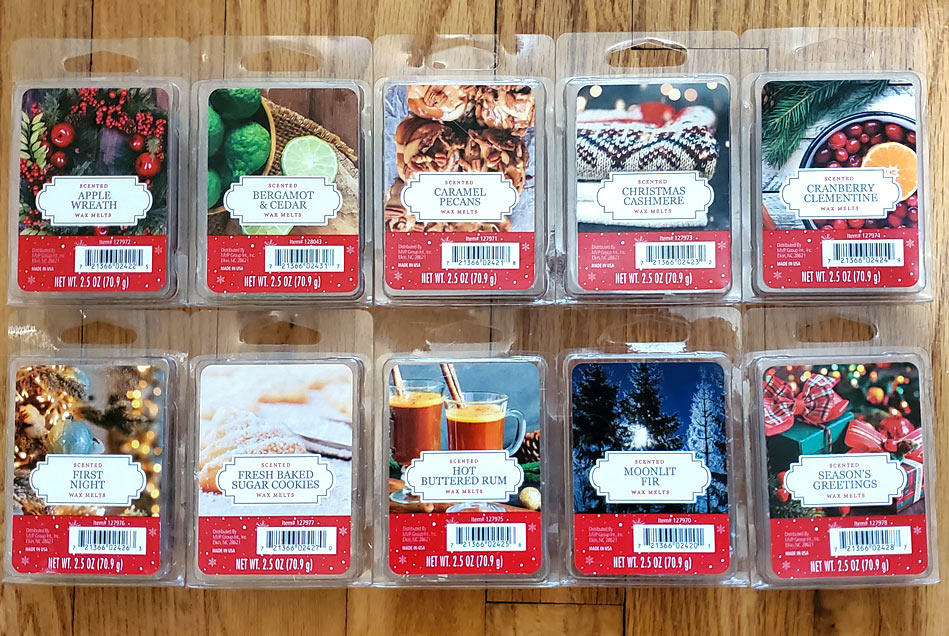 This is a review of the MVP Group Holiday 2021 wax melts from Walmart, which have replaced the Better Homes & Gardens holiday wax melts this year. I found 10 of the 12 scents.
This is the first time that Walmart has come out with this brand. See details about the replacement of Better Homes & Gardens holiday wax melts HERE. Unfortunately, these new MVP Group holiday melts are available at only 450 Walmart stores across the country, and cannot be ordered online. Therefore, the majority of Walmarts are not carrying ANY new holiday 2021 wax melts, and most are not even carrying older Better Homes & Gardens holiday wax melts.
The new MVP Group holiday 2021 wax melts cannot be found on the Walmart website through their search feature, but they ARE there (see links to the right of each review below). Although you can't order them online, you can see if they're available at your local store. Interestingly, they're called Mainstays melts on the Walmart website, not MVP Group (MVP Group does make the Mainstays melts as well as wax melts for other companies). In fact, the UPC codes on these clamshells are just a few digits off from the Mainstays fall 2021 wax melts, and the notes on the Walmart website for all of these MVP Group wax melts are for Mainstays Pumpkin Weather!
(NOTE: As of December 20, 2021, the Walmart links no longer work.)
I wanted to not like these MVP Group holiday 2021 wax melts, because I miss the Better Homes & Gardens holiday scents, and I'm partial to Rimports wax melts (including ScentSationals, Better Homes & Gardens, AmbiEscents, and Oak & Rye). But I was pleasantly surprised that the throw for all of these MVP scents was strong or very strong. However, although these scents are nice and I liked most of them, they are a bit more generic than BHG scents, and some of them smell kind of "fake". And unlike BHG scents where at least several new scents are "stand out" scents for me, I really only "loved" one or two of these. So if MVP Group is going to continue making wax melts for Walmart, they should come up with more interesting and unique scents.
Apple Wreath
I smell both pine and fruit. It's not a harsh pine, more of a balsamy pine. I do get the apple note, but I think it might also have cranberry in it, or maybe it's the combination of apple and pine that I think is cranberry. It's quite sweet but also has a slight tartness and tiny bit of that sour pine note (but not nearly enough to ruin the scent). I think I'm also getting a smidgen of cinnamon. It's a nice holiday scent.
Bergamot & Cedar
I smell mostly lime, with black pepper, cedar, and a soapy note (like 70% lime, 15% cedar, 10% pepper, 5% soapiness). Bergamot is often added to give scents a crisp, slightly citrusy cologne note. But this scent has no cologne notes, and it's just a little bit sweet but also a bit savory, and it's not zesty or sour. I kind of like it.
Candycane Cupcakes
I didn't find this one (but you can search for it at your local Walmart using the link at the right).
Caramel Pecans
This smells like a cinnamon roll with nuts and a hint of caramel. It's a rather standard scent that I've smelled many times, but it's still fantastic and smells yummy!
Christmas Cashmere
This is that sour pine scent that smells a bit like Play-Doh, but it has a tiny bit of a sweet, slightly soapy note (although not a cashmere note, which is more like a laundry type warm amber note, which this scent doesn't have). It's like 90% of the sour pine and 10% of the sweet, soapy note. I wish it had more of that sweet note, as I'm not a fan of Play-Doh type pine scents.
Cranberry Clementine
A fantastic scent of orange and cranberry. Orange is the main note, but I also get the slight tartness from the cranberry.
Mainstays Cranberry Mandarin
is also made by MVP, so I compared both scents side by side, and I think they're the same, or at least extremely close. The Mainstays version has a "kick" and tiny bit more tartness than the MVP version, but not enough that most people will notice; I do think they're the same scent, but different batches of scents can sometimes have very slight differences.
First Night
An incredible scent of lavender, eucalyptus (and maybe a hint of pine?), and lemon verbena. It's slightly sweet and a tiny bit soapy. I get a slight nasal clearing effect from the eucalyptus. I've never smelled anything like it, and it's definitely not a standard, generic type scent. I LOVE this scent!
Fresh Baked Sugar Cookies
A standard sweet vanilla sugar cookie scent with maybe a smidgen of coconut. On cold sniff I didn't care for it as it has a chemical note, but when melted, although it's still not entirely authentic, it's nice and rich. After an hour or so, it started losing a little bit of sweetness and taking on a bready note that makes it smells like a combination of vanilla cookies and bread, in a good way. Very nice!
Hot Buttered Rum
Sweet caramel with a bit of cinnamon. I don't get any rum type notes. It's like a standard caramel coffee type scent but without the coffee. It's not a rich or salted or buttery or butterscotch type caramel. Although it's fake and generic, it's still a nice scent.
Moonlit Fir
A nice smoky, woodsy, slightly peppery spruce scent. It's not a biting or harsh or sour or Play-Doh type pine. It's a bit more woodsy and less piney/sprucey than other pine type scents. I like it!
Season's Greetings
A nice rich scent of warm cloves, cinnamon, and apple. It's very sweet. I like it!
Spiced Cinnamon Sticks
I didn't find this one (but you can search for it at your local Walmart using the link at the right).