Aldi Wax Melt Reviews - Summer 2020
May 21, 2020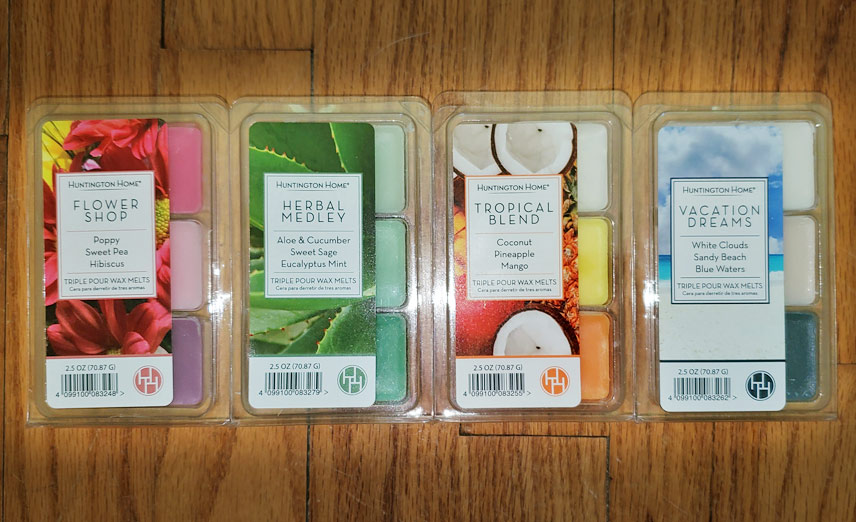 Aldi Wax Melt Reviews from Summer 2020 (Huntington Home brand). The Aldi summer scents are always triple melts (each pack has three scents in it instead of one).
Aldi wax melts can only be purchased from Aldi stores, but since they are made by Hanna's Candle, many of the scents are available on the Hanna's Candle website.
Flower Shop
Poppy
Pink peony, rose, orange flower and blushing hibiscus with citrus and berry, warm woods and musk
This smells like old soap to me, which sometimes smells quite good. But this scent is very bitter and fake and smells kind of "burnt" to me. I'm not a fan of this one. It's the same scent as
Hanna's Candle Peony Rose Bouquet
as well as
Aldi Peony & Rose Bouquet
from January 2018.
---
Sweet Pea
Rose, cyclamen, white musk, and tender woods
This is the same scent as
Hanna's Candle Carmine Rose
(and Hanna's discontinued Peony Fields scent). It's definitely a rose scent, quite authentic too, definitely not a sweet pea scent. I like it!
---
Hibiscus
Red Berries, Lychee, Jasmine, Cherry Blossom, Freesia, Peony, Lavender, Amber, and Musk
According to the scent notes, this is the same scent as
Hanna's Candle Cherry Blossoms
, which I really liked and described as a very sweet floral with a girly perfume note. This scent, however, while still a fruity floral, is not quite as sweet, not all that perfumey, and has a waxy note. It doesn't seem to be the same scent (I no longer have Hanna's Cherry Blossoms to compare).
Herbal Medley
Aloe & Cucumber
Cucumbers and Melons
This "might" be the same scent as Cucumber Melon from the
Aldi Melon trio
from May 2017, although with that scent I did detect a subtle melon note, but that scent also had very weak throw. I barely smell anything on cold sniff or when melted, definitely no melon, but more of the aloe and cucumber. It's a very bland, watery, slightly waxy scent that really doesn't have much scent to begin with, even if it had been a strong thrower.
---
Sweet Sage
Sage and mint
A very fresh, green, herbal scent with garden mint. It smells like a slightly savory, soapy version of the Eucalyptus Mint scent. Very nice!
---
Eucalyptus Mint
Eucalyptus, thyme, sage, lavender, and mint
Fantastic scent of garden mint (with a bit of nasal clearing effect) with a clean, very slightly sweet note (which may be the lavender although I'm not sure if I detect the lavender per se). It's very similar to
ScentSationals Zen
, but not quite as sweet and without the hint of laundry that Zen has. It's the same scent as
Hanna's Candle Eucalyptus Mint
.
Tropical Blend
---
Pineapple
Ripe pineapple in a fruity punch
A nice sweet pineapple scent that smells like pineapple juice. It may also have a hint of another fruit in it. Oh, there it is in the scent notes, "fruity punch". This does have kind of a tropical punch vibe. I love this one, despite the fact that it's pineapply and I'm usually not a fan of pineapple.
---
Mango
Juicy mango and ripe papaya
This is the same scent as as Mango Papaya Sorbet from the
Aldi May 2019 Tropical Trio
, and
Hanna's Candle Mango Papaya Sorbet
. This smells like pineapple and tropical fruits, very slightly sour but also a bit zesty like it has a hint of lemon in the background. I like it!
Vacation Dreams
---
Sandy Beach
Gardenia, lime, ozone, fruity coconut, sweet praline, and fresh muguet
This is the same scent as
Aldi Sandy Beach
from May 2019, and
Hanna's Candy Sandy Beach
. I love this scent! It smells like a combination of coconut, sweet tropical fruit nectar, and a bit of Coppertone Suntan oil.
---
Blue Waters
Shimmering waters, violet, rose and freesia blossoms, driftwood, musk, and amber
This is a sweet watery scent with a soft warm ambery note and a hint of musk. It has a little bit of a soapy note, and it's not a perfumey scent. But it also has a richness and a bit of a foodie note, maybe vanilla or even caramel, that's a bit nauseating and just "too much" when mixed with the freesia. Looking at the notes, I don't see anything foodie. This is the same scent as
Aldi Sea Salt Rain
from January 2020,
Aldi Tranquil Waters
from January 2019,
Hanna's Candle Tranquil Waters
, and the old
Mainstays Peaceful Waters
.