Joanne Fabric Hudson 43 Spa Wax Melts Reviews
April 15, 2022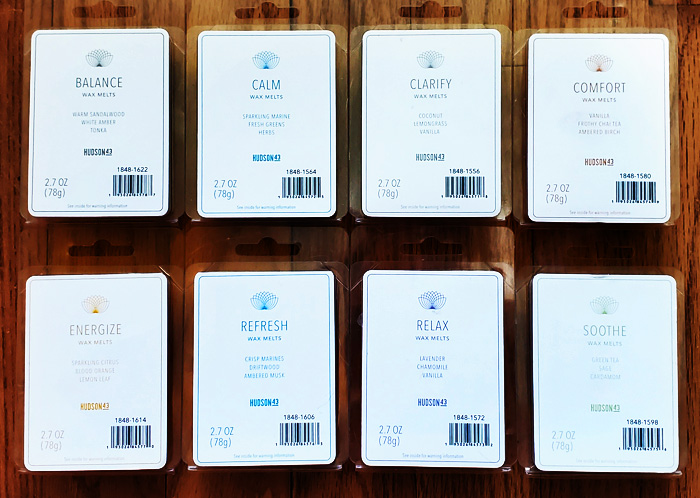 This is a review of 8 new Hudson 43 wax melts from Joann Fabric, with spa-inspired names: Balance, Calm, Clarify, Comfort, Energize, Refresh, Relax, and Soothe.
Hudson 43 wax melts from Joann Fabric are normally $6.99 (outrageous!) but I bought them when they were on sale for $4.19, plus they had a 20% off coupon, so I got them for $3.56 each. Still expensive, but if they're really good, I don't mind.
The wax is very soft and a bit messy (I have to cut out a cube with a butter knife), which means it's most likely soy (which tends to not throw as well as paraffin, but that wasn't the case with these wax melts). The only benefit I've found with soft, messy wax is that it tends to melt very quickly. With a few exceptions, average duration for most of these scents was 2.5 to 3 hours, so they didn't last for a super long time, but long enough to enjoy the fragrance.
Hudson 43 wax melts are normally made by Empire Candle Co., which makes Tuscany wax melts. But the fact that these melts are made with soy wax (Empire Candle/Tuscany wax melts are hard paraffin) and that they're manufactured in Vietnam means that they're either not made by Empire Candle, or Empire Candle simply outsourced the manufacturing to Vietnam. Many wax melt companies are doing this lately to save money, which is fine if the product is good quality. Unfortunately, my experience has been that wax melts made overseas have poor throw because the quality is not up to par. But thankfully, that's not the case with these wax melts! The UPC codes for these wax melts are off by just a few numbers from Sonoma candles at Kohl's in a line that uses a similar theme and is made not by Empire Candle, but by a Vietnamese company called Decor-Ware International Inc. Decor-Ware imports candles from Vietnam, including Better Homes & Gardens candles (but not wax melts, which are made by Rimports), DW Home (which is a Decor-Ware company), and several other lesser-known brands.
Balance
Warm Sandalwood, White Amber, Tonka
I'm getting milky sandalwood, mahogany, and maybe a hint of oud, with a hint of bergamot that gives this a tiny bit of a cologne note (although it's not a cologney scent at all), a smidgen of smokiness, and possibly a barely detectable smidgen of coconut. I'm also getting a slightly nutty, foodie note. Looking at the notes, I'm way off except for the sandalwood. But only 3 official notes are listed, so I'm sure there are actually more. I think it's the same as
DW Home Sandalwood & White Amber
, whose notes are, "Warm sandalwood wrapped with white amber, tonka, soft cardamom spice, and gently spiced leather". Yes, cardamom is the foodie note I'm smelling, and what I think is oud is probably the leather in the background. It's quite nice.
Calm
Sparkling Marine, Fresh Greens, Herbs
I thought this was similar to the Refresh scent, but after sniffing them both again, they're totally different. But I've definitely smelled this scent before in a Rimports melt. Yes, I believe it's the same as
ScentSationals Tahiti Shores
and
AmbiEscents Crisp Waters
(notes for those scents are "salted tides, bleached driftwood, ambered sands, sparkling marines and fresh white amber"). It's a fresh, sweet, watery, peppery scent with a hint of an industrial odor neutralizer, but not in a bad way at all. This one lasted for about 6 hours.
Clarify
Coconut, Lemongrass, Vanilla
This is not what I expected based on the notes. It's not a coconut lime or tropical scent at all. It's palm, which is a soapy, savory, waxy scent with a woodsy, nutty, slightly coconutty note and sometimes a smidgen of lemon. Lemongrass has more of a citronella note, which this scent doesn't have. Once you smell palm, you'll remember it, and that's definitely what this scent is. I haven't smelled a palm scented wax melt in a long time, and it's fantastic. In fact, this smells like a very old ScentSationals scent called Island Palm. Looking at the notes, I don't smell vanilla.
Comfort
Vanilla, Frothy Chai Tea, Ambered Birch
An incredible, authentic scent of chai. This smells so good!! It also has a cinnamon note, a hint of vanilla, and maybe a smidgen of cloves. Although the cinnamon and cloves might actually be the chai itself. OK yes, chai spices include cardamom, cinnamon, ginger, star anise, and cloves, and I am indeed getting all those notes in this scent. I can't believe how authentic this smells!
Energize
Sparkling Citrus, Blood Orange, Lemon Leaf
A fantastic sweet grapefruit and orange scent. It's mostly grapefruit, but a really sweet, sugary grapefruit that's not overly bitter. Although it also has an orange note, it's nothing like
ScentSationals Molten Orange
; this is much sweeter and not nearly that intense. It smells a lot like
ScentSationals Hello Sunshine
, although that scent is slightly less sweet and has more grapefruit. I believe it's the same as several DW Home candle scents (Citrus Burst, Sunrise Citrus, and Sparkling Citrus), whose notes are, "Sugared citrus and tropical fruits combine with hints of bright red currant, blood orange, lemon leaf and hints of musk". These are the same notes as
Better Homes & Gardens Red Lava Citrus
, but that's a different scent, more like satsuma, a more intense version of ScentSationals Molten Orange. They're also the same notes as
ScentSationals Uplift
and
AmbiEscents Uplift
, but those are not even citrus scents despite the notes, and smell totally different from this scent. So I'm really confused at why this scent has the same notes, word for word, as several Rimports scents that smell nothing like it (or each other). This scent is fantastic and lasted at least 6 hours. You can never go wrong with a good grapefruit/orange scent!
Refresh
Crisp Marines, Driftwood, Ambered Musk
I knew I'd smelled this scent before, and it's the same as
ScentSationals Blue Sky
,
ScentSationals Fusion Blue Lagoon
,
AmbiEscents Vitamin Sea
, and
ScentSationals Fusion H-E-B Texas Edition Agave Azul
(they're all the same scents). Every once in a while I come across a scent by Rimports (the company that makes ScentSationals) for which a DW Home candle has the same notes, and in this case, the notes are "Crisp marines blend with bursts of lively green sea grass, salty sea foam, and smooth coastal driftwood amid sun-warmed accents of ambered sand" from DW Home Sea Salt candle and Sea Salt & Minerals from LAB Candles (also made by Decor-Ware Imports). Sniffing this side by side with AmbiEscents Vitamin Sea and ScentSationals Blue Sky, it is indeed the same scent, although the Rimports versions have very strong or bold throw (4 or 5 out of 5). It's a fantastic fresh, clean, watery, peppery body wash scent with a smidgen of lemon perhaps. It's not overly sweet, and it's not a cologne scent. Melted, it takes on a tiny bit of a bug spray note, but not nearly enough to ruin the scent.
Relax
Soothe
Green Tea, Sage, Cardamom
This is similar to Clarify, but it's not a palm scent. It's a salty, savory, peppery, lemony/limey scent that smells a bit like a salad, but it also has a smidgen of bergamot that gives it a teensy bit of a cologne note. I've definitely smelled this scent in a Rimports wax melt; it might be the same as
ScentSationals Cactus Garden
(I no longer have it to compare), although the notes are different. It's also similar to (but not exactly the same as)
ScentSationals Agave Lime
. It might be the same scent as
DW Home Green Tea
candle (a Decor-Ware brand), whose notes are "sweet green tea with notes of bergamot, sage, grapefruit, lime and cardamom". This lasted around 6 hours.