IllumiScents by Candle Warmers Wax Melts Reviews
March 4, 2022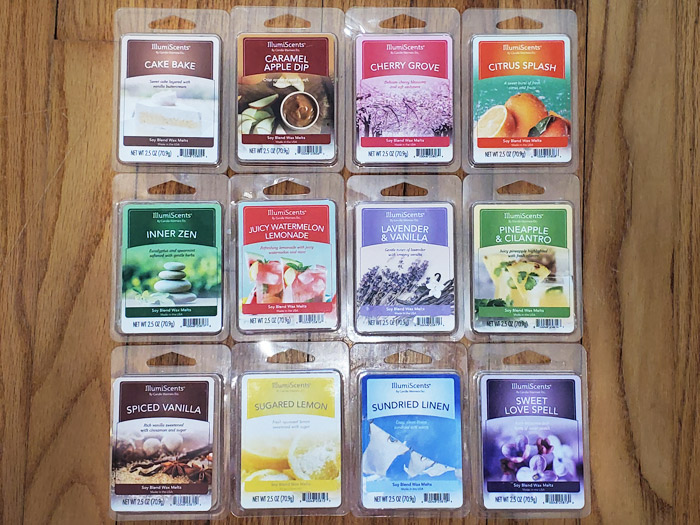 This is a review of the new IllumiScents wax melts from Walmart, made by Candle Warmers Etc. They're $2.99 each.
I like that the scent notes are listed on the label. ScentSationals and Better Homes & Gardens wax melts at Walmart are $2.22 each. But some of these IllumiScents scents do stand out and have very strong throw, so I think those are worth $2.99.
Cake Bake
Sweet cake layered with vanilla buttercream
This smells exactly like it should, more like a vanilla cupcake with super sweet vanilla buttercream frosting and those fake, waxy jimmies / sprinkles (in a good way). It's toothachingly sweet, with a hint of coconut. It's the same as Candle Warmers'
Birthday Cake
scent, but the throw for that scent was quite mild. I LOVE this scent, and it's great for adding a super sweet, creamy note to any other scent (try mixing it with their Citrus Splash, Lavender & Vanilla, or Sundried Linen!)
Caramel Apple Dip
Crisp apples dipped in soft, buttery caramel
This smells like blackstrap molasses, which is very sweet but more "pungent" than regular molasses. I'm also getting a little bit of caramel, but not a salted or buttery caramel. I think I'm also getting a tiny bit of cinnamon, and I "think" I smell apple but I'm not sure. And I swear I'm getting a smidgen of tea in the background. It's a nice, different scent!
Cherry Grove
Citrus Splash
A sweet burst of fresh citrus and fruits
A nice orange and grapefruit scent. It's sweet, but not overly sweet, and a little zesty. I think it's the same as Candle Warmers'
Citrus Grove
, but it's different from Candle Warmers'
Sugared Citrus
(which is sweeter and has a hint of a tropical note). I like it, as you can never go wrong with citrus scents!
Inner Zen
Eucalyptus and spearmint softened with gentle herbs
Fantastic fresh mint scent with a hint of eucalyptus. It's not a toothpastey spearmint, but more like garden mint with just a smidgen of sweetness, plus the slightly savory eucalyptus. It's a spa type mint with a strong sinus clearing effect. Melted, it smells like savory salad mint, in a good way. I believe it's the same as Candle Warmers'
Eucalyptus Spearmint
. Despite the scent name and mint notes, it's nothing like
ScentSationals Zen
(spearmint is the main note, but it's very subtle) or
ScentSationals Inner Zen
(pure garden spearmint, much more spearminty than this scent, and without the eucalyptus note). This scent pairs perfectly with lemongrass and lavender to create a perfect spa scent.
Island Escape
Juicy Watermelon Lemonade
Refreshing lemonade with juicy watermelon and mint
This is the same as Candle Warmers'
Watermelon Lemonade
. It's a perfect combination of zesty lemonade and watermelon, with a hint of tea. It's sweet but not overly sweet. Looking at the scent notes, I think the tea note is actually the mint (spearmint in the Candle Warmers version), although I don't smell mint at all. It's different from
ScentSationals Watermelon Sugar
, which is also a watermelon lemonade scent, but with a tiny bit of a raspberry note, no tea note, it's not as sweet, and has a hint of sourness (so I like this Illumiscents scent more). It's also totally different from
Sonoma Watermelon Spritzer
, which is also very lemony on its own, but compared to this scent it smells like it has very little lemon in it, much more watermelony, and with a teensy bit of a perfumey note.
Lavender & Vanilla
Gentle tones of lavender with creamy vanilla
I'm definitely getting lavender, and a bit of the vanilla, but there's another note that I can't identify that's rich, maybe a tiny bit woodsy, but also a teensy bit sour. It's a nice scent, but I don't care for that odd note. This might be the same as Candle Warmers'
Lavender Vanilla
.
Pineapple & Cilantro
Juicy pineapple highlighted with fresh cilantro
Super sweet pineapple, almost nauseatingly sweet, but smells great. I don't smell cilantro or any herbs or savory notes. It's different from Candle Warmers' Island Paradise, which is also a very sweet pineapple scent, although not as sweet, and not nauseating, and it might have a smidgen of a fresh air note that this scent doesn't (and it's a bold thrower, so if you like these types of scents, get Island Paradise instead; it can also be found at some Walmart stores). I don't know if Candle Warmers' Island Paradise is the same scent as IllumiScents Island Escape.
Spiced Vanilla
Sugared Lemon
Fresh squeezed lemon sweetened with sugar
This smells like a combination of lemonade and lemon dish detergent, but it's a great scent! It's mostly sweet, artificial lemonade mix, but it has a tiny bit of a soapy note. Even though it's artificial, it's a fantastic scent! It might be the same as Candle Warmers'
Lemon Sugar
, although that had a stronger throw.
Sundried Linen
Cozy, clean linens, sundried and warm
A very nice, sweet laundry detergent scent. It's not a harsh detergent scent, and although it's quite sweet (more so than most, like it might include gardenia and/or musk), it's also not a warm, soft fabric softener scent. It might be the same as Candle Warmers'
Sunkissed Cotton
, but it's not the same as Candle Warmers' Sun-Dried Linen (which is a slightly harsher detergent scent and doesn't have that musk/gardenia note).
Sweet Love Spell
Lush blossoms and hints of sweet peach
This is a dupe of Victoria's Secret Love Spell perfume, and it does indeed smell just like the perfume, but I'm not a fan of the perfume (or its dupes) because it smells very bland to me, and not very sweet, like bitter grapefruit and wax paper. But I think I'm in the minority, as most people seem to love this scent!