Kohl's Sonoma Wax Melt Reviews - Spring 2022 (#1)
February 7, 2022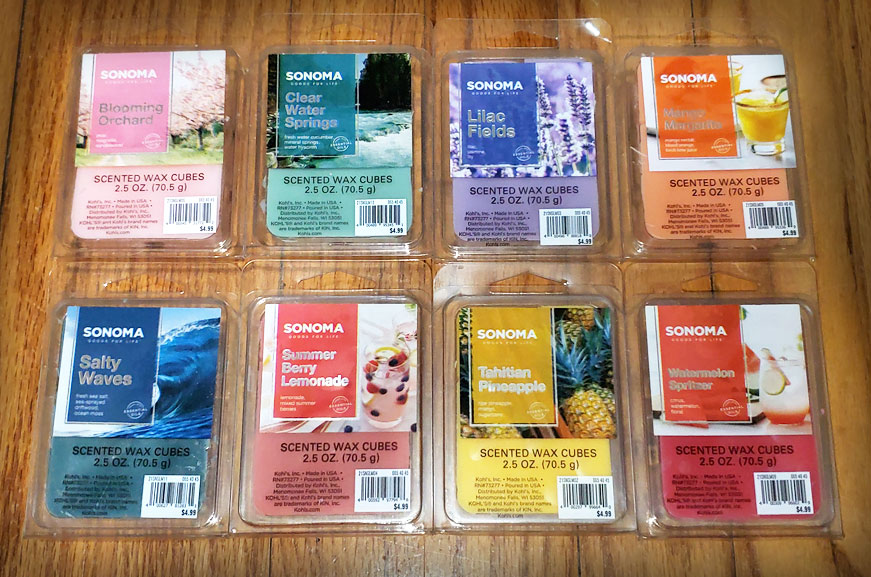 This is a review of 8 new Sonoma wax melts from Kohl's for Spring 2022. There are several new scents this season: Clear Water Springs, Havana Sands, Hibiscus Kiwi, Island Nectar, Pretty & Pink, Salty Waves, and Watermelon Spritzer. The rest have returned from previous years.
I only found 8 new scents on the Kohl's website, but when I went to the store the following week, there were 5 more scents that are not on the website (Blue Hawaiian, Havana Sands, Hibiscus Kiwi, Island Nectar, and Pretty & Pink), which I've reviewed HERE.
The wax seems to be harder than it was previously, even though the surface of the wax is still slightly soft. The hardness makes it a bit difficult to break off a cube, even though the clamshell is the same as before. And the wax took about 20 minutes to fully melt in 20W hotplate warmers.
Blooming Orchard
Pear, magnolia, and sandalwood
This scent has returned from spring
2020
and
2021
. It's a fruity floral (the main note is pear) with a hint of bitterness that smells a little bit like champagne, and a floral note that's not perfumey or overly sweet. It may also have a smidgen of pineapple and a light woodsy note way in the background. It's really a champagne type scent rather than a floral. Looking at the scent notes, they're spot on, although magnolia tends to have a lemony note, which this scent does not. I really like it! It's quite similar to
ScentSationals Festive Bubbly
(but that scent is more milky and this scent has a floral note). It's also a bit similar to
ScentSationals Celebration Time
(but that scent is sweeter, a little creamy, and slightly perfumey). It also smells like the Pear Blossom side of the old
ScentSationals Take Me to Paris
duo, although that scent had a stronger floral note and was not as sweet. All the scents that this scent smells like also have pear as a main note.
Clear Water Springs
Fresh water cucumber, mineral springs, and water hyacinth
A fresh, watery scent with a bit of floral (like 70% fresh/watery and 30% floral). I think the floral is lilac. It's not nearly as sweet and lilac-y as the Lilac Fields scent, and it's not perfumey at all. It's slightly soapy and a little bit on the bland side, but it's pleasant, I like it, and it would work in any room in the house (especially the bathroom) because I don't think it has any notes that could be bothersome to some people. Looking at the notes, they're spot on. Hyacinth smells a lot like lilac, cucumber tends to be bland, and mineral springs is the watery note.
Lilac Fields
Lilac, white jasmine, and lily
This scent has returned from
2018
. It smells like sweet lilac scented soap with the extra sweetness of jasmine, but it's also a little bit of a fruity floral and I'm sure I also smell a hint of sweet strawberry (which is not in the notes). In previous years, the last note was shown as orange blossom, not lily. There's an extra richness in the background that could be orange blossom though. I adore this scent!
Mango Margarita
Mango nectar, blood orange, and fresh lime juice
This scent first came out in
2018
and returns every year. I smell grapefruit, orange, a hint of tropical fruit (pineapple?), and a little bit of zesty lemon. Looking at the notes, the pineapple/tropical note I'm smelling is mango (which usually smells like peach, although I'm not getting peach), and the lemon is lime. It's a nice fresh thirst-quenching summer scent, although I'd like it more if it were a tiny bit less tart.
Salty Waves
Fresh sea salt, sea-sprayed driftwood, and ocean moss
This is not a typical fresh air/oceany water scent that the name and notes would suggest. It's fresh, watery, sweet (plumeria?), and with a little bit of a cologne note that has a tiny bit of smoky warmth. It's also a little soapy and woodsy. It smells more like a cozy fall or winter scent than spring, but I like it! Looking at the notes, ocean moss gives it that slight cologney note (but I'm not getting bergamot, which is a sharper, citrusy cologney note). And there's the light wood. But I don't know what's giving it that warm smokiness.
Summer Berry Lemonade
Lemonade and mixed summer berries
This scent first came out in
2018
and returns every year. It's a fantastic, rich, sweet blend of raspberries and tangy lemon. I adore this scent!
Tahitian Pineapple
Ripe pineapple, mango, and sugarcane
This scent first came out in spring
2018
and returns every year. It's a slightly tart pineapple scent that's only slightly sweet (not the sweet, candy-like pineapple that I like). There might also be a hint of a tropical fruit in there with a very slight sour/bitter note, although it's not a sour tropical fruit scent. It's not my favorite due to the tartness, but would probably smell great mixed with a sweeter scent like vanilla or another fruit.
Watermelon Spritzer
Citrus, watermelon, and floral
A fantastic watermelon lemonade scent. It's sour and a little bit sweet, with the rich zestiness of the lemon. It's quite similar to
ScentSationals Watermelon Sugar
, but this scent is richer, a little more salty, and a bit more zesty/lemony. It's more "full bodied" than the ScentSationals scent, and while I like that scent, I like this one more. Looking at the notes, I'm not getting any floral, although I do detect a smidgen of floral from up close (although I don't think I would detect it if I didn't know it was supposed to be there).