ScentSationals Day of the Dead Fall 2019 Wax Melt Reviews
September 17, 2019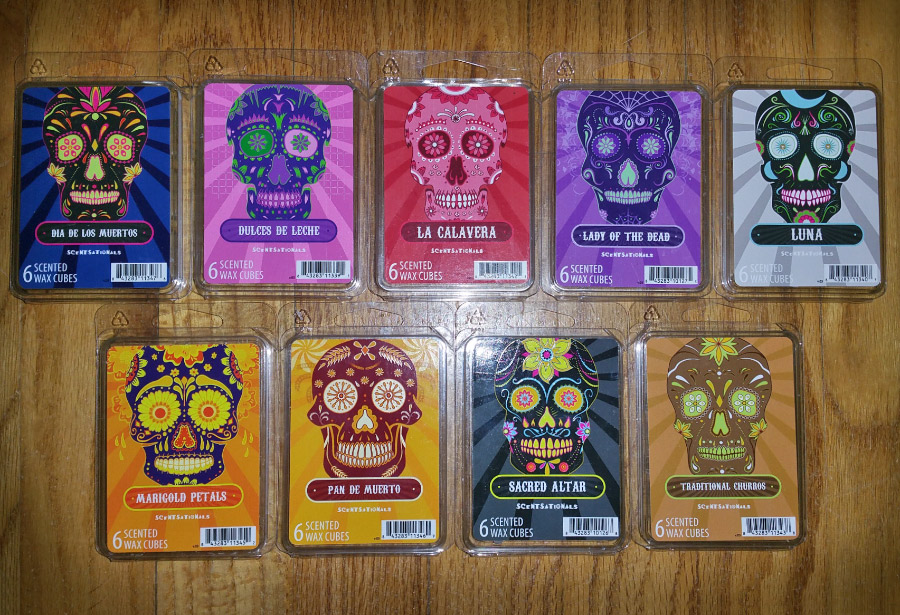 This is a review of the ScentSationals Day of the Dead Fall 2019 Wax Melts from H-E-B stores in Texas. The labels are bright, colorful and exquisite!
H-E-B has about 130 stores, but they're all located in Central to Eastern Texas. They do offer home delivery, but only locally in Texas. These Day of the Day wax melts are dupes of older ScentSationals scents, which is okay, because it's a great way to get those discontinued scents (if you live in Texas).
Dia de los Muertos
Whipped vanilla, cinnamon, vetiver grass, and tangy blackberry, with underlying notes of white flower, absinthe, lively bergamot and finishing with an earthy whisper of black fig OR Figs layered with Indian jasmine, ballerina rose and green notes of absinthe
This is the same scent as
ScentSationals Northern Lights
from 2018 and
ScentSationals Midnight Summer
from 2017. Those two scents smell exactly the same to me, but I'm told they're different scents; Northern Lights might have a smidgen of a smoky note, which this scent has too, so I think it's the same as Northern Lights. On cold sniff, it's a dark floral with a hint of some kind of fruit, maybe blackberry, and a smidgen of musk (looking at the scent notes, the blackberry I think I'm smelling is probably the fig, a note that gives scents a classy vibe). It smells a lot like
ScentSationals Blackberry Cider
from 2016, but sweeter. It also smells a little like Scentsy Luna, but richer and sweeter. I guess the sweetness I'm smelling is the jasmine and rose, although this is not a floral scent. It's such a lovely scent! Melted, it smells almost exactly like ScentSationals Blackberry Cider, although a little sweeter, with a bit of a "pink sugar" note, but no musk. It's a very nice scent, even a bit "sexy".
Dulces de Leche
I believe this is the same scent as
ScentSationals Conchas
(from the H-E-B store Texas line). It smells like warm vanilla sugar cookies with a smidgen of chocolate and perhaps a very barely detectable hint of cinnamon way in the background. It's not a pure vanilla scent, nor a cupcake or yellow cake scent. It's not as sweet as other similar scents; in fact, it's just a little bit sweet, which sets it apart from other similar scents and makes it smell more authentic. It's similar to
ScentSationals Cake Batter Ice Cream
, but that scent is much sweeter and richer, with more of a chocolate note.
La Calavera
Pink sugar cake drizzled with sugared berry icing infused with fruit nectars and the sweet essence of ripe strawberries
Lady of the Dead
Bright summer cherry and fresh mango joined with the luminous floralcy of apricot blossom, jasmine, and white lily complimented by ambered musk and sheer woods
This is the same scent as
ScentSationals Magic Spell
from 2018. It's a dupe of Victoria's Secret Love Spell perfume and I don't like it at all. It smells like
Scentsy Lucky in Love
and Tuscany Stressless (both of which are also Love Spell dupes, so I don't like them either). It smells very bland to me, and not very sweet, like bitter grapefruit and wax paper. But I think I'm in the minority in my dislike of this scent, as most people seem to love it! Looking at the notes, I don't smell ANY of them!
Luna
Classic notes of sweet cinnamon spice, crushed clove bud, sweet toasted nutmeg and bound by warm amber, rich cashmere musk and touched by shimmering white woods and opulent moss
This is the same as
ScentSationals Cuddle Up
. I smell patchouli first, then a smidgen of oud (a dark resinous wood), but the intensity of the oud is tempered by a sweet perfumey note. I also smell a hint of the tonka (an intense dark vanilla with a caramel, almond, cinnamon and clove notes). It's an unusual, complex blend of notes, and I love it! Looking at the notes, I'm surprised I don't see patchouli. It reminds me of
ScentSationals Turkish Spice Market
from 2015, although it's not the same scent. It's fantastic!
Marigold Petals
This is the same scent as
Better Homes & Gardens Sunflower & Chrysanthemum
from 2016. It's a sweet floral with a very, very bitter fermentation note that smells like wine mixed with a tiny bit of nail polish remover. I don't like this one at all.
Pan de Muerto
This smells almost exactly like
ScentSationals Cake Batter Ice Cream
, but I don't think it's the same scent. And that was a bluish green colored wax, while this wax is tan (all the scents in this collection use the same colored wax as their dupes). I've definitely smelled this scent before though. It's a super sweet vanilla buttercream scent with yellow cake and a bit of white chocolate, and possibly a barely detectable smidgen of coconut. So yummy!
Sacred Altar
An elegant blend of bergamot, fresh marine notes, and spicy florals, with delicate notes of white sandalwood and ambered musk
This is the same scent as
ScentSationals Black Tux
from 2017. It's a nice cologne scent that's not overly sweet and has just a smidgen of smokiness. Melted, it's fresh but yet kind of "dark" with maybe a barely detectable smidgen of leather or something similar. Even if you don't like cologne scents, you might like this one because it's not too sweet or overly cologney. The scent lasted at least 12 hours!
Traditional Churros
This is a cinnamon scent with just a smidgen of a bakery note. It's the same as
AmbiEscents Cinnamon Churro
. It's similar to, but not the same scent as, ScentSationals Coffee Cake Swirl; that scent is richer with kind of a fudgy note, and this scent is more cinnamony.